Ciara's Ombré Passion Twists Will Make You Physically Crave Spring
@ciara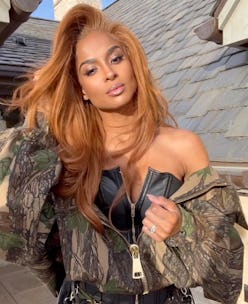 Anyone else firmly believe that the moment New Year's Day ends, it's time for some warm weather? Ciara sure seems to agree. Over on her wildly popular social media pages, the musician-mogul is always offering glimpses of her sun-dappled backyard, dressing in chic crop tops, and showing off more than a few upcoming hair and makeup trends for spring 2023. Most recently, the "Better Thangs" singer unveiled a sun-kissed new protective hairstyle that's perfect for the warmer, brighter days ahead. Ciara's ombré passion twists combine both the classic two-strand style and tons of free-flowing curls to create a unique, playful look all her own — one glance and you'll be ready for sunny spring hair, too.
Ciara oh-so casually unveiled the look on her app of choice, Instagram. Posted as a video with just two emojis as the caption, she dropped the stunning look on fans the week after the new year, posing for the camera as the long twists and curls sway and catch the light. Considering her most recent style was was her signature voluminous blowout, the protective switch-up is more than a little exciting. But then again, Ciara is the the ultimate hair chameleon and seems to love experimenting with different, aesthetic-altering styles and colors.
Notably, not all of Ciara's hair is arranged in passion twists, which is part of what makes the look so special. By allowing her trademark, blonde-streaked ombré and natural curls shine through, it's like she's developed her own personal style. Expect to see a lot more of that in 2023 as celebrities and civilians alike combine different aesthetics, styles, and looks — both with beauty and fashion.
And that stunning faded ombré hair color effect? That's not going anywhere. There's a reason ombré is such a popular color technique — it looks more natural, it blends root growth, and allows for more time between salon visits to give delicate hair a longer recovery period. If you're in the process of developing your spring mood boards — there's so much inspo out there already — be sure to add in Ciara's latest hit.