The Most Exciting Ways To Wear A Cat Eye In 2023, According To MFW
Sharp wings, bold color, and every look in-between.
Rosdiana Ciaravolo/Getty Images Entertainment/Getty Images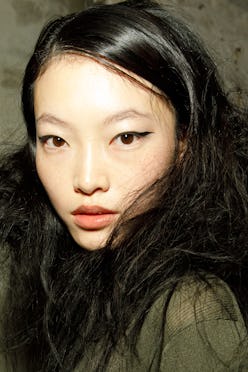 Makeup trends come and go with each season, but there are certain looks — like the cat eye — that transcend time. Despite solidifying its position as a classic eye makeup technique, winged eyeliner remains an exciting technique to try because there are myriad of ways to wear it that go far beyond a standard feline flick. And if the Milan Fashion Week Fall/Winter 2023 runways are any indication, next season is going to be particularly rampant with unique takes on the cat eye.
Designers showcased a number of new ways to wear the eyeliner look, ranging from subtle to bold. However, throughout the shows, a few reoccurring themes were evident. First, clean, sharp wings aren't going anywhere. The Fendi, Moschino, and Anteprima all showed versions of the traditional cat eye with a modern tweaks. On the flip side, smudgy, messy cat eyes are how the Milanese are doing the goth eye makeup trend, with designers like Antonio Marras, Missoni, and MM6 Maison Margiela giving models smudged wings. Finally, colorful eyeliner is a simple way to brighten up any fall outfit, and that's exactly what Gucci and Diesel demonstrated with the technicolor cat eyes they complemented their latest collections.
Ahead, TZR highlights the most exciting ways to wear a cat eye next season, as seen on the MFW F/W '23 runways.
Sharp Wings
Fendi F/W '23Victor VIRGILE/Gamma-Rapho/Getty Images
Moschino F/W '23Delphine Achard/WWD/Getty Images
Anteprima F/W '23Rosdiana Ciaravolo/Getty Images Entertainment/Getty Images
The Milan Fashion Week runways demonstrate that even a traditional cat eye is versatile. At Fendi, models wore sharp, elongated wings that extended from the outer corners of the eyes, while Moschino gave the eyeliner look a punk twist with the thin lines that mimicked the dramatic spikes of the models' hairstyles. For a more graphic take on the eyeliner style, try Anteprima's thick, graphic cat eye. Whichever take you decide to try, investing in a long-wear liquid eyeliner is a must.
Smudged Cat Eyes
Antonio Marras F/W '23 Pietro S. D'Aprano/Getty Images Entertainment/Getty Images
Missoni F/W '23Victor VIRGILE/Gamma-Rapho/Getty Images
MM6 Maison Margiela F/W '23Victor VIRGILE/Gamma-Rapho/Getty Images
Smudgy, goth-inspired eyeliner was a runaway hit at the NYFW F/W '23 shows, and the angsty look has made its way to MFW, too. In true Milanese style, these versions of the trend are uncannily chic because they merge the effortless messy liner trend with the classic cat eye. Designer Antonio Marras opted for a Wednesday Addams-inspired look, with kohl-rimmed eyes that extended out to a blurred wing. At Missoni, sheer black eyeshadow was used to create a hazy, smoky cat eye. And finally, at MM6 Maison Margiela, models channeled early 2000s emo kids with smeared glossy black liner.
Pops Of Color
Anteprima F/W '23Rosdiana Ciaravolo/Getty Images Entertainment/Getty Images
Diesel F/W '23Victor VIRGILE/Gamma-Rapho/Getty Images
Vibrant eyeliner is a simple way to inject color into traditionally dark, neutral fall/winter ensembles, and this season's MFW runways are chock-full of inspiration on how to master the trend. Gucci makeup artist Thomas de Kluyver smeared cherry red liner around models' eyes and added a cat flick for good measure. In addition to black wings, some models at Anteprima wore matte white graphic liner. While at Diesel, models wore smudgy lime green wings on their upper and lower lash lines, among other colors like blue and yellow.