Dry Skin Is No Match For These Moisturizing Body Washes
Fiordaliso/Moment/Getty Images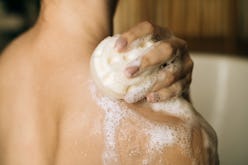 We may receive a portion of sales if you purchase a product through a link in this article.
Join TZR editors for Main Squeeze, the series dedicated to sharing beloved beauty products — be they bold, effective, or simply fun — that make our week just a little bit better. Ahead, Team TZR spotlights their favorite moisturizing body washes of the moment.
It's natural to upgrade your skin care routine when winter rolls around. The lightweight cleansers and gel moisturizers you use during the warmer months won't hold up against the season's chill. Coincidentally, that also rings true for your body care routine. While heavier creams and oils can help keep your skin hydrated, moisturizing body washes can be more beneficial. Of the many concerns winter brings, dryness and flaking top the list. The harsh winds and cold temperatures can wreak havoc on your skin and exasperate these common issues. Like your face, your body needs a system to lock in moisture and that begins with a cleanser.
Much more than soap, these body washes hydrate and replenish the skin with nutrients. They can be the first step to keeping dryness at bay if you're using the right kind. While many cleansers do a great job at washing away dirt, they can also strip your skin from its natural oils. But with formulas rich in nourishing ingredients like honey, shea butter, and jojoba oil, you can easily moisturize while you shower. Even better, many of these components leave your skin feeling supple and looking glowy.
Ahead, the TZR editors rounded up their favorite body washes to use during winter. There's even a few recommendations for those with sensitive skin and eczema.
"Never discount the power of a great drugstore product, especially if it comes from Dove. I always keep a bottle of this cherry and chia milk-infused formula because a) it smells incredible and b) it works. The silky substance immediately makes my skin feeling smooth to the touch and doesn't wear off right after I dry off. In fact, my limbs and body stay moisturized and soft for hours after application. At $8 a bottle, this is a no-brainer purchase!"— Angela Melero Executive Editor, TZR
"Come winter, I'm looking for a supremely moisturizing formula that won't leave a greasy residue behind after I get out of the shower. This milky wash checks all my boxes. The shea butter and olive oil feel like a deeper level of nourishment, which my skin needs during these months. But I love that formula also includes oat kernel flour, which is perfect for my eczema flareups."— Jessica Fields, beauty writer, TZR
"There's nothing more soothing and luxurious than soaking in a hot bath and taking my slow time with True Botanical's Pure Radiance Body Scrub – it has the most gorgeous smell, a combination of sandalwood, orange peel, and camellia."— Kathy Lee, Editor-in-Chief, TZR
"Smelling edible raises my serotonin levels, and this body wash from Sol de Janeiro feels like an indulgent treat every time. The scent is nutty, sweet, and intoxicating, and the sulfate-free formula cleanses without stripping my skin. I always exit my shower in a better mood after using this indulgent body wash."— Faith Xue, Executive Beauty Director, Lifestyle
"My showers are now chic thanks to this body wash. Aesthetics aside, it's formulated with glycerin to leave skin smooth and it's infused with the brand's cult-favorite fragrance, a smoky floral that's warm and cozy for the chilly months ahead."— Erin Lukas, Deputy Beauty Editor, TZR
"Farmacy's sweet-smelling body wash is a newer find, but one I am so grateful to have stumbled upon before the cold weather really set in. The bubbly lather is incredibly satisfying, but it's the way my skin feels post-shower that's really notable. There's no dryness or tightness, and my KP is virtually non-existent. Following it up with the brand's similarly honey-powered body lotion is the perfect recipe for maximum winter hydration."— Amanda Ross, beauty editor, TZR
"My skin is pretty sensitive, so I always have Cetaphil's non-irritating products stocked in my bathroom, including the Ultra Gentle Body Wash. Packed with ingredients like aloe vera and vitamin B5, the formula makes my skin feel oh-so clean and soft. I'll never stop buying this shower essential."— Kelsey Stewart, associate fashion editor, TZR
"This Raw Sugar body wash is a constant in my body care routine. Despite the price point, it offers a luxe experience every time I hit the shower. The scent is gorgeous without disturbing my often sensitive nose and the formula offers the perfect amount of slip to use with my beloved salux sponge."— Samantha Scott, newsletter editor & strategist, TZR
"An OG in my rotation, this wash became a favorite of mine because it coats my body with moisture that lasts well after I shower. I still reach for it on cold nights, when my skin is feeling particularly dry. It's kind of like a warm blanket, and the scent of frankincense and myrrh always feels comforting during this time of year."— Fields
"While I love every available option of Nécessaire's body wash, I'm particularly fond of the Eucalyptus scent. It's instantly calming and transforms my shower into my own personal spa. Fragrance aside, I'm hooked on this formula because it produces a rich lather but doesn't dry out my skin," –Lukas