The Future Of Body Care Is Here
The category is having its main character moment.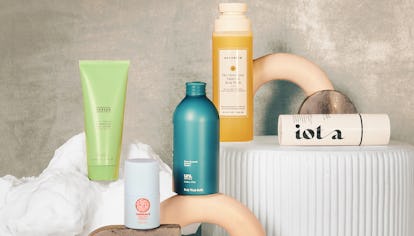 The level of time and effort that goes into building a skin care routine can arguably only be topped by planning a wedding. Albeit, both involve spreadsheets to keep track of the trial and error and both are likely to go over budget. Finalizing the lineup of what you'll slather on your face every day is a well-researched, drawn-out process, but the same can't be said of how you treat your skin from the neck down. Well, until recently. In the past few years, body care routines have evolved, now consisting of sophisticated products reminiscent of the cleansers, serums, moisturizers, and masks already in your medicine cabinet.
Prior to the skinification of body care, the only choices you had to make for your in-shower routine were scented or unscented, and liquid or bar soap. Currently, you can customize your regimen to target specific concerns, thanks to a pleBathora of innovative formulas that utilize the same active ingredients you'd use to treat your face. Back acne? There's a salicylic acid spot treatment for that. Dealing with wrinkly knees? Slather on a smoothing retinol lotion. Ingrown hairs from shaving your bikini line? Try a glycolic acid tonic.
Considering the skin below your neck deserves the same TLC as your face, the body care category is well overdue for its main character moment. The only caveat? There are now enough body product options available for the sector to warrant its own spreadsheet. To help spare you from cracking open Google, TZR is highlighting the new guard of brands and products that will elevate your body care routine.
Body Cleansers
Body Treatments
Body Moisturizers