It's Time To Build Your Winter Skin Care Routine — Here's Where To Start
Straight from the experts.
Delmaine Donson/E+/Getty Images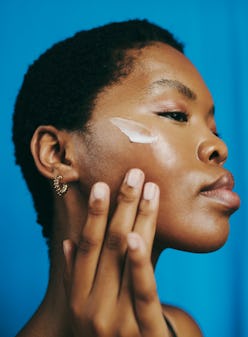 We may receive a portion of sales if you purchase a product through a link in this article.
When the seasons change, you know it's time to make some adjustments to your beauty routine. Summer and fall always bring the excitement of new makeup trends and manicures, but when winter rolls around, the attention abruptly shifts to skin care. "It's not uncommon to start to notice a difference in your skin as autumn comes to a close," explains Dr. Anar Mikailov, M.D., a board-certified dermatologist and founder of Skintensive. When the temperatures finally begin to drop and the wind chill picks up, it's only natural to think about transitioning your skin care routine for winter.
Increased dryness may be the obvious symptom of much colder air, but as Dr. Mikailov notes, it's far from the only issue winter brings. "Sensitivity, itching, and irritation are all common concerns during this time of year," he adds. Thanks to a range of elements like humidity fluctuation, wind chill, and even indoor stressors such as increased exposure to artificial heat sources, your current regimen is in need of a serious shakeup. Fortunately, the transition doesn't have to be a chore. There are many simple skin care swaps you can make that will benefit you in the long run.
Ahead, TZR taps four skin care experts for their advice on how to do just that. Read on to see their tips and recommendations to keep your skin healthy and glowing all winter long.
Why You Need To Transition Your Skin Care Routine For Winter
If you're looking for a reason why your current regimen needs to change, you don't have to dig too deep. In fact, there's just one chief culprit: air. As the temperatures decline, it also causes the humidity to decrease because colder air holds less water vapor. While a lower humidity level may mean great hair days, it can take a toll on your skin. The dry atmosphere draws moisture from the complexion, making it more prone to dryness and irritation.
According to Dr. Stacey Tull, M.D., a board-certified dermatologist and founder of St. Charles County Dermatologic Surgery, it's not just the outdoors that's the problem. "Winter usually means you're spending more under heaters, whether in your home or your car, which can pull even more humidity from the air," she says. As you can imagine, this leads to several concerns and issues, like cracking, flaking, and itching. Though these are often nominal, they can exacerbate conditions like eczema and keratosis pilaris, causing more intense symptoms for longer periods of time. Dr Tull also notes that areas with higher cell turnover, such as the hands, feet, and lips, are especially vulnerable to extreme dryness during the winter.
How To Transition Your Skin Care Routine For Winter
Incorporate A Gentle Moisturizing Cleanser
Moisture retention is going to be the main focus of your winter routine, and it should begin with your face wash. During the warmer months, lighter formulas are often ideal — but come winter, a gel cleanser may not cut it against harsh winds and cold air. Rachel Lee Lozina, esthetician and owner of the Blue Water Spa in Oyster Bay, New York tells, TZR that foaming washes can strip the skin of its natural oils and encourage more dryness along with barrier impairment.
Swapping your regular cleanser out for a cream-based option can better hydrate your skin and prepare it for the next steps of your routine. Given that irritation is a common result of dryness, Dr. Mikailov recommends sticking to gentle formulations, like Vanicream or CeraVe. Not only are they ideal for sensitivity, but they will soothe the main symptoms of the season.
Reconsider Your Use Of Active Ingredients
"Winter is also a good time to consider swapping prescription strength actives like retinoids such as tretinoin for kinder options," says Dr. Tull. Even if you don't naturally have sensitive skin, the temperature change can make your go-to products feel too harsh. Instead, try switching to an over-the-counter product with a lighter active ingredient percentage or try your usuals in lower doses. In a similar vein, Dr. Mikailov suggests considering a multitasking moisturizer infused with your favorite actives, such as retinol and vitamin C.
Prioritize Gentle Exfoliation Methods
Exfoliation is a step that shouldn't be missed in any skin care regimen, but during those cold winter months, it's best to use a light hand. "Opt for very gentle methods, like hydrating serums or that are formulated with a mix of AHAs or PHAs," says Dr. Mikailov. According to Lozina, exfoliating pads are another easy swap that can make a big difference. "These can lightly remove dead skin cels and help with the cell turnover process," she says. As an added bonus, they also can boost your wintertime glow and often come in travel-friendly packaging.
Transition To Heavier Moisturizers
To combat dehydration during this time, you're going to need a thicker face lotion, too. Similar to your cleanser, the key is to prioritize ingredients that lock in moisture. "Look for products that have ceramides and other emollients plus hydrators such as glycerin or hyaluronic acid," says Merry Thornton, P.A.-C., board-certified dermatology physician assistant, and Founder of Element Medical Aesthetics in New Canaan, Conn. Barrier creams are another option that are ideal for winter. Not only are the formulas packed with moisturizing components, but they often contain ingredients that protect the skin barrier against common environmental stressors.
Winter may be over a month away, but making these quick swaps now will ensure your skin's ready when it arrives.