This Fall Body Care Routine Has Kept My Skin Soft & Smooth Year After Year
@mutha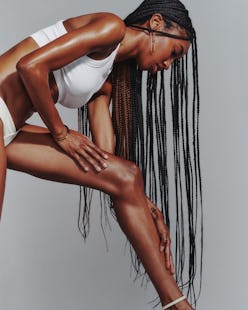 We may receive a portion of sales if you purchase a product through a link in this article.
I'm a fall baby, so naturally, I'm counting down the days until it arrives in full. From sleek knee-high boots and wool fedoras to deep brown and red lipstick shades, I love every bit of the season. But hands down, my favorite part of autumn is the onset of cold weather, when the temperatures finally start to drop below 60 and the mornings are crisp and clear. But the cooler days also bring a whole new set of skin concerns. As such, just like adjusting my wardrobe to the weather changes, I need to transition my skin care routine, too. And that includes the products I use from the neck down. For me, the timing of my fall body care routine is crucial to how my skin will survive come winter.
Through years of trial and error, I've come to learn that my skin needs much more than just a different lotion when fall rolls around. Honing in on the main issues that plague my skin, like eczema flare-ups and extra dryness, has allowed me to lessen the effects of the cold weather.
Because some days in autumn still feel like summer, rich creams and body lotions can be too heavy and often leave me feeling greasy throughout the day. But then there are the cooler days with dry air that completely zaps my skin of moisture. Instead of teetering back and forth between formulas to adjust to the ever-changing weather, I've adapted my routine to deal with both concerns. Starting in the shower, I keep a rotation of cleansing items that gently exfoliate and help maintain the balance of my skin's pH. From there, I move on to moisturizing products that vary in levels to match the changing needs of my skin.
Ahead, the products I rely on to maintain soft skin all throughout the fall.