The Y2K Scent Trend That's Taking Over The Perfume Counter
These gourmands smell more sultry than sickeningly sweet.
@juliettehasagun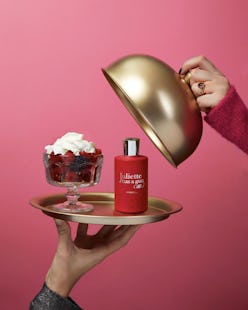 We may receive a portion of sales if you purchase a product through a link in this article.
For a certain subset of elder millennials and young Gen Xers, there's a very specific core memory unlocked whenever the scent of a sugary vanilla perfume wafts underneath our nostrils. That's because we lived through an era where pretty much everyone in our peer group smelled like baked goods. From Jessica Simpson's Dessert Treats to Britney Spears Fantasy to Aquolina Pink Sugar, hyper-sweet gourmands were the unofficial fragrance of the early aughts. And, just like low-rise jeans, going-out tops, and skinny eyebrows, it looks like this Y2K trend has made its inevitable return to relevancy.
Everyone from D.S. & Durga to Prada and Ellis Brooklyn is in on the trend, each with its own unique, candy-coated twist. It's an intriguing about face from the not-so-distant days when minimalist, clean, "skin smell" musks like Glossier You, Juliette Has A Gun Not A Perfume, and The Maker Naked dominated the scent conversation. Ahead, TZR chronicles the origins of gourmand fragrances and the scent family's recent resurrection.
What Makes A Fragrance Gourmand?
If you missed the gourmand frenzy the first time around or just need a refresher, here's how Olya Bar, digital strategist at niche fragrance boutique Twisted Lily describes this fragrance family: "Gourmand is all the edible notes that could be used as flavors in the food industry that migrated into the fragrance industry," she says. "So anything that's considered edible, delicious, or savory would be classified as a gourmand." In terms of scent categories, gourmand is, as Elaine Keay, the director of brand and business development at Twisted Lily, notes, "the baby — it's relatively new in terms of the formation of this category." Its origins can be traced back to 1992 and perfumer Olivier Cresp's introduction of Thierry Mugler Angel. That polarizing scent was created using patchouli and a new fragrance accord at the time known as ethyl maltol. "It has a very sweet smell that can be described as caramelized sugar or kind of like caramelized fruit," explains Bar. While not an instant hit — Angel took a few years to hit its stride, notes Bar — it soon became one of Mugler's best-selling scents and an iconic fragrance in its own right.
Y2K's Sugar Rush
Once Angel and the novelty of its cotton candy accord took off, it seemed like everyone wanted to smell good enough to eat — sometimes quite literally, judging by all the edible glitter body powders and sprays popular at the time. "When [gourmand] came out, it was new to be able to fragrance yourself with candy-like or cake-like straightforward fragrances and people were thinking it's fun, it's playful, it's energetic," notes Arnaud Guggenbuhl, head of global marketing insight and image fine fragrance at Givaudan. Perfumers seemed as if they were trying to one-up each other on how much ethyl maltol they could blend into a fragrance or synthetic vanillin molecule they could cram into a body lotion. Banana splits, chocolate cupcakes (with sprinkles, obviously), butterscotch pudding — you name the dessert and there was something fragranced you could spray, spread, or dust on yourself. But consumers soon grew weary of these saccharine sweet scents and they were replaced by the ever ubiquitous fruity florals — now with an extra kick of gourmand sweetness. Here's looking at you, Viktor & Rolf Bonbon, Lancôme La Vie Est Belle, Vera Wang Princess, and Dior Addict.
A Sweet Escape
So after fading away with the likes of frosted lipstick and wallet chains, why have sweet gourmands suddenly re-entered the chat? Gourmand's appeal, notes Guggenbuhl, is in the psychological connection between scent and taste. "Gourmand is all about this idea of positive nostalgia, getting back to the time of treats and sweets when you were a little child, but it's also a more grown-up type of nostalgia, because gourmand is generally all about comfort," he says. "For me, gourmand notes in fragrance are like comfort food. It's like Bridget Jones and having a pint of ice cream. It's the same type of psychological mechanism. We know that people are more and more anxious — particularly Gen Z are really claiming this anxiety — after this moment of pandemia, where people were stuck at their place and also uncertainty with the economy. So I think counteracting this anxiety with gourmand fragrances is absolutely logical."
While he himself is not one to look to trends for the creation of new scents, David Moltz, D.S. & Durga's perfumer and co-founder, attributes the resurgence to the cyclical nature of fashion. "There are loops with music, fragrance, and clothes. If you go into Bottega Veneta right now and look at their clothes, it's very '90s but it's cut in a beautiful way with beautiful fabrics," he says. "It's the same thing with fragrance." The '90s weren't on his mind when he created the brand's buzzy new scent Pistachio — in fact, unlike every other D.S. & Durga scent, this playful green perfume doesn't carry an intricate backstory. "Last February we did the studio juice of Pistachio and I'm not even sure really where it came from. I just have always loved the fake pistachio flavor," he says. "People went nuts for Pistachio — it sold out in a few hours." The response was so positive, the brand added Pistachio to its permanent lineup this year and it's now a top seller. "Coming out of [lockdown] we're just loving airy, light fun," he says. "Everyone collectively on Earth has gone through the hardest time, and there's a desire for some much needed levity that we all can get behind."
Ellis Brooklyn founder Bee Shapiro agrees, saying "With COVID, we were really looking for comfort in so many different ways. There was this need and want just to feel cozy and delicious and in the kitchen and taken care of," she says. For the brand's Vanilla Milk, Shapiro had the idea of taking vanilla and making it more grown-up. "We will never put out a scent that will smell exactly like a dessert. I understand the appeal, but for me I'm always looking for that extra little something," she says. "So Vanilla Milk, of course it's referencing vanilla, it's referencing this creamy milk accord, but we're also using ingredients that are a little bit off kilter. We have some floral elements, we also have a cacao shell in there that actually lends it a little texture."
Twisted Lily's Bar draws that need for comfort to something more biological and sugar's ability to release dopamine (the happy hormone) in the brain. "Sugar is very primal to humans and we are wired to connect this feeling of sweetness to feeling good and happy and somewhat to feeling safe. In many ways that could potentially be driving this whole concept of why gourmands are so popular," she explains. "In terms of everything going on in the world, people want to take that feeling of fresh-baked cookies that put you in a state of a feel-good moment and take it with you."
Gourmands Then & Now
While many elder millennials may be feeling a sense of déja vu as they read descriptions of dessert-inspired scents, rest assured your eau de Toasted Coconut Caramel Flan migraine isn't about to flare up. A lot has changed in the 30+ years since Angel first hit the scene, including the ingredients, formulations, and technology perfumers now have at their disposal. That said, similarities still exist, says TikTok creator Emelia O'Toole, who goes by Professor Perfume on #perfumetok. "We had Jessica Simpson Dessert Treats Cupcake back in the day, but that's not much different from something like Ariana Grande Sweet Like Candy," she says. "The sweet/vanilla/powdery DNA is pretty similar, but scents now are more complex. I'm pretty sure Cupcake was just vanilla and sugar, and Sweet Like Candy plays with notes like whipped cream, marshmallow, and cashmere wood. Now, I think we understand that there can be a lot more nuance to a sweet fragrance than just overloading the vanilla or sugary notes."
Guggenbuhl notes that the straightforward approach was the hallmark of Y2K scents, however today's gourmands tend to have surprising notes and layered textural elements to lend modernity and sophistication to them. "Being straightforward is not surprising anymore, so you need to elevate," he says. "The way the perfumers are looking at these notes and the evolution of the quality of new naturals, new molecules, and also the way of building a fragrance — playing more on the dry down to have a longer lasting effect, playing more on the textures to have [not just] sugary textures, but playing with the creaminess and the unctuosity. There's also a bit of crunchiness, tackiness on top — you can play with different textures and make it new and interesting."
Givaudan's new Project Delight is a collaboration between aromaticians — those experts responsible for creating the flavors in the food industry — and perfumers to create real aromas that can be translated into perfumery. These so-called Delight Bases smell exactly as they taste, says Guggenbuhl, meaning it's as if you've picked fresh fruits from the orchard, or scratched the vanilla bean from the pod. "It gives you a sense of reality so that you don't have to do gourmand by doing smells like the cakes or like the desserts — you can do more with real fruits or the real ingredients and by faceting with different textures you are creating a completely new type of scent," he says.
In other high-tech advancements, Shapiro is experimenting with a technology called firwave for a new fruit-based scent coming soon. "We're using pear in our upcoming fragrance launch that is literally taking a giant microwave and shocking the pear to release that ingredient, so the scent molecules coming from it are considered natural and literally smell like the pear," she says. "It's amazing because it's renewable and doesn't use any solvents. When you smell it, it smells like you're biting into a pear — the juiciness is so mind-blowing like you can almost taste it. So if you think about technology, it's allowed the gourmands to really bloom in all these different ways."
Constant Cravings
These advancements have allowed brands and perfumers to continue to innovate and push the category further, meaning that gourmands aren't going anywhere anytime soon. Expect to see the scent family continue to evolve past the dominating creamy vanillas and into more unexpected territory.
"We're just at the beginning of fruit, and I think we're going to continue to see [these notes], especially cherry, peach, and pear," says Shapiro. "There's all these different ways to use fruit now and it gets perfumers excited when there's a new ingredient coming onto their palette. Fruity florals never went away and the market is still dominated by them. What's different is that a lot of influential niche players are now playing in the fruity floral arena and because of that, there's a lot of different newness and cool experimental type of scents coming from the new fruity floral category." The difference, she notes, is that the fruit is more forward facing. "Before, fruity florals were so well blended and very smooth to the point where somebody may not even understand it's fruity floral," she explains. "That's that 'department store' smell. Now it's really that fruit is in your face right off the bat as opposed to the fruit being just one of many things." D.S. & Durga's new Roman Fruit Sellers is a perfect example — it blends apricot, black currant, mandarin, and strawberry with poplar, incense, and violet. Moltz says the wood and floral notes help to "temper the sweetness."
According to Twisted Lily's Bar and Keay, chocolate and coffee will have big moments in the year to come. "Now it seems people are craving more of this beverage direction," says Bar. "Maison Tahité is an Italian house we brought on last year and they dedicated an entire line to vanilla, but their second collection was all about cacao and variations of chocolate. And now there's another coffee one, which is the new craze. Probably one of my favorite takes on it is Akro by Olivier Cresp — the man behind Angel. The line is dedicated to vices and he has one called Awake that's the love of coffee and one that's Dark and it's this dark chocolate and it's for those like 90% dark chocolate lovers, which is marvelous."
Guggenbuhl thinks we've only begun to see what perfumers can do with these coffee and cacao notes. "The new chocolate interpretation is something that is closer to the cacao powder, so darker, drier, more animalic in a way than the meat chocolate," he says. "And coffee, of course there is YSL Black Opium on the market, but I think we can go much further in terms of coffee interpretation. It can create tons of effects that are super interesting, into the smoky area and also into the bitter. Bitterness is something that a lot of chefs are exploring at the moment and that we think would be interesting for the future in fine fragrance."
If you're new to gourmands or still suffering from Y2K Vanilla Sugar Cone Glitter Candy Hearts Explosion PTSD, our experts have a few words of advice when shopping for a gourmand scent. "Lean into sweeter blends that feature boozy notes, warm spices, or resins — such as benzoin or amber — to give the scent a more refined and deeper profile," says O'Toole. "If you see too many ingredients that are only food-driven ingredients, fruits and vanilla only — no woods, no flowers," says Guggenbuhl, "choose a more complex and faceted fragrance. If you have some food or gourmand elements, reassure yourself by having enough contact balance with flowers or woods or it will be too straightforward."
And narrow down what kind of gourmand you want, then sample to make sure you like how it smells, advises Shapiro. "It's starting with what scent do you really want to smell like or what vibe do you want to put off. Because at the end of the day, if you want to smell like a literal dessert that's a whole different vibe than someone who wants to smell like just a hint of vanilla and all these other elements," she says. "Perfume is so tied to individuality, so sitting down and having a moment to choose which category you want to go into. Do you want to be warm? Fruity and more playful? That will start to limit it down."
With that in mind, here are 11 modern gourmands to satisfy your sweet tooth.
Shop Modern Gourmand Fragrances