Wellness Brand Homebody Celebrates Bathtime As A Sacred Ritual
Sometimes true peace is found in everyday moments.
@hey.homebody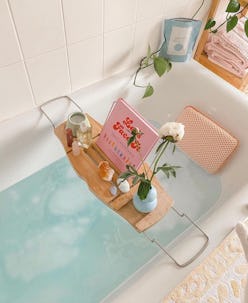 We may receive a portion of sales if you purchase a product through a link in this article.
"We could have a whole interview on all the plant supplements and daily adaptogens I take because there's a lot, and each one has a special intention," says Rebecca Grammer-Ybarra, founder of wellness company Homebody. "But saffron extract supplements have been in my lineup for years for mood support and stress reduction." Listening to her health routine, consisting of cold showers, daily tea ceremonies (more on those later), the aforementioned supplements, and healing baths, made me think she's probably been in the wellness game for quite some time. But, as I quickly find out, it's actually the opposite, which is probably what makes this female entrepreneur's story that much more interesting to share.
You see, before Grammer-Ybarra was the CEO of Homebody, a brand focused on holistic bathing rituals, she was an accomplished pastry chef and artisan baker set to continue her already 12-year career into more years of measuring, baking, and piping. As a two-time Food Network champion and the first Black woman to win a televised dessert competition (did I mention it was Cupcake Wars?), Grammer-Ybarra was reaching high levels of success in the celebrity pastry world. She opened up three brick-and-mortar bakeries with her sister and even got signed to celebrity chef Gordon Ramsey's talent agency.
But it wasn't all cupcakes and rainbows, especially when it came to the stresses of managing an enterprise. From handling business endeavors to baking around 30,000 pastries a week, the pressure of the job was affecting her mentally, spiritually, and physically. "I was running nonstop on caffeine, poor diet, and no sleep, saying yes to every gig and every opportunity that came my way," says Grammer-Ybarra. After a few years of being open for business, Grammer-Ybarra and her sister Christiana Grammer closed their cupcake operations in 2018 to be more present in their children's lives and run the business how they wanted to. "My sister and I are single moms, and although our kids were right by our side, we weren't present enough through this stage of their lives. We decided to do what was best for our families — shut it all down and rebuild from scratch the right way, our way, " she recalls. The original plan was to focus on family and the sisters' own physical and mental well-being, ultimately re-opening a cupcake business better suited for their lifestyle, and not engulfed by stress.
Although a positive move, the closing of the business left the entrepreneur devastated, tired, and mentally depleted. And then came the life-changing events that quickly followed, thwarting Grammer-Ybarra's plans for a cupcake business rebuild, not to mention creating a perfect storm for mental anguish: the end of her engagement to her fiancé and a car accident that traumatized her both physically and emotionally. "This (situation) was my Eat, Pray, Love moment, and I finally surrendered," she says, referencing Elizabeth Gilbert's 2006 memoir, noting how the stress similarly consumed her, one life event at a time. "Every night while bathing in my soothing formulas of CBD, superfoods, herbs, and flowers, I would ask the universe to heal me and rebuild me stronger than ever before, and I promised in return I would dedicate my life to helping to rebuild others in any way I could." This passionate promise led her to shift gears as a pastry chef and start wellness brand, Homebody.
The company, which Grammer-Ybarra started with her sister, was birthed from her own need to decompress, destress, and prioritize mind and body health. "I had no idea what self-care was, nor did I implement any of it in my fast-paced life for over 12 years," she explains. The pain she endured from her car accident led her to discover the benefits of plant therapy, making Grammer-Ybarra more curious about her own physical and spiritual healing process and how to improve it. The lack of access and education around holistic healing therapy was something she noticed early on in her journey. "Cannabis, CBD, healing crystals, herbs, color therapy, aromatherapy, and ancient plant medicine are only found in metaphysical, nutritional supply stores and/or dispensaries." she says. "Places with limited access to the average person. It was time that the general public had access on a massive scale to become their own healers and be introduced to a new wellness experience."
Homebody's main ingredients are built on ancient healing principles and making self-care and wellness more approachable. The brand incorporates chromotherapy, an alternative medicine based on the belief that colored light can balance energy in the body, in each of its soaks. For example, the Amethyst + Alchemist CBD bath bomb soak includes French lavender, which makes for a beautiful pearlescent, lilac-tinted soak. The formulas also incorporate aromatherapy, superfoods, natural botanicals, and adaptogens, balancing and supporting the body and addressing the impact of external stressors one may experience throughout the course of a day.
"Our main ingredient cannabidiol (CBD) is a natural remedy used for many common ailments like pain, mood, anxiety, depression, sleep, discomfort, and instabilities," says Grammer-Ybarra. And don't worry; the shimmering, vibrant hues used in the products are all-natural, made with safe ingredients (biodegradable, eco-friendly, and non-toxic), so bath time is both enjoyable and safe for the environment.
After three years of hard work, Homebody is officially on the shelves of major retailers like Revolve and Ulta. When asked what has been the most rewarding aspect of starting her brand, the founder says, "creating tools that have been helpful for me when I needed them the most. And now to have people access them and write to us daily about how they have improved their lives too is the absolute best feeling."
In addition to its soothing offerings, Grammer-Ybarra also wanted to ensure Homebody operated differently than her peers. She wanted to build a wellness business that allowed marginalized groups to take ownership. "As a Black, single mother from the Southside of Chicago, it's always been an important part of my core business model to comprise an ecosystem that benefits marginalized communities, including BIPOC women, single mothers, and small women-owned suppliers," she says. "Each bath blend is handcrafted with love by our team of artisans and is 3rd-party lab tested for performance, safety, quality, compliance, and potency," she adds.
The once-burned-out, mentally drained pastry chef with no self-care routine now prioritizes it more than ever. She immediately lights up when asked how she keeps self-care rituals in her day-to-day life. "I have a daily gratitude practice; giving thanks for all that I am, all the support I have, all that I have experienced in my life, and all the love I receive." She adds that taking cold showers to increase the release of norepinephrine (the "alert and attention" hormone) has significantly helped improve her mood, willpower, focus, and attention.
The business owner also relies on her tea ritual, sipping three kinds of tea at different times throughout the day to help boost her mood and productivity. She adds, "I have a tea ceremony ritual that I perform three times a day (green tea in the morning, chamomile in the afternoon, and a cannabis tea ritual in the evening). Everything is so intentional for me." And, of course, she's a fan of soaking in Homebody products when taking her frequent baths. "I take baths nonstop," Grammer-Ybarra says. "It's my sacred place where I meditate, create, reflect, release, reset, and rebuild my mental, emotional, and spiritual well-being. Doing this ritual before bed is extremely therapeutic and helps to release the day down the drain."
As the old saying goes, "everything happens for a reason." Grammer-Ybarra had a turning point in her career and used that opportunity to be curious and learn something new. Though she still considers herself an introverted, self-disciplined overachiever, she has learned to step back, slow down, and put her well-being first. "A pause is the most productive time you can manage," she says. "It will provide room for recovery and discovery."