This Cult-Favorite Shower Tool Transformed My Body Care Routine
My washcloths are in the trash.
@meetflamingo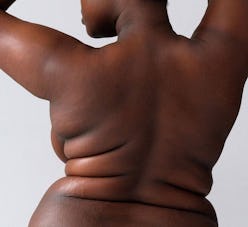 We may receive a portion of sales if you purchase a product through a link in this article.
I've always been meticulous about my body care routine. I was a washcloth loyalist for years, using the tried-and-true tool to diligently apply my favorite soaps and scrubs. However, when I entered my mid-20s, I found that my beloved shower tool was no longer doing what it needed to do. No matter how much or how hard I scrubbed, my skin never felt as smooth as it once did and I had trouble keeping bacne at bay. That is, until I ditched my washcloth for the Japanese Salux towel and built a new body care routine around it.
It was around this time that I had taken interest K-beauty skin care principles and had developed a multi-step routine for my face. So, naturally, I figured I could do the same with my body care, too. I went into research mode scouring the internet for every article and blog post I could find on K-beauty skin care for the neck down. Initially, I landed on the Korean Italy towel as my washcloth replacement, but upon watching Youtube reviews, I realized it would be too abrasive for daily use. Eventually, I found an old Into The Gloss story singing the praises of the Salux. Made in Japan, it's a long cloth made from nylon and polyester with soft exfoliating ridges that aren't coarse. It comes in a beautiful baby pink color (not going to lie, the pink is what hooked me). Fortunately, the Youtube reviews of this shower tool back it up, so I found it on Amazon, made my purchase, and the rest is history.
In the five years since my game-changing discovery, the rest of my body care routine has evolved to support my daily physical exfoliation via the towel, opting for gentler formulas with AHAs for further clarifying benefits and hydrating ingredients to prevent dryness. I've traded in my African black soap and Dr. Bronner's body wash for a more moisturizing option. Beyond soap, I've also incorporated treatment-centric products that support my ever-long battle against congestion and hyperpigmentation into my regimen. Ahead, the holy grail products I use with my beloved Salux towel to keep my skin looking and feeling its best.