Microlocs Are Low-Maintenance & Versatile — Here's What To Know Before Getting Yours
@lenahilari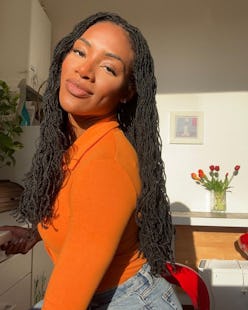 Ask any natural, and they'll tell you that braids, be they knotless, jumbo-sized, or straight-back cornrows, are a top choice for protecting their precious curls. But the category has grown vastly over the years, and the days of one-note styles are a thing of the past. Instead, unique options, such as microlocs are taking center stage. Much more than a temporary reprieve from environmental stressors and damaging tools, this intricate hairstyle provides long-term protection and is easily customizable. "I like to think of microlocs as a natural hair management system that creates small, uniform, and style-able locks," says Natasha Wright, loctician and owner of VanityHairStudio NYC, which specializes in locs of all sizes.
Within the natural hair community, ease and versatility are just as important as protection when it comes to deciding on a new look. Locs have long provided that option and with celebrities sporting them on red carpets and social media alike, micro versions are becoming more popular than ever. Similar to mini twists and micro-fine braids, this type of loc look allows you to quickly shift from one hairstyle to another and offer a pliability that's on par with loose hair. If you're serious about giving microlocs a try, there are a few points to keep in mind.
For this reason, TZR tapped two stylists who not only install, but frequently cater to clients with microlocs. Ahead they break down the basics, including what to expect from the process and how to maintain your style at home.
What Are Microlocs?
Before deep diving into the ins and outs of the style, it's important to note that microlocs are often called sisterlocks. Though the terms are interchangeable, you'll likely see the former used on platforms such as TikTok while the latter is more commonly used in shops specializing in the technique. Aside from its name, size is the main element that puts these locs in their own unique lane. Traditional locs can vary in thickness, but typically start at 10mm in diameter while micro locs usually range from 6-9mm," says Kaori Nik, a Los Angeles-based cosmetologist and founder of Afro-Vegan Beauty, Kaori Nik. As she explains, this is what makes them so easy to manipulate when styling.
How Are Microlocs Installed?
Microlocs can be created using a variety of techniques that include braiding, twisting, and interlocking. Though all three can be used to install the locs, Wright, tells TZR that interlocking is the most popular method. "This is done by gathering a small section of hair with a comb or parting tool and creating an anchor at the end of the hair," she says. From there, she explains that the anchored tip should be pulled through the strands until the piece of hair has been completely locked. "The sectioned hair has four sides, and the process is usually completed in a clockwise motion until you've reached the base. This clockwise direction is called a locking pattern (as shown below)," she says.
Understanding your curl texture is key to determining what your locking pattern will be. "For tightly coiled hair, a four pattern is most commonly recommended, while finer and looser hair should be using a three-locking pattern," says Wright. She continues noting that your specific pattern helps create a natural bend in the loc which will help stabilize it.
The process is not a quick one, so you'll need to carve out a fair amount of time to have them installed correctly. "It can take anywhere from eight hours to several days, depending on the length of the hair, the thickness of the lock, and the width of the person's head," she says.
How Should You Prep Your Hair For Microlocs?
It's best practice to trim your ends before getting any type of protective style, and the same holds true for microlocs. For her clients, Wright also recommends detoxifying the hair a few days before the appointment. "A clarifying shampoo will help balance the pH of the scalp and prevent itchiness or discomfort after getting your locks established," she says.
But perhaps the most important preparation step is managing your expectations. "The images and videos that you fell in love with that inspired you to get microlocks in the first place, is not how your hair will look," Wright says. This is because your locs are not yet matured — meaning the final look will depend on your unique hair type and texture.
How To Maintain Your Microlocs Once They're Installed
As one of its prized benefits, "microlocs are a low-maintenance style day to day, but they do require some upkeep," notes Nik. Washing your locs, as frequently as you would your natural hair is ideal. "You want to shampoo them every two to three weeks to keep them clean and mist a light leave-in conditioner to ensure that they're hydrated and moisturized," says Nik. The consistency of the product is key here as you want to avoid heavy oils and conditioners that can weigh the hair down. "I always recommend ridding your home of all of your conditioners and oils so you are not tempted to use them after your installation," says Wright.
Lastly, both stylists note that a satin scarf will go a long way in ensuring that your edges stay neat and presentable. Many protective styles require the full head to be covered while you sleep, but microlocs can manage with just a head wrap on the perimeter. "As long as you follow a consistent routine of maintaining the roots every six weeks, your hair will thrive," says Wright.