Crochet Braids Are The Key To A Voluminous & Natural-Looking Protective Style
@curlcodeblack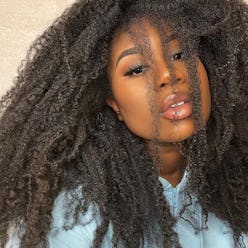 For those with natural hair, braids, and extensions offer more than just protection from the outside world. Yes, they shield curls from heat-styling and environmental stressors, but they also allow for styling versatility. From waist-skimming Fulani braids and Beyoncé's thigh-grazing lemonade cornrows to inches of long bundles used for sew-in weaves, the options are endless. In many extension hairstyles like these, the natural hair is braided into an intricate pattern that's used for both style and functionality. Crochet braids, a method of adding extensions that's similar to weaving, is one example that relies on this technique.
If you have natural hair, you probably remember crochet braids as a popular alternative to weaves and closures during the '90s. But with the catalog of protective styles forever evolving, this nostalgic method of braiding is resurfacing as one of the gentlest options around. "Tension is arguably the largest concern when it comes to any braided look, but with a crochet braided hairstyle that's less of an issue since they put less pressure at the root of the hair," says LaRae Burrus, licensed cosmetologist, stylist, and hair artist in Los Angeles.
With hair health at the forefront of many protective styles as of late, it's not surprising to see crochet braids experience an uptick in popularity. For this reason, TZR tapped two celebrity hairstylists to define the technique, how the braids are used to create different styles, and what to know before booking your appointment.
What Are Crochet Braids?
Unlike many other braided looks, crochet braids refer more to the method than the style itself. As Burrus tells TZR, crochet braiding is a technique of weaving that uses a crochet needle and looping method to attach extensions into cornrows. Instead of a stand-alone hairstyle, the braids function as the base of the style, just as they would for sew-in weaves. If you're stumped wondering whether crochet braids and sew-ins are the same, you're not alone. Many people confuse the two, but what sets them apart are the tools. Crochet braids utilize a crochet hook and a series of interlocking loops, whereas weaves use a standard needle and thread to sew the extensions into the braids.
What Kind Of Hairstyles Are Crochet Braids Used For?
What makes crochet braids unique is that they can be used to create individual braid hairstyles and weaves. For braids, the process is simple and is a good DIY option for box or knotless braids as it takes much less time to install. "Instead of creating single braids one at a time, the crochet technique loops prepackaged individual braids or twists into the cornrows," says Burrus. There are a few popular styles, such as Marley twists, passion twists and, faux locs, that work well with crochet braids to create a finished look in no time. Another benefit to this method for braids is density with little tension. Hairstylist and braid expert Lita Lvoe tells TZR that crochet braids can help create fullness without adding weight to the roots of the hair.
In the case of a weave, Burrus notes that though the process is similar to sew-ins the type of styles created are often different. "When using the crochet technique for a weave, the stylist uses loose hair extensions, either synthetic or human hair, that create a naturally full hairstyle. Here, the client's hair is completely braided down and individual pieces of the loose hair are looped into the cornrows," she says.
What Are The Benefits Of Crochet Braids?
The greatest benefit to styles created with a crochet braid base is the decrease in strain on your natural hair, which minimizes breakage and thinning edges. "With the hair completely put away underneath cornrows, the technique of crocheting doesn't add tension when done properly," says Burrus. It also allows for less time and money spent in the salon, as installations are much quicker and more affordable than braids and traditional weaves. "Crochet braids are a nice option to other protective styles because they provide the client with a range of versatile styling options that warrant longer wear time thanks to the low-tension technique," says Lvoe.
How To Prep Your Hair For Crochet Braids
"When preparing for a crochet braid install, you should first make sure that the hair is thoroughly cleansed and conditioned," says Burrus. The stylist recommends starting with a clarifying shampoo to remove buildup and then using a moisturizing one, such as African Pride Moisture Miracle Shine Enhancing Nourishing Daily Shampoo, to ensure your strands are well hydrated. Next, you'll need to moisturize with a leave-in conditioner, cream, or oil since you will be unable to do so once your hair has been braided underneath the style. "This prep is centered around locking moisture into the hair before putting in the crochet braids, that way it isn't brittle and breaking under your protective style," says Burrus.
How To Maintain Your Crochet Braid Hairstyle
Crochet braids are pretty low maintenance and require little upkeep once they've been installed. Due to the cornrow base, you have the ability to moisturize your scalp and roots. This can be done using a product with a nozzle tip that easily fits in between the parts, however, Burrus suggests doing so every two weeks and using a water mixture to avoid buildup. Edges should also be well moisturized during the length of your style to keep them strong while the hair is braided down. Lastly, "you need to use a bonnet or some type of protection for when you are sleeping at night," says Lvoe. Not only will a silk pillowcase minimize friction but it can help maintain your look for at least six to eight weeks.