A No BS Guide To Hair Extensions For Protective Styles
@heatfreehair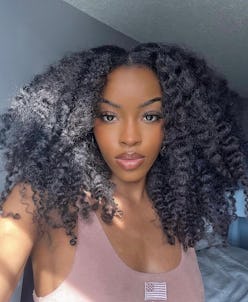 If you have natural hair, you're probably familiar with the wonders of a protective style. The goal is to support length retention and prevent hair breakage by keeping your ends tucked away, thus giving strands a break from daily manipulation. While not all protective styles require hair extensions, they are a fun way to switch up your look, add length and volume, and stay flawless on the go. Whether it's classic straight-back cornrows, bohemian curly knotless box braids a la Zoë Kravitz, passion twists, butterfly locs, wigs, or more, there are a plethora of synthetic and human hair extension options to achieve your desired style. If navigating the online hair marketplace feels overwhelming, don't fret. Ahead, TZR speaks with expert hairstylists to give you the best hair extension brands to shop for braids, wigs, and weaves.
According to natural hair expert, Nigella Miller, lifestyle and budget are the key factors to consider when choosing between synthetic and human hair extensions. "I always ask my clients where do they live? Are they physically active? Do they have time for daily upkeep? Allergies from a certain type of hair? Those are all things to note when advising the best options." Synthetic hair is more affordable and effective when on a budget, but human hair is lighter, safer on the scalp, and can be repurposed if properly maintained, although more expensive.
Dhairius Thomas, a celebrity hairstylist whose clients include Justine Skye and Jazmine Sullivan shares, "Human hair enters the market at a higher price point but is worth it for those who want a more natural appearance in their extensions. It can be treated as if it is growing from the scalp and styled with heat tools. However, synthetic hair has just as much versatility with texture but cannot be styled with heat tools — it must be altered by dipping the hair in hot water."
Choosing Between Human Hair Vs. Synthetic Hair
As the hair industry continues to expand, consumers are skipping synthetic hair such as kanekalon (a higher quality synthetic fiber) for braided styles due to the possible sensitivity resulting from the alkaline-based formula. Pro tip? "Soak your synthetic hair in apple cider vinegar to get rid of the alkaline lye shield that's coating the hair, which causes itching, redness, and irritation," Thomas adds. If time doesn't allow or DIY isn't your jam, there are chemical-free synthetic brands that cut down on time.
When opting for human hair, treating your tresses with TLC is critical to ensuring the longevity of the unit and style. "Human hair should be treated as if it's your own," Miller explains. "The same regimen that is used on your hair is what you should be doing for extensions because it is real hair. That means taking the time out to shampoo, condition, deep condition, and detangle. Use heat protectant and all necessary tools to protect your extension hair follicle, especially in human box braids because your hair is intertwined within the braiding hair."
Renowned celebrity natural hairstylist, Felicia Leatherwood, who slays the crown of Issa Rae, advises, "A good water-based leave-in conditioning spray is always good for human hair extensions. It helps keep the human hair soft and manageable so that it doesn't tangle too easily."
You should also be mindful of your own hair as well since protective styles can be damaging if proper steps are not taken to nourish and support hair growth. "Be careful about your edges when wearing protective styles, wrap your hair up at night so that there is no tension on your hairline or elsewhere on the scalp. Get a retouch on your hairline after two to three weeks, depending on the flexibility of the protective style, and be sure to apply any growth aids while wearing braids, weaves, or twists because it's the best time to get to your scalp," says Leatherwood.
Human Hair Brands To Shop
Seen on A-listers, Naomi Campbell, Lizzo, and Rihanna, this celebrity-trusted brand is that girl when it comes to quality hair. The NY-based company sells luscious lace wigs, frontals, closures, and bundles in a variety of collections to suit your every mood. The hair is an absolute investment, pricing starts at $130 and up for a bundle of their True Signature line, but with proper maintenance can be re-worn and last for years. Take note, when styling human hair don't go overboard with products. "Mildly add shine and holding sprays if needed but keep in mind that too much product can cause build-up. A dime size of Bio-Silk can get the hair looking fresh and hydrated for a few days," says Thomas.
Finding extensions that mimic your natural hair seamlessly can be a challenge. Enter, Heat Free Hair, a premium line that specializes in natural textures, ranging from type 3 curl patterns to type 4 coils. The site also features a quiz to help customize the best product, pattern, and style based on lifestyle and budget. Whether you prefer wefted bundles for a weave, clip-ins for instant volume and length, or a U-part wig, this line will have you snatched without putting stress on your tresses.
Made from 100% raw hair, XOXO provides ponytails, bundles, HD frontal wigs, and more in gorgeous textures from straight to curly. Founder Stephanie Nolan doesn't play — every collection goes through intensive quality control and is tested for tangles and shedding before going to market, which is reflected in the price. As someone who has purchased and worn the hair for years (yup, it maintains its original texture post-wash and heat styling), I can attest that the attention to detail is unparalleled. C'mon, if Solange is rocking XOXO then you know it's top-tier.
With its mantra, "No curl left behind", this Black-owned and operated company is on a mission to let your natural beauty shine through. Offered in seven textures, three of which are exclusively for type 4A to C hair, Kinkistry is one of the few brands ensuring that all patterns on the kinky hair spectrum are represented. Feeling experimental? Try the Kinknesis U-part wig, a glue-less 100% Peruvian unit made to match the appearance and volume of blown-out natural hair. Add some tendrils using a curl wand for a brand new 'do.
Synthetic Hair Brands To Shop
"My favorite braiding hair brand is Darling Textured Hair Extensions because they offer various textures and colors, the hair comes pre-stretched, and has a human hair appearance," Thomas shares. If your go-to protective styles include braids, crotchet, or faux-locs, the brand's ready-to-wear extensions will have you flawless straight out the box, no manipulation required. Bonus? The online brand is sold in Ghana, Nigeria, and South Africa, among other countries, perfect for the global naturalistas on the go.
You know that itchy feeling you get when wearing synthetic hair? The worst. Thankfully, Latched and Hooked provides the ease of synthetic hair sans scalp irritation. Featuring non-toxic, chemical-free hair in a spectrum of eye-catching colors (think custom-dyed lime green and bubblegum pink), you can play up bold looks without breaking the bank or your edges.
One of the highest quality brands from across the pond is The Headdress. The UK-based company, started by hairstylist Tracey Amaka, is known for its blends of incredibly soft pre-stretched and pre-colored hair, eliminating the manual labor it takes braiders to achieve custom colors on synthetic hair. The current selection includes five shades: Golden Hour, Tanned, Spiced, Sandy Beach, and Warm Nights, the perfect blends of honey, blonde, red, and deep brown hues that look stunning on all skin tones.