If You're Not Applying Your Makeup Products In This Exact Order, You're Doing It Wrong
Experts settle the debate once and for all.
@xlolamcdonnell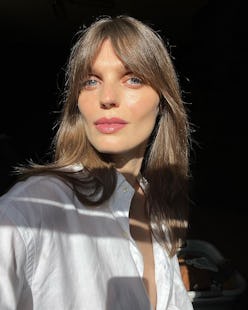 Blame it on the vast sea of products or the endless loop of internet tutorials, but figuring out the correct order to apply your makeup can be downright confusing. While the box your go-to concealer comes in might provide tips on how to use it to brighten your under eyes or cover up acne scars, it doesn't tell you whether you should put it on before or after foundation. However, the reality is that the sequence in which you use your products really does make a difference — and not just for your final look. Resting on the face for hours, cosmetics can draw unwanted attention to common concerns such as breakouts and dryness especially when used out of order.
From the most natural look to a full face of glam, having the right products for your skin type is also important when developing a successful makeup routine. This will help you narrow down the product categories you'll need daily and the ones you can do without. As celebrity and editorial makeup artist Katie Jane Hughes notes, "There are a few basics items, like a good moisturizer, a great concealer, and a handful of brushes in an assortment of sizes, that are necessary for any [makeup] style." But, even with the best staples in your collection, you'll still need to know when to use them to accomplish a swoon-worthy makeup look.
The quest for the perfect routine may never end, because let's face it, trends and new products are fun to try. However, mastering the ideal order of makeup application has long-term value. Ahead, TZR chatted with four makeup artists to get the scoop.
Why Does The Order You Apply Makeup Matter?
Applying your makeup in the correct order is paramount to getting each individual product to perform as they're intended. Celebrity makeup artist Jamie Greenberg tells TZR that though routines may vary, certain steps used in an order can determine how long your makeup lasts and how well it does its job. Plus, it will make your regime flow seamlessly.
The order is important with textures as it's difficult to go backward. "Cream products are meant to melt into the skin so they need to be applied before powder products in order to deliver the proper result," says Hughes.
Looking at the big picture, the sequence of application also ensures they'll lay properly on the skin. "When done correctly this will prevent makeup from breaking down throughout the course of the day as well as deter excess product build-up," says Kristen Fortier, makeup artist and product development manager of Crunchi Cosmetics.
The Correct Order To Apply Makeup
Step 1: Skin Care
You've heard it time and time again, but a good skin care routine is the basis of any great makeup look. So whether it's your day-to-day no-makeup makeup or a special occasion, having a consistent regimen of cleanser, toner, and moisturizer is going to be crucial. Not only will this decrease irritations and the occurrence of blemishes but it will guarantee that your skin stays hydrated underneath the makeup. "I always begin with moisturizer on the face, lips, and even an under-eye mask to keep the delicate area plump," says Greenberg.
A broad spectrum SPF should also be applied as most foundations contain too small of an amount to provide adequate sun protection. Some hybrid options even include the added function of prepping the skin specifically for makeup use.
Step 2: Primer
With dozens of options on the market that boast an array of benefits like blurring fine lines and pores, makeup primers have solidified their place in daily routines. "After you've completed your skin care, the next step should always be primer for an even application," states NYC-based celebrity makeup artist and face sculptor, Joseph Carrillo.
As an added bonus, it creates a much-needed barrier between your skin and the makeup, meaning it can also provide further hydration or be used to mollify oil production for a matte finish.
Step 3: Foundation & Concealer
The purpose of the foundation is to create an even base or blank canvas for other cosmetic products to be applied. With that in mind, you'll want to start by finding a shade that best matches your skin tone and desired finish. To find your shade match, Carrillo suggests selecting three hues that are similar to your skin tone and swiping each on your chest to see which best fits. "Typically the face runs lighter as we wash it all the time so matching there makes it perfect every time," he says.
To blend in the product, Greenberg recommends using a Beautyblender for a natural look or a great foundation brush to buff into the skin for a smoother finish. Regardless of the tool you use, she ensures that the foundation should be blended before adding concealer.
With a thicker consistency, concealers are meant to be used sparingly to target specific areas of concern such as dark circles or blemish marks. Applying thin layers that are lightly patted into the skin will work best.
Step 4: Bronzer & Blush
Once your base has been applied, you can use bronzers and contouring products to shape and bring warmth back to the skin. But remember creams should be applied before powders. "If you like to use cream to contour, this is a good time to add it," says Carrillo.
He continues, saying that, "for dry skin cream everything (contour, bronzer, and blush) followed by a hydrating powder is the way to go to avoid patchy application. Conversely, oily skin types should stick to powder products to prevent makeup from breaking down as the day goes on.
Step 5: Brows, Eyeshadow, & Mascara
This one is the most flexible of all the steps, as some people opt to do this before foundation. "For pigment-rich eye looks, it may be a good idea to do this first in order to avoid any eyeshadow fallout affecting the foundation," says Fortier. Wherever you decide to place this step, all four MUAs agree that eye primer is a must for a statement-making look that stays put.
Brows are tricky, as the overall look and shape will determine the application. But according to Greenberg good tools will go far. "A great spoolie can be used to shape your brows or comb out clumpy mascara," she says.
Step 6: Lips
Lipstick or gloss, the addition of defined lips will bring your final makeup look together. For long-lasting color that won't bleed, Fortier and Carrillo recommend using a lip liner as a base. You can get creative with different shades, but a good rule of thumb is to opt for a liner that is slightly darker than your lip color to add contrast. To finish, Carrillo likes to seal everything with liquid lip color for an extra punch.
Step 7: Setting Your Makeup
The final step entails setting your makeup to keep it put throughout the day. "If you've applied any cream products, a powder will ensure that they don't melt or move," says Fortier. A setting spray can also give this effect and can be applied after powder or simply on top of the makeup for a more natural finish.