This Sunscreen Swap Will Keep Your Makeup From Pilling Every Single Time
@skinbylottie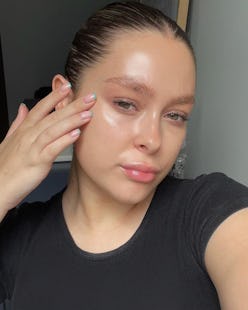 We may receive a portion of sales if you purchase a product through a link in this article.
It's hard to remember a time when sunscreen wasn't a staple skin care step. Thanks to innovation in the category, many of today's formulas don't leave white casts or cause breakouts, so applying SPF every morning is no longer a hard sell. However, pilling can still be an issue when you layer makeup over sunscreen. Regardless of whether you wear light- or full-coverage foundation, the lifting of your SPF remains a possible threat. This situation set the tone for a new crop of recently-launched SPF primers that blur the lines between skin care and makeup.
While hero brands like Supergoop! and Black Girl Sunscreen have transformed the sunscreen space with their sophisticated formulas that feel as luxurious as a fancy face cream, the recent influx of SPF primers is a noteworthy development. Whether you creating a full-glam look or a no-makeup makeup one, SPF coverage is often left to cosmetic products infused with sunscreen to avoid the dreaded pilling. As board-certified dermatologist Dr. Jenny Liu,MD, points out "most people really aren't using an adequate amount of those products to get the protection that's listed."
So with summer on the horizon and clean-girl makeup looks still going strong, the arrival of these multitasking sunscreens feels right on time. TZR tapped the brand founders behind some of the most noteworthy SPF primers and dermatologists to find out all of the benefits of the game-changing product.
What Are The Benefits of SPF Primers?
Typically sandwiched in-between applying SPF and foundation, the blended function of sun protection and makeup prep is ideal — and not just for full-coverage routines. Formulated with skin-loving ingredients and blurring technology they're also the perfect base sans foundation.
For Kosas' founder Sheena Zadeh-Daly, the idea to create an SPF primer stemmed from her personal struggle of trying to layer products and also get the finished look she desired. "I wanted to create a formula filled with components to help improve my skin over time, but I also wanted it to actually enhance my makeup," she says.
The solution came in the form of the recently-launched DreamBeam, which in addition to offering broad spectrum SPF 40 protection, was created specifically for priming the skin. "SPF aside, I needed to have a formula that melted into the skin so makeup goes on smoothly and seamlessly while also delivering the sensorial experience you typically get during application," she says.
Unlike a tinted SPF, DreamBeam has a peachy-pink hue to help neutralize zinc oxide's bluish-white color as opposed to providing actual coverage. Another noteworthy difference is the needle-nose applicator which further solidifies the 'makeup approach' to the product.
As it turns out Zadeh-Daly's story is not one of a kind. With 'skinification' revamping makeup to include skin care-inspired ingredients and results, the desire for two-in-one products has increased. "Arguably the most important step in one's skin care routine, we aimed to create an SPF that would harness the power of an ingredient and deliver those same benefits," says Colette Laxton, co-founder of The Inkey List. Honing in on Polyglutamic Acid, an ingredient particularly beloved by Laxton, the Polyglutamic Acid Dewy Sunscreen was developed with the radiant effect from the brand's serum (by the same name) in mind. However, along with its dewy and broad spectrum SPF 30 protection, it was also created to be pill-proof and to smooth texture — meaning it can easily double up as the perfect makeup primer.
How Do SPF Primers Work?
The nature of any hybrid is to address multiple concerns just as effectively as a singular product. That efficacy is strongly dependent on formulation unique to each issue. Laxton tells TZR that polyglutamic acid became the lead ingredient in The Inkey List's formula because it's extremely hydrating. "Larger than hyaluronic acid, it sits on the top layer of skin, locking in moisture and ultimately resulting in a dewy finish," she says.
With similar skin care-like effects, Kosas' DreamBeam is composed of ingredients familiar to even the most novice of users such as peptides, ceramides, and hyaluronic acid. "Think of it as SPF skin care that meets dreamy makeup prep," says Zadeh-Daly. Chosen specifically for their ability to give skin a velvet texture, these components make the application just as effortless as your standard makeup primer.
In terms of actual sun protection, these hybrid-style sunscreens are game-changing for daily makeup wearers. In fact, it's what makes them fresh in comparison to cosmetics formulated with smaller doses of SPF. According to cosmetic dermatologist Dr. Michele Green MD, both mineral and chemical sunscreens adequately protect the skin from sun damage with the right amount of 30 SPF (or higher) and the correct application.
"Sunscreens are designed to be effective when applied directly to clean skin free of makeup — which means you should allow it to settle for a few minutes before putting on makeup," she says. This will prevent dilution and maintain the defensive effects against UVA and UVB rays. It's important to note that SPF is not cumulative, further demonstrating the significance of these handy hybrids. But regardless of the SPF number, reapplication is still recommended by Dr. Green and Dr. Liu.
While both DreamBeam and the Polyglutamic Acid Dewy Sunscreen offer broad spectrum coverage they are just two of the many products creating a path for a new category of SPF primers. Keep scrolling to see the other sunscreens best suited for prepping the skin before makeup use.
Shop The Best SPF Primers