This High-Tech SPF Might Be The Ultimate In Invisible Sun Protection
Courtesy of Pavise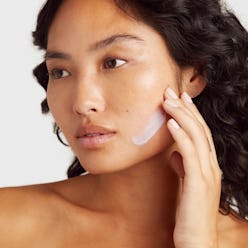 We may receive a portion of sales if you purchase a product through a link in this article.
Even for those who do truly understand its importance in a routine, sunscreen does have something of an image problem. Associated with pilling on application, pore-clogging residue, and that dreaded white-gray cast — particularly for those with deeper skin tones — it's understandable how layering on daily SPF can feel more frustrating than functional. Sophie Bai, founder and CEO of B.A.I. Biosciences, is already a one of the world's preeminent bio-cosmetic scientists, but she might also be a PR maven. Her new line, Pavise, is flipping the script on everything you thought you knew about SPF and UV damage. Pavise sunscreens and accompanying products treat sun protection like a combined luxury skin care experience and an advanced research project — and could be the thing to finally get even the most stubborn hold-outs onboard with sun care.
Pavise's initial four launches are just a jumping-off point, but comprise a 360-degree plan for effective, streamlined protection. Part of the efficacy is in the approach — Bai tells TZR that research and development and product development are financial priorities for the brand, applying pharmaceutical industry methods and metrics to every product in the line. "Each product has gone through hundreds of iterations," she says, with "extensive safety and efficacy testing in vitro and in vivo."
The centerpiece of the line is, of course, the brand's Dynamic Age-Defense SPF. Though hydrating hybrid combining moisturizer, sunscreen, and even an anti-aging treatment, the most alluring aspect of the launch is its completely invisible coverage despite its fully mineral formula. To nail it, Bai and her team actually had to create an entirely new type of zinc oxide in the lab, their proprietary DiamondCore Shield Technology. "That is the first transparent ZnO on the market," Bai confirms. A résumé-topping find for anyone else, but it's just another accomplishment for Bai, for whom NASA named an entire planet after she discovered a breakthrough anti-aging compound at just 16 years old. Slowing signs of aging is a key tenant of Bai's research and work, and it's core to the Pavise brand, too.
Also included in the line are a robust yet gentle cleanser and designated lip sunscreen, which doubles as a glossy tinted oil available in three shades — all of which are naturally colored without the use of dyes. It utilizes that same invisible mineral coverage, which, just like the all-over SPF, helps extend the life of in-office cosmetic treatments like fillers. "Lips are thinner and prone to UV damage," Bai explains. "Skin cancer and venous lake often happen on and around the lips. Lip thinning and lip filer migration can also be caused by accumulative UVA exposure."
The final piece in Pavise's launch lineup isn't a product at all, but rather a means for self-research. A $176 UV Camera, designed to be used with the Pavise app, allows users to get below-the-surface looks at existing dark spots, sun spots, melasma, and more. Partially diagnostic, it helps users ensure proper application but also track the sunscreen's efficacy. "Being able to see the unseen is very powerful," Bai says. While she explains that UV cameras are nothing new, putting them in the hands of the everyday people can be a game-changer. "We wanted to have something meaningful, educational, and fun for consumers. That can easily help them understand the importance of wearing sunscreen, see the photo-damage themselves, and protect loved ones." With the advent of Bai's totally invisible new sunscreen, SPF is about to win over many more fans.
Shop Pavise's just-released line here.