The Rumors Are True: Bobs *Do* Look Great On Thick Hair
@chloehelenmiles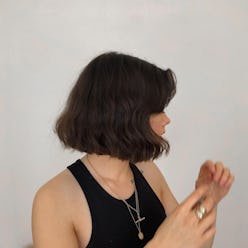 The bob has solidified itself as one of the most popular haircuts of all time because it stands out, whether you have fine straight hair or tight curls. While its versatility is why it's so beloved, those with thick hair might think their strands are too dense to go short. However, if you think about it, the bob is actually revered for its ability to create the illusion of fullness, so you're one step ahead of the game. It's all in how the cut is done that keeps it from looking too bulky. In fact, many trending styles like the mushroom and French girl bobs are ideal for this hair type.
On the flip side, a layered bob can actually take weight out of the hair. Take a cropped shaggy style, for example. Another option? A longer bob with a ton of layers to add movement. With so many options to choose from, it can get overwhelming to find your favorite. Fortunately, this list of curated looks can help lead the way. Ahead, the best bob hairstyles for thick hair.
Long Layers
Layers can be used to give a style a more voluminous look. However, if you already have thick hair, the addition of long layers can elevate your bob in a different way. Instead of choppy pieces that may appear bulky, they create texture and definition. The layers will also help draw the eye toward the ends of the hair and form a nice framing shape.
Blunt Long Bob
Blunt ends and lobs are a match made in heaven. And thanks to the shoulder-grazing length, it's also a great option for thick hair. While this cut doesn't require a lot of energy when it comes to styling it, you do want to make sure your strands are smooth to avoid a weighty look. Try using a styling cream while you blow-dry your hair to keep the the cuticles flat, and a light hair oil to keep frizz at bay.
Asymmetrical Bob
Long and luxe, the asymmetrical cut is the crème de la crème when it comes to bob hairstyles for thick hair. Not only does it allow you to maintain a good amount of length, but the angular shape is ideal for masking bulk. The key to nailing this look is to opt for soft ends that can be lightly curled under instead of a razor-sharp edge. This will ensure that your style looks lean and not too heavy.
Shaggy Bob
You may think that a cropped style is best suited for fine hair, but it's actually quite universal. By choosing a shaggy cut that keeps the hair fairly thin on the sides, you can completely transform your look. Similar to the trendy wolf and cub styles, this style uses piecey layers for visual interest. If you're still on the fence, just note that the baby curtain bang also plays a starring role in making this bob Instagram-friendly.
Curly Bob
Big, luscious curls thrive with this haircut thanks to their natural voluminous look. If you've been thinking about having your coils formed into a bob, be sure to prioritize finding a salon that specializes in curly cuts. Creating a shape that's ideal for both your hair texture and face shape is vital for ending up with a style you'll love.
Blunt Bangs
Though the bob works well with various types of bangs, blunt ones are the most becoming with thicker textures. Instead of shying away from the extra weight, this style leans into it. The result is an amplified look that has both volume and lift. Even better? A heavy fringe that falls just below the eyebrow can also add an edginess to your look.
Chin-Length
Ahh the chin-length bob. Timeless, elegant, and incredibly simple, it's the kind of style textured hair adores. It thrives on thickness and slightly blunt ends to create a full look. But don't even begin to think this cut lacks versatility. Thanks to longer sides and an undefined part, it can be worn a number of ways with little effort. Take a cue from this photo and find the look that best fits your style right now.
Mushroom Bob
Similar to the lob, the mushroom bob heavily embraces long sides and curved ends. However, with it's shorter length, falling just below the chin it makes an excellent frame the face. This particular bob also works best with hair that's fuller as it helps to create the rounded shape. To get the full effect, try using a round brush when blow drying and a flat iron to lightly curl the ends under.
French Bob
Perhaps one of the most versatile options on this list, the Parisian bob can be worn with curls or fine or thick hair alike. If you fall into the latter category, try opting for a cut that focuses less on layers. The final look should be a little bulky so blunt ends may be more ideal to give a weighty appearance. Finished with a complementing bang, it's the perfect balance of drama and romance and a great option if you want a bold change up.
Stacked Bob
Victoria Beckham has many claims to fame in the beauty industry, but her stacked bob from the early aughts is one of the most memorable. Created with clippers for a tapered neck and precision-cut layers, it has an elevated finish that feels modern and contemporary. Though this type of bob requires a bit more maintenance, its high-fashion look is well worth the work.