The Hydrating Serums Editors Swear By For Plump & Glowy Skin
@stephhjelmeseth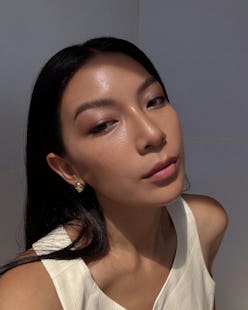 Main Squeeze
We may receive a portion of sales if you purchase a product through a link in this article.
Join TZR editors for Main Squeeze, the series dedicated to sharing beloved beauty products — be they bold, effective, or simply fun — that make our week just a little bit better. Ahead, Team TZR spotlights their favorite hydrating serums of the moment.
Any dermatologist will tell you that no skin care routine is complete without a hydrating serum. Whether your regimen includes 10 steps or half that amount, these hero products are important for maintaining the skin's barrier, revitalizing cells, and more. In fact, the best hydrating serums offer a myriad of benefits that extend well beyond quenching the skin. They're formulated to deliver concentrated amounts of ingredients, such as hyaluronic acid and niacinamide deep into the skin. As you can probably guess, this is quite effective for improving common aging concerns like fine lines, wrinkles, and discoloration. But their capabilities don't end there, as serums also act as boosting components in your routine and help enhance the moisturizing abilities of face creams.
Still, even with the experts behind them, these powerful solutions often get lost in the sea of online information or the products that fill up bathroom cabinets. With a wide range of options to choose from (whether you're selecting from your personal collection or perusing the web), it can be difficult to hone in on the right one. A milky formula packed with peptides, for example, will go a long way to giving you that glazed and hydrated look. While an enchanting solution charged with fruit extracts will give your skin a much-needed boost.
Below, TZR editors share the serums and formulas they rely on most to keep their skin hydrated and healthy.
"Stacked with naturally derived actives, including plant ceramides, pomegranate sterols, calendula buds, and shea butter, this silky serum is the skin care equivalent to chugging a glass of water. My skin soaks it up and looks (and feels!) so soft and smooth. Bonus: It's also soothing and a great option for temperamental skin because the formula is hypoallergenic and fragrance-free." — Erin Lukas, deputy beauty editor, TZR
"I like this sleek little serum for its green bottle packaging (so chic on my bathroom shelf!) but love it for the dewy, well-rested sheen my skin has after it's soaked into my pores all night."— Alison Syrett, deputy fashion editor, TZR
"I'm one of those people who swear by physical scrubs for deep exfoliation. But right after I towel my face dry, I reach for this serum to soothe and calm my skin. Hemp is known to have anti-inflammatory properties and naturally helps the dermis retain water so I like to think that it's the perfect ingredient after exfoliating. Combined with other natural ingredients, it melts into my skin and gives me a lovely glow every time I use it. It also protects against blue light which is a plus for me since I spend a good chunk of time in front of a computer screen." — Jessica Fields, beauty writer, TZR
"At first I was reluctant to hop on the Rhode Beauty bandwagon because I'm skeptical of celebrity-founded skin care brands. However, after watching several videos of Hailey Bieber using her own products, I decided to give them a try — I really wanted that dewy, hydrated skin look. It turns out, that I actually like this serum because the formula is a bit on the watery/thin side (think Cetaphil face wash consistency), so it's great for summer and pairs well with my thicker moisturizers. It hydrates my skin and indeed, gives me that glow in the morning and at night."— Marina Liao, senior fashion news editor, TZR
"I'm usually skeptical of a product that claims to do more than one thing, so I was pleasantly surprised when I started using Boum-Boum Milk 3-in-1 spray that combines toner, serum, and moisturizer. It's like a tall glass of water for my parched morning skin and keeps it hydrated throughout the day. In summer, I only use this and sunscreen as part of my routine, and I love how its sustainable packaging is extremely lightweight for easy traveling."— Kathy Lee, editor-in-chief, TZR
"I've only been using this hyaluronic acid-packed serum for a month, yet my skin looks noticeably more bouncy and plump. Not to mention, it absorbs super fast and doesn't leave a greasy feeling on my face." — Kelsey Stewart, associate fashion editor, TZR
"At 37, hydration and moisture retention is a top priority. I recently got my hands on this serum for the first time and I am forever changed. It absorbs nicely into my skin but doesn't feel heavy or greasy, but keeps my skin pillowy soft and hydrated. It layers nicely under my moisturizer and makeup, making my skin look bouncy and healthy. I can't get enough!" — Angela Melero, executive editor, TZR
"My favorite hydrating serums are the ones that deliver immediate, up-front results as well as improving my skin's moisture levels over time — I'm just impatient that way. The first night I tried Skin Pharm's Youth Serum, it was after a long day of work and travel. My skin drank it right in, and I noticed a near-instant effect on the fine lines around my mouth and the way my makeup went on right after. Because it's such a hearty workhorse, it's become a daily go-to as well as my favorite flying essential. I usually mist my face with mineralized water than pat it in and it makes such a difference."—Amanda Ross, beauty editor, TZR
"This serum has become a staple in my summer (and post-summer) skin care routine. It has a light, watery texture that sinks in instantly, and the plant extracts soothe any redness or irritation after an overzealous beach day. Plus, it has an intoxicating scent that makes every application feel like a sensorial experience."—Faith Xue, executive beauty director, lifestyle, BDG
"My #1 skin concern has always been sensitivity — I have rosacea and keratosis pilaris, a perfect combo for irritation. Dr. Barbara Sturm's Calming Serum is the ultimate fix for me. It reduces my redness and provides the perfect base, as it's not too thick or sticky, for under daytime makeup or heavier nighttime creams. It's incredibly soothing and has really helped minimize redness and soften the KP on my face." —Rebecca Iloulian, director, newsletter revenue and marketing, BDG
"I've been loyal to this serum since it was released earlier this year mainly because it absorbs quickly and instantly softens and hydrates my skin. But the formula is a true workhorse and should not be slept on. With a high concentration of pure niacinamide, and phenylethyl resorcinol, it's also plumped and evened my skin with use. Needless to say, this little guy has become a staple step. in my routine that I almost never skip." — Fields