Why Witch Hazel Should Be Your New *Old* Favorite Ingredient
Don't call it a comeback.
Shutterstock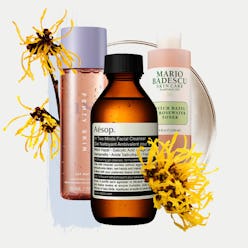 We may receive a portion of sales if you purchase a product through a link in this article.
With new products, brands, and categories popping up every day, beauty can be a bit overwhelming. Back to Basics is our rudimentary beauty series that serves as your crash course on the science behind some of the best formulations in the game. This week, we're taking a look at witch hazel for your skin.
From the earliest stages of puberty to the first signs of hormonal acne, those with breakout-prone skin are well-acquainted with witch hazel as a savior for balancing excess oil. Most often, the strong astringent is used as a liquid toner with a cotton ball that's applied at night to zap emerging blemishes. However, it turns out the use and benefits of witch hazel for the skin extends far beyond preventing breakouts.
While witch hazel is known to be an effective ingredient for treating acne, it's also gained a reputation for being drying because it's commonly distilled with alcohol. However, in an alcohol-free formula, the plant-derived ingredient can actually be incredibly soothing and comforting for inflamed and irritated skin. It also can aid in fighting off bacteria, which helps prevent blemishes. In hair care, witch hazel can help balance the scalp of excess sebum to minimize flakes and greasy strands. These additional benefits are why the tried-and-true ingredient is currently experiencing a renaissance and popping up in a number of products.
From face mists, cleansers, to shampoo, beauty brands have only just begun to scratch the surface of the ingredient's benefits. Intriguing right? Ahead, TZR tapped a variety of experts including a dermatologist, plastic surgeon, and doctor of nursing practice (DND) for all of the details on using witch hazel in your skin care and hair care routines.
What Is Witch Hazel?
While witch hazel is best known in its liquid form, it is actually a type of flowering shrub that contains strong medicinal properties. While there are many different species of witch hazel, Hamamelis virginiana — a variety native to North America — is the one most commonly used for medicines and natural remedies.
According to Dr. Dustin Portela, board-certified dermatologist and founder of Treasure Valley Dermatology, witch hazel is naturally high in tannins which help to soothe the skin and mollify irritation. It's most frequently used as an astringent, which is prepared through a process of steam distillation using all of the plant's components including its bark, leaves, and twigs.
What Are The Benefits Of Witch Hazel?
Like many plants used in skin care, witch hazel offers a number of benefits. As mentioned, it can help control excess oil and acne by drying out puss-filled zits. However, because it is antimicrobial and an anti-inflammatory agent, it can be used to reduce swelling and mild irritation.
Dr. Jaimie DeRosa, board-certified facial plastic surgeon and founder of DeRosa Center Plastic Surgery & Med Spa, tells TZR that with topical use, witch hazel can be used to treat minor skin issues such as acne, insect bites, and both razor burns and sunburns. "And because it can reduce inflammation, it may even help to decrease puffiness under the eyes," she adds.
Who Should Use Witch Hazel & What Are The Side Effects?
Witch hazel naturally produces skin-constricting tannins, which have anti-inflammatory properties. When blended with alcohol to form astringents and toners, it can further dehydrate and even impair the surface levels of the skin. For best practices, Dr. DeRosa suggests looking for products that are alcohol-free as many contain isopropyl alcohol due to the distillation method of production. "Over-use of witch hazel can result in over-drying of the skin and irritation," she says. With this in mind, she recommends limiting topical use more than once a day.
As for who should use witch hazel, according to Dr. Jodi Logerfo, DND and nurse practitioner certified in dermatology, allergic reactions to witch hazel are rare, which makes it safe for all skin types – except those with an allergy or rosacea.
Although witch hazel can be utilized by all skin types, those with sensitive skin should still take precautions by spot testing or consulting with their doctor before use. "As with any topical application, you should seek professional guidance if you notice redness or irritation after using," she says.
How To Incorporate Witch Hazel Into Your Routine
In the past witch hazel has been commonly associated with toners and acne-related products, thanks to its scientifically proven effects. But these days it has become a key ingredient in a range of beauty products including hair care in addition to skin care.
When searching for products containing witch hazel outside of an astringent, it's best to use your skin type to determine its effective potential. "For those with oily skin, witch hazel can be used to cleanse and tighten the skin or to reduce oil," Dr. DeRosa says of how to use the ingredient in your skin care routine.
For hair, take stock of the condition of your scalp. If you're looking to include a witch hazel product into your wash day line up, you'll need to first consider whether your scalp concern is oil control or inflammation. If excess oil is the issue, you may want to go with a shampoo as it will cleanse your hair and aid in oil production at the scalp. However, if inflammation is your main concern, a scalp serum or treatment containing witch hazel can help soothe your scalp during and after washing.
Keep scrolling for a few witch hazel products that can easily be incorporated into your beauty regimen.
The Best Witch Hazel Skin Care Products