Estheticians Spill Their Secrets For Glowy Summer Skin From Head To Toe
@jessiscg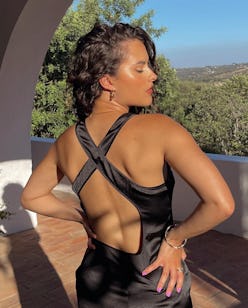 We may receive a portion of sales if you purchase a product through a link in this article.
While skin care trends are typically dictated by ingredients and product categories, the goal is always to avoid a flat, dull complexion. Dewy, plump, radiant, and youthful are the words that usually get thrown around whenever you ask someone to describe their ideal look, but come summer, the desire for glowy skin is heightened as the season calls for less layers and more time out in the sun. Whether you have a vacation booked, a plethora of weddings or weekly brunch plans, a solid warm-weather skin care routine is key for looking glowy from head to toe.
"The secret is to have a system targeted at hydrating and refining your skin's texture," says Sasha Banner, skin care trainer, and licensed esthetician at Heyday facial spa. Not only will this reduce the appearance of a lackluster complexion but it will also discourage a sallow complexion. Unlike the other seasons, summer skin care heavily focuses on all of your skin, including below the neck.
With that in mind, TZR tapped top industry experts for insight on building the best routine for glowy skin. Keep reading for their tips and go-to products for achieving a sun-kissed look all season long.
Your Morning Routine
For optimal results, your morning lineup should include a cleanser, exfoliant, mask, toner, serum, moisturizer, facial oil ( if you choose to use one ), and lastly a good SPF. "My go-to product during the day is Supergoop's Glow Screen SPF 40 in one of their four skin tone-flattering shades because it adds a sun-kissed glow while simultaneously giving you broad-spectrum sun protection," notes Banner.
If your typical routine leans minimalist, there are a number of multi-functional, high-performing skin care products formulated with glow-boosting ingredients, such as vitamin C, AHAs, and niacinamide, so you don't have to add too many extra steps. "Indie Lee's Brightening Cleanser, for example, is rich in Vitamin C and also has strawberries which contain salicylic acid to gently exfoliate and brighten the skin," says Banner.
Your Nighttime Routine
At night, Banner suggests adding a hydrating serum-oil combo, such as Absolute Joi Skin Refining Night Oil with Retinol and Vitamin C + E to boost skin cell regeneration as you sleep. "Not only does this oil help fade hyperpigmentation, but it also works to gently brighten the skin with ingredients like hydroxypinacolone retinoate, a retinoic ester that is less irritating to the skin than traditional retinol."
To amplify your glow on summer nights, you can look to simple makeup tricks and illuminating products for a boost. "For an evening glow, I add a few drops of Pai's The Impossible Glow illuminating glow drops to my moisturizer," says Banner. In terms of makeup David Birdwell, celebrity makeup artist and BUXOM Cosmetics' executive director of global education and artistry, recommends to first prime your skin with SPF before using a tinted moisturizer, such as Laura Mercier's Tinted Moisturizer Natural Skin Perfector, SPF 30. "In the summer, I usually opt for less coverage on the skin and prefer to use multitasking products like BUXOM's Summer Babe Glow Stick on the cheeks, eyelids, and bridge of the nose to add a rose gold glow and harmonious finish," he says.
Your Body Care Routine
Your summer wardrobe calls for an allover glow. There are a few indispensable products, such as a dry body brush, that you can use to get a look that is radiant and effortless. "Great for sloughing off dead skin cells, invigorating the skin, and promoting circulation, using a dry body brush before showering and a gentle scrub during, can make all the difference," says Shel Pink, founder of SPARITUAL and author of Slow Beauty. To gently exfoliate the skin, she recommends using body polish, such as SPARITUAL's, formulated with coconut sugar, ginger root, and jojoba oil two to three times a week followed by a rich salve, cream, or body oil to nourish the skin and further enhance your glow.
The Best Products For Glowy Summer Skin