10 Lightweight Foundations That Look Like A Second Skin
No caking or creasing here.
@beauthuy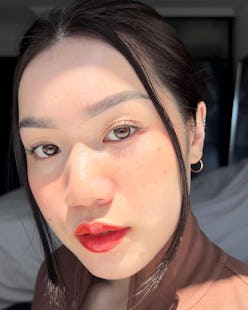 We may receive a portion of sales if you purchase a product through a link in this article.
Join TZR editors for Main Squeeze, the series dedicated to sharing beloved beauty products — be they bold, effective, or simply fun — that make our week just a little bit better. Ahead, Team TZR spotlights their favorite lightweight foundations of the moment.
Foundation can be one of those tricky makeup products. Inevitably, there will be some days where you'll want a decent amount of coverage. But for everyday wear, a light formula is favorable for so many reasons. For starters, it allow your skin to breathe, which is ideal if you're prone to breakouts or sensitivity, but it will also deliver a natural finish. As the demand for minimal makeup has grown, so has the number of skin tints on the market, but the best lightweight foundations are a happy medium between sheer and full coverage without sacrificing a second-skin finish. Much like a tint these formulas are often infused with top-notch skin care actives for added benefits, like hydrating and brightening, to name a few.
Hyaluronic acid, peptides, and squalane are just a few ingredients that give these foundations a leg up from heavier formulas. Yet, the creamy consistency and buildable coverage make them extremely versatile – they're just right for everyday use as they are for special occasions. Whether you're aiming to cover a blemish, or looking for a sheer wash of color to smooth out your complexion, it's hard to deny the ease that comes with seeming weightless makeup.
Ahead, TZR editors share the formulas they reach for time after time for natural coverage.
"One of my most frustrating skin issues is that while my complexion is totally clear and super smooth (if I do say so myself), I have a lot of freckles and speckles I'd rather conceal — so do I go for something that feels comfortable but doesn't cover it all, or something heavier that can really do some camouflaging? YSL's Nu Skin foundation is an incredible in-between, with a barely-there feeling on the skin that doesn't sacrifice tone-perfecting coverage. It's my best find of the summer."— Amanda Ross, beauty editor, TZR
"Sometimes I want my skin to look a little more even-toned without having to rely on a foundation. On those days, I tend to mix a few drops of a complexion product into a moisturizer. But lately, I've been reaching for this skin tint from Danessa Myricks. The silky formula has serum components that moisturize my skin and give it a nice shea butter glow without making it look too greasy. Just a drop or two is more than enough for a sheer coverage that looks and feels like second skin." — Jessica Fields, beauty writer, TZR
"I typically need a foundation with medium to full coverage as I'm prone to redness, but when I'm going for a more natural look, NARS' Sheer Glow Foundation is my go-to. The formula gives my complexion a dewy appearance while still evening out my skin tone. Plus, you can add a few layers of product without it looking cakey."— Kelsey Stewart, associate fashion editor, TZR
"In Rihanna we trust. I've been loyal to the Fenty skin tint for a few years now, and it's never let me down. It layers so beautifully over my skin prep — it evens out my skin tone but still has a natural finish. I love the way my cream products blend so easily on top of this foundation as well. I always end up with a natural, glowy makeup look when I use this product."— Maggie Haddad, sr. strategist, social media
"These light liquid complexion drops absorb into my skin the second I pat them on and leave everything looking a little more even and dewy than before. I use them two ways: as the ultimate 'no makeup makeup' move (say for an 'I woke up like this!' effect before an early workout with a friend) or as a base layer upon which I layer in some concealer, blush, and powder for a more finished look."— Alison Syrett, deputy fashion editor, TZR
"This time of year commands light, minimal makeup. But, considering I'm in the midst of a busy wedding season (I have five in the pipeline), I need a foundation that covers but feels weightless. Luckily, I stumbled upon Beauty Blender's new BOUNCE Liquid Whip. The creamy formula absorbs nicely and literally feels like I'm not wearing anything at all. That said, the full-coverage, silky finish makes my complexion look radiant and flawless. Perfect for a warm-weather fancy affair!" — Angela Melero, executive editor, TZR
"Despite touting itself as a skin tint, I'm floored at how well this nourishing formula evens out my complexion and even conceals my blemishes. While I do need to add a tad more to areas of my chin with dark spots from old pimples, it's extremely buildable and doesn't get cakey. Thanks to vitamin E and hyaluronic acid, it hydrates skin throughout the day and helps ensure the finish looks natural until you take it off. The SPF 15 coverage is an added bonus!"— Erin Lukas, deputy beauty editor, TZR
"Westman Atelier's Vital Skin Foundation Stick offers the perfect balance of providing coverage while still being lightweight. The creamy formula is rich in antioxidants and vital skin care ingredients, like squalane and coconut oil, which help create a dewy, radiant finish. It also doubles as a concealer when you only need minimal coverage or touch-ups here and there. Bonus: it's clean! I'm obsessed with it."— Marina Liao, senior fashion news editor, TZR
"Orcé was specifically developed to match the undertones of Asian and South Asian skin while leaving a luminous finish behind. I love this foundation because it's light enough for every day, but also builds to more coverage for a nighttime moment or in moments when I need more coverage. It doesn't feel heavy or cakey, but melts into the skin and just looks like your skin, but better."— Faith Xue, executive beauty director, lifestyle, BDG
"For years, this has been a staple in my foundation collection because of its versatility and the fact that its ingredient list includes broad spectrum SPF 50. The coverage has a nice range and can easily shift from light to medium or full with little effort. But I think what I love most about this OG is the finish, which is lightly diffused yet smooth and natural. I like to dab a couple of dots on my face with a sponge and blend it into my skin before using a brush to blur away any remaining texture."— Fields