Face Scrubs Are A Controversial Skin Product, But Are They Really That Bad?
gruizza/E+/Getty Images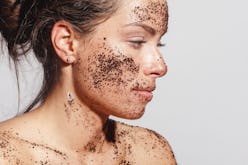 We may receive a portion of sales if you purchase a product through a link in this article.
Exfoliation is a crucial step on the journey to soft skin. For cracked heels and dry feet, pumice stones and pedicure files are widely used to help slough off dead layers. Yet when it comes to your face, the method of rubbing porous materials is commonly touted as too harsh. If you're of a certain age, you probably recall the backlash that came along with using scrubs made with abrasive ingredients like walnut shells. So much so, that many switched to chemical exfoliants and never looked back. But despite the decline in popularity in recent years, physical exfoliation is not dead and in fact, it can be beneficial for achieving smooth, healthy skin.
"Physical exfoliants do their job at the skin's surface and then hit the road, while chemical exfoliants typically sit on the skin longer, reaching deeper skin layers," says Dr. Deanne Mraz Robinson, M.D., board-certified dermatologist and co-founder of Modern Dermatology in Westport, Conn. That said, there's a role for both methods in your skin care routine, as Dr. Robinson notes that many people benefit from a gentle physical exfoliation periodically, with ongoing chemical exfoliation throughout the week. In the quest to improve texture, even tone, and fight signs of aging, embracing the role of physical exfoliants in your routine will help you go far.
But just how do you go about incorporating these steps into your regimen? Ahead, dermatologists and aesthetic experts weigh in on the benefits of using physical exfoliants, including the best formulas to embrace.
Are Physical Exfoliants Less Effective Than Chemical Exfoliants?
The short answer is no. However, physical exfoliants do differ greatly from chemical exfoliants — not just in the application process. Each method has an approach that works on different levels of the skin. More importantly, they also yield distinct results. "The general purpose of a physical exfoliant is to eliminate the dull, dead, and dry flaking surface of the stratum corneum layer and to reveal a fresh layer of skin and smooth surface," says Dr. Ava Shamban M.D., board-certified dermatologist, and founder, AVA MD Dermatology and SKIN FIVE Medical Spas in Pacific Palisades, CA. From scrubs to specialized tools like brushes, gloves, washcloths, and devices, Dr. Shamban explains that the method is one of the most effective for removing dead skin cells from the surface.
According to board-certified aesthetic expert Ilana Brit Mechoullam, R.N., A.G.N., and founder of Florida-based Peace Love Med Spa, physical exfoliants are also great for cleaning up oily skin that often has more build-up, and can even aid in keeping the skin youthful. "The technique of using something that's tactile can boost your circulation and work to stimulate collagen production," she says.
While physical exfoliants are highly effective, they're not always the most gentle, which is where the use of chemicals exfoliants, like enzymes and acids, come into play. These kinds of products do not involve rubbing and don't rely on granular particles and rough materials. "This allows them to penetrate the surface levels of the skin for deeper results whilst remaining gentle and fairly tolerable," says Dr. Shamban.
What Skin Types Should Use Physical Exfoliants?
Due to the threat of inflammation, sensitive skin types should avoid using physical exfoliants. However, if your skin is not typically prone to irritation, it may be well-suited for a good scrub. Dr. Shamban notes that since they aren't as gentle, they're best suited for people with thicker and oily skin types. The epidermis of the skin can be up to 1.5 mm thick, and as Dr. Shamban explains, those who have a thicker exterior layer will be able to use physical exfoliation without the risk of compromising the skin's matrix.
Dr. Robinson also adds that anyone who regularly uses self-tanner is also a good candidate for the more abrasive method. "Tanning products often require the need to periodically buff away the build-up at the skin's surface and physical tools and scrubs can do the trick," she says.
How To Choose The Best Physical Exfoliant Ingredients
When selecting a scrub or face wash, it's important to prioritize ingredients that provide effective exfoliation without causing excessive irritation or damage to the skin. "You want to look for products with small, smooth physical particles in them, such as rice powder or jojoba beads," says Dr. Robinson. In that vein, Dr. Shamban adds that micro or nano-sized components can help decrease the magnitude of abrasion and resistance from tugging.
Coffee, sugar, and sea salt are common ingredients and can be effective when finely ground, each imparting their own benefits to the skin. "Coffee granules can help with overall circulation moving the vitamins, nutrients, and minerals with its properties and the manual rubbing," says Dr. Shamban. Yet, while sea salt has great detoxifying properties, she recommends only using it on your body stating that it's not as highly recommended for the face because of its coarseness.
Enzymes are another popular component of physical exfoliation and though they're frequently lumped in with chemical exfoliants, they are different. The most important divergence is their make up, which alters how they work on the skin. Mechoullam tells TZR that chemicals use acids, including AHAs like glycolic and lactic acid, to melt away the bonds that hold the layer of dead skin."With a similar goal, enzyme exfoliants rely only on natural, typically plant-based actives, to break these bonds, and therefore tend to be far more gentle on the skin.
How To Incorporate A Physical Exfoliant Into Your Routine
Your current skin care system probably already includes either a chemical or enzymatic exfoliator, but adding a physical method to the mix can be advantageous. However, finding the balance between ingredients, concentrations, and frequency is going to be key. "If you're regularly using a chemical exfoliant, I would recommend adding in a gentle physical exfoliant once a week or whenever you feel like your skin could use some extra sloughing," says Dr. Robinson.
To avoid irritation and assist in fresh cell turnover, she also recommends only doing this step in the evening. Begin by incorporating a scrub or tool into your nightly routine, but be conscious of the other components in your regimen. "For example, if you're already using a retinol, you might only want to add in a physical exfoliant one to two times a week," says Dr. Robinson. Similarly, Dr. Shamban notes that if you have more of an oily skin type you can usually get away with using a textured scrub or tool two or three times a week.
Patience is a virtue when it comes to skin care, and the saying couldn't be more true with exfoliation. "As a crucial part of healthy routines, it's often a step that people tend to overdo," says Mechoullam. For this reason, all three experts suggest starting out slow to see how your skin responds. "Of course, age, weather, and lifestyle factors all contribute to how often your skin cycles, sheds, and dead cells build up," notes Mechoullam.
But going overboard isn't the answer. "We do have to protect our microbiome, skin matrix, and overall balance of necessary oils and moisture levels, and as long as you are not overly exfoliating to the point of diminishing dermal returns, physical types are still helpful," says Dr. Shamban.