Oud Fragrances Are Finally Having Their Main Character Moment
These scents are still mysterious, but modernly fresh.
@creedfragrance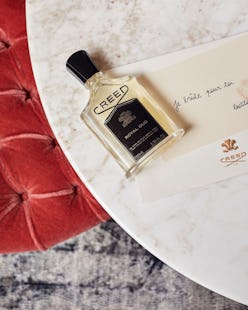 We may receive a portion of sales if you purchase a product through a link in this article.
Tantalizing, rare, opulent. Those three adjectives are how most would probably describe oud. The precious ingredient, part of the woody fragrance family, alerts the senses like no other with its smoky and warm undertones that encompass the scent, giving way to its animalistic nature. Considered black gold in the Middle East and integral to cultures in Cambodia, India, Vietnam, and Indonesia, oud is a precious part of traditions. And for those that are drawn to its mystery and alluring aroma in perfume, will also be besotted with its next chapter. As of late, perfumers are reinventing the heady note by pairing it alongside light, fresh accords. The result is fruit-oud perfumes, sweeter, more sensual scents you need to try.
While these reimagined takes on the fragrance note arguably go hand-in-hand with fall — the dichotomy of the opposing sweetness and smokiness is reflective of the transitional temperatures — they're suitable for year-round wear, thanks in part to their complex ingredient pairings.
Ahead, fragrance experts explain why oud is such a rare ingredient, the evolution of these scents, plus the best ones to wear this season.
What Is Oud & Where Does It Come From?
One of the rarest and most expensive fragrance ingredients in the world, oud isn't an ingredient that perfumers can pluck in its masses. "Oud comes mostly from Cambodia, India, Vietnam, and Indonesia and is from the heart of the Aquilaria tree. They are infected with a type of mould and secrete a resin to combat it," says Thibaud Crivelli, founder of Maison Crivelli fragrances. "Before the infection, the wood has no odour and is light-colored. Then it becomes darker over time, as the infection progresses. Oud is the dark resin color that the heartwood then permeates, giving it its olfactory properties."
Why Is Oud So Rare In Fragrance?
The rarity of the note comes down to its complex extraction process. "Due to the growing lack of yield of oud through the traditional extraction process, some have begun to provoke infection of the trees to increase the speed of harvesting. This method has unfortunately led to a scarcity of trees and an increase in the price of production," explains Frank Voelkl, Principal Perfumer at DSM-Firmenich.
It's why, in its pure oil form the ingredient is reported to cost $3,000 for 12ml — and the reason many perfumers and foundations either lean into an interpretation of the aroma or source more sustainable methods. DSM-Firmenich, for example, has been working with a reputable partner who sustainably extracts the finest Aquilaria malaccensis by using age-old traditional methods. This partner is a family business that manages over 600,000 Aquilaria trees, with an impressive amount ranging from five to 50 years old.
What Makes Oud So Precious?
In the Middle East, oud is not only one of the most important perfume notes alongside saffron, sandalwood, rose, patchouli, and amber, it also has spiritual connotations. "In the Middle Eastern tradition, oud chips are part of a daily ritual performed to perfume the house or the clothes (with fumigation called bokhur)," Crivelli shares. "The wooden chips are burnt and the smoke gives the house and clothes this deep smoky woody trail. It was also used in the shape of highly concentrated oils named attars (which are the result of several steps of distillation of wooden chips). Those oils have a very intense scent and are applied on the pulse in small quantities."
The ingredient is also used for medicinal purposes in Chinese and Tibetan cultures and even Hindu ceremonies. Rich in history and culture, its tradition surpasses its use as a fragrance note. However, in modern-day perfumery — be it natural or an accord — oud has a unique and multi-faceted quality that ensures when it's at the base, heart, or top notes of a scent, it leaves a distinctive and powerful presence on the skin. Intentional, its depth can meander revealing anything from a smoky, almost tobacco aroma to a warm, comforting perfume.
What's Next For Oud In Perfumery?
Oud is constantly evolving and the latest exploration is combining the note with a fruity accord. "A traditional oud will add a woody warmth to a fragrance with also a slightly leathery and animalistic aspect. These types of ouds will add depth and sensuality to the dry down and give you that signature warm feeling. But a fruity note will add a sweetness to the final fragrance resulting in an overall more complex scent experience for the wearer," reveals Voelkl. "Essentially, adding fruity notes to an oud will add some color and contrast to the rather dark and dry facets of the oud with a juicy brightness."
Brighter, juicier, lighter and sweeter, these are the fruit-oud fragrances to have on your radar.
Modern Oud Fragrances To Try