7 Fall Pedicure Colors To Try Because Open-Toe Shoe Season Isn't Over
From classic to unconventional.
@shop_peche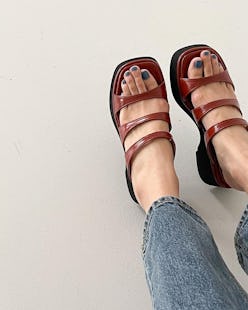 We may receive a portion of sales if you purchase a product through a link in this article.
Much like a lightweight jacket or a cozy sweater, your pedicure is an accessory that's meant to be shown off during the transition from summer to fall. Yes, even though the calendar might suggest open-toe shoe season is over, it's possible you'll still be able to wear sandals well into October. That said, it's the perfect time to embrace the fall 2023 pedicure trends that will still dominate nail salons until winter arrives. With shades ranging from classic to unconventional, this season's top shades really cover all of the bases.
"Lipstick red is an autumnal favorite that graces us each year," says Liana Thomson, a pedicure expert at Nails.co.uk. She explains that while it's not exactly new, it's a polish choice that many rely on during the changing seasons. Similarly, earth tones, like brown and rich oranges, are also go-to colors for fall, and will remain a favorable option. However, if you're looking to step outside of the box and go for a look that's different and edgy, celebrity nail artist Elle Gerstein notes that varying shades of gray are having a major moment.
Ahead, the top seven pedicure color trends to keep an eye on and test run this fall.
Shades Of Gray
Gray may not exactly be the typical polish color on your mind for fall, but it should be. According to Gerstein, it's poised to be one of the top shades of the season. "Nail trends often follow fashion, and thinking back to the runways and catwalks of fashion week, it's easy to see why, as a nail color, it's gaining popularity," she says.
In a similar vein, Thea Green, founder of Nails.INC, notes that a gray pedicure is also the perfect complement to the season's trending looks. She recommends finding a creamy soft stone shade in order to keep your pedicure from looking too harsh or dull.
Chocolate Brown
It's true that earthy browns and the fall season go hand in hand, but the resurgence of the color for nails may be due to the viral chocolate milk manicure trend that took over Instagram this summer. Regardless of why it's resurfaced, Gerstein tells TZR that the hue will be big for pedicures this fall. "The look is all about rich shades that are deep and intense," she says. Think less of the creamy and milky shades that dominated last season and more of dark chocolate, espresso, and rich clay.
Navy Blue
For clothes and accessories, navy blue is another classic fall shade. But this season, the hue also extends to your manicure and pedicures. "Just as your denim choices shift from light to darker washes when the season changes, so can your nail polish," says Gerstein. Instead of opting for a bold, bright blue, she suggests leaning into true navy colors like Chanel's Fugueuse shade or midnight hues.
Terra Cotta Toes
The transition from summer to fall doesn't necessarily mean you have to give up your warm, citrus-toned polishes. Instead of a vibrant and sunny orange, consider a color that's a tad subdued and better suited for cooler temperatures like terra cotta. "Look for a shade that rests between red and orange but embodies the richness of each color," says Thomson. Not only will the hue complement the timeless fashion staples of the season, but, as Thomson notes, it will also pair beautifully with your post-summer tan.
Gothic Black
With the growing popularity of 'gothcore' within the beauty community, it's not surprising to see the black nail polish trending for fall. Even better, the shade is perfect if you tend to subscribe to matching manicures and pedicures. Finding the perfect shiny, opaque polish can be difficult but not impossible. "Consider Nailberry's 'Black Berry,' which effortlessly achieves that intense shade in a single swipe," says Thomson.
Deep Red
When it comes to pedicures, you can never go wrong with the classics and nothing is more archetypal, not to mention powerful, then red. Year after year, the hue continues to be a top choice, but Thomson tells TZR that this season, you can expect to see pedicures featuring the full range of the color from candied shades to deeper colors.
Nothing But Nude
Barely-there lip gloss nails have made major waves this year thanks to the countless celebrities that have showcased the look. While the trend itself is certainly not new to the scene, its extension to pedicures is. To nail the look for fall, Thomson suggests using a warmer pinky-nude polish on the toes that's more fitting for the season. "The trend has evolved and I'm seeing slightly deeper hues of pink and nude that fall in line with typical autumn lipstick choices," she says. However, you'll still need that glassy 'lip gloss' look, so you'll want to apply a long-lasting top coat like Essie's Gel Couture's top coat to seal in the shine.