I Fake A Salon-Worthy Blowout At Home With This $70 Tool
Rebecca Iloulian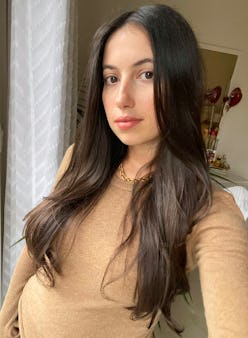 We may receive a portion of sales if you purchase a product through a link in this article.
I like to think of myself as a self-sufficient person, but there's one task I've yet to master despite a ton of patience and practice: the perfect at-home blowout. My hair is long, wavy, and unruly, and attempting to get through it all with a blow dryer and round brush is like lifting weights. Juggling multiple styling tools under the heat of a dryer makes me feel like I'm melting and requires a high level of coordination. After struggling through the whole ordeal, I'm usually left with what looks like a lion's mane of hair. But let's be real: giving yourself an at-home blowout is no easy feat for anyone, regardless of your hair length and texture. And while I'm comfortable wearing my hair natural and air-dried, there's nothing quite like the feeling of a fresh blowout. Up until recently, if I wanted that little luxury, I'd have to take a trip to the salon — both an expensive and inconvenient habit. Thankfully, BondiBoost's Blowout Brush Pro has simplified my at-home blowout routine.
This professional-quality styling tool brushes, dries, volumizes, and styles in one simple step. And while hair-dryer brushes aren't necessarily new, they're having a moment right now — and for good reason: The BondiBoost brush is only $70, which is roughly the cost of a single blowout at a salon.
Before using the BondiBoost tool, I was skeptical about hair-dryer brushes for a slew of reasons, like worrying the close-contact heat will damage my hair or that it won't actually provide a silky-smooth finish. But this brush uses an ionic technology that reduces frizz while dual bristles detangle and glide through hair to achieve an easy salon-worthy blowout. And I'm officially convinced that everyone should have this tool in their arsenal. As it also turns out, using a dryer brush only takes me 20 minutes from start to finish, which is significantly less time than using a traditional hair dryer.
When I first used the blowout brush, I took my time to ensure my form was correct so I could master that effortless look. But the tool is so easy to use, it only took me one try to become an expert. For a flawless blowout, the process is quick and easy (and no arm workout involved). Ahead, my simple three-step at-home blowout routine that delivers salon-level results.
Courtesy of Rebecca Iloulian
Courtesy of Rebecca Iloulian
Step 1: Prep
Any hairstylist will tell you a good blowout doesn't just lie in the styling — the prep has to be right too. While you can use the blowout brush on either wet or dry hair, I prefer to use it on towel-dried hair and I save the dry styling for touchups throughout the week. Because my hair is so long, it tangles easily, so I opt for a moisturizing shampoo that will keep my hair soft and knot-free while also repairing it from any heat damage. I also love a deep conditioning hair mask once a week, which not only makes my hair silky soft, but also strengthens it with nutritious oils so it's full and luscious. Once my hair is clean, I'll let it towel dry for about 15 minutes before brushing through it with a heat-protectant spray for good measure.
Step 2: Styling
Next, the main event. I'm usually impatient with sectioning off my hair, but because the overall blowout only takes 20 minutes with the brush dryer, it's definitely worth the extra bit of work for a perfect finish. My hair is average in thickness, and I've determined working through four sections, bottom layer to the top, works best. Beginning with a very small section, I lift up the majority of my hair and clip it off my face and neck, leaving only a thin layer to start so I can perfect the base and roots. The foundation is key, so if that first layer is smooth without kinks, the rest of the blowout will lay nicely.
The blowout brush has three heat settings for more control, though I like to use the highest one. I brush under my hair from root to tip, pulling out and away from my neck, creating volume. I also hold the brush a bit longer at the roots, giving them more time to dry, and then move quickly as I brush down. For a bouncier look, you can also twist the brush in a circular motion as your comb it through your hair. Once I get through all four sections, I finish the look by re-brushing through the bottom layer with a few circular brush rolls and switching to the lowest heat setting for a final cold shot, which creates a soft, lasting flip at the bottom of the hair.
Step 3: Touchups
Once the styling is complete, I always like to add a bit of moisture to my hair to reduce frizz and tame flyaways. I'll smooth things out with just a drop of a high-shine oil — but be careful as too much will ruin your efforts and weigh down a voluminous blowout. You can also run a curling wand through the blowout if you want a bit more wave to the look. Then, throughout the week, I'll touch up my hair using dry shampoo as needed, and I'll go over my strands with the blow-dry brush in the same original styling process, which removes any new kinks and keeps the style looking fresh overall.