It's Time To Upgrade Your Deodorant — Here Are 10 Unique Formulas To Try
@nezcare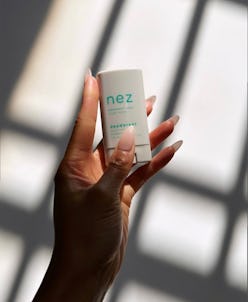 We may receive a portion of sales if you purchase a product through a link in this article.
Join TZR editors for Main Squeeze, the series dedicated to sharing beloved beauty products — be they bold, effective, or simply fun — that make our week just a little bit better. Ahead, Team TZR spotlights their favorite deodorants of the moment.
Shaking up the products used in your morning routine is pretty standard for face washes and moisturizers. Deodorant, however, is another story. It's common to cling to the same formula throughout adulthood for the simple reason of reliability. Tried and true, the guarantee of eliminating odor and decreasing sweat without a streaky residue is hard to beat. But times have changed, and the best deodorants can do so much more than mask a musky scent and keep excessive perspiration under control. Yes, the skinification of your body care routine includes how you deal with your armpits, too.
Given that this area of skin is prone to issues such as ingrown hairs, blemishes, and hyperpigmentation, the formula adjustments make perfect sense. With ingredients like niacinamide, hyaluronic acid, and AHAs, today's deodorants work to better your skin and deliver your smoothest pits yet. The key is finding the right one, and testing a range of sticks to do so isn't always ideal — especially during the peak of summer. Luckily, the TZR editors are an opinionated group with diverse needs when it comes to odor-masking products.
Below, you'll find a variety of options that range from fragrant to natural and even a serum formula. So whether you've just run out of your go-to or you're in the market for a formula that targets your skin's specific needs, you're sure to find a good fit.
"I tried to get on the natural deodorant wave back in the 2020 quarantine, figuring all that indoor time would be the best way to figure out what really works without committing any olfactory crimes against people I care about impressing. Corpus makes the best all-natural deodorant I've ever tried — this passes the literal sniff test with flying colors, eliminating and preventing body odor with an incredible scent blend of cozy, woodsy notes." — Amanda Ross, beauty editor, TZR
"I recently discovered this deodorant this year, and honestly can't get enough. In addition to its more conscious, cruelty-free formulation that's free of aluminum, parabens, and baking soda, it's super effective and comes in different options that cater to various lifestyle needs: workouts, nights out, and work events. The product is smaller than the average deodorant and easy to travel with, so that's a bonus, too!" — Angela Melero, executive editor, TZR
"I grew up on natural deodorants that were a hassle to use and did very little to mask odor. That said, I was turned off by anything that wasn't Dove or Degree for years until I came across Hume. I love how gentle the formula is and that it smooths the skin under my arms. Best of all, it works (for me) just as well as the aluminum formulas I was using beforehand. I also love the scent range that allows me to change it up each season." — Jessica Fields, beauty writer, TZR
"I like to use men's deodorant because I feel like the formula works better with my skin and it doesn't leave sticky, white residue as some women's deodorant can. This might sound kind of icky, but I got into Old Spice's Captain product by borrowing my BF's whenever I would spend the weekend at his place as I'd inevitably forget to pack my own deodorant. We live together now and I'm happy to report that I no longer steal his products — I have my very own Old Spice, TYVM." — Marina Liao, senior fashion news editor, TZR
"I typically hate liquid deodorants because you have to walk around with your arms out until they dry or else your armpits get sticky. However, this one is the exception. It absorbs quickly and keeps odor at bay, thanks to the addition of exfoliating AHAs, which also work to brighten skin. Whether I have a long day or do an intense spin class, it always holds up!"— Erin Lukas, deputy beauty editor, TZR
"When purchasing a new deodorant, I look for lightweight, soothing products that don't leave behind white residue, and European Wax Center's Aloe Deodorant checks all the boxes. With ingredients like narcissus bulb extract, aloe, and vitamin E, the formula leaves my underarms feeling hydrated all day. The fresh scent sold me on this deodorant, too." — Kelsey Stewart, associate fashion editor, TZR
"Whenever I have a long travel day, I find that my skin can become extra sensitive which is why this deodorant from Native has become my go-to for trips. It's soothing and doesn't irritate my skin as I'm moving from plane to train or bus. Plus, I love the light fresh scent of green tea – it's extra calming for my skin and my mood." — Fields
"Calling deodorant something I'm passionate about feels kind of silly, but I'm practically an evangelist for Nécessaire's roll-on formula. With all the controversy surrounding some deodorant and antiperspirant ingredients, it's important for me to go with as natural of a formula as I can without sacrificing a fresh-and-clean feel (and smell). Nécessaire's unscented gel is my absolute favorite — it totally eliminates and prevents odors without overpowering my pits with a powdery floral or cloying fruity smell. With this on, I just smell like my skin." — Ross
"My transition to natural deodorant has certainly been a journey but I'm glad to have finally found one that works for me. The formula is baking soda-free, which means no underarm irritation for me, lasts for the entire day, and smells absolutely divine. I like the full-size Santalum scent for daily use and the Triple Rose minis for travel. Both pair beautifully with all my other lotions and potions."—Samantha Scott, newsletter editor & strategist, BDG
"This is the first natural deodorant I tried when I made the switch years ago. As former user of Dove's antiperspirant, this formula holds up to the original (excluding the aluminum). I love that there are so many scents to choose from, whether you're a fan of fresh or floral fragrances. Even better, it's widely available at any drugstore." — Lukas