Aerin Lauder On Why Rose Fragrances Will Always Be In Style
The lifestyle connoisseur is modernizing the classic note.
TZR/Courtesy of Aerin Lauder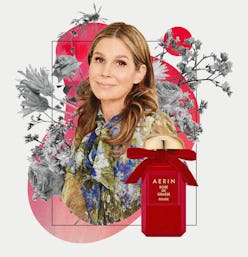 Scent Stories
We may receive a portion of sales if you purchase a product through a link in this article.
Every scent evokes an emotion. In Scent Stories, TZR asks tastemakers, celebrities, and industry insiders to share the stories behind the smells of their past and present.
A rose is a rose is a rose, unless the flower is a note in a perfume because then it takes on whatever memory-tied emotion it evokes in its wearer. For Aerin Lauder, style and image director of Estée Lauder and founder of her namesake lifestyle brand, the rose is a symbol of love, friendship, and generosity, which has inspired her line's newest scent, Rose de Grasse Rouge.
"Estée [Lauder] loved red, and she always said a touch of red is good luck," Lauder recalls of her grandmother, the beauty industry pioneer. "Rose was always one of her favorite notes. People always ask me my first memory of her, and I think it was her scent and seeing her always working on a fragrance — which probably contained a rose note, which has become so iconic to her."
In addition to paying homage to grandmother's fragrance legacy, Rose de Grasse Rouge showcases the complexity of the various emotions tied to the rose note, thanks to the addition of honeycomb and violet in the juice. The result is the warm, alluring scent of a freshly-cut rose stem.
Ahead, Lauder shares the Scent Stories that have stood out to her and serve as inspiration for her line's fragrances.
The Scent Of Love
"I think of red roses as being very romantic because they're warm, inviting, and beautiful. So, if I were to associate a scent with love, it would have to be this flower."
The Scent Of Friendship
"I also associate florals with friendship, but it's more of a white flower like orange blossom or tuberose. I think of roses as more romantic and pretty florals as friendship."
The Scent Of Comfort
"A food-related note; probably something sweet. We have a fragrance called Amber Musk and it has coconut in it. I think that delicious edible note evokes comfort."
The Scent Of Nostalgia
"I wore Beautiful on my wedding day and I carried a lily of the valley floral arrangement, so those two smells are really nostalgic to me. The flower also only blooms for a very short period — early June — and that's when I got married, so it brings back happy memories."