The Self-Pleasure Fragrance Movement Is About Wearing Whatever Smells Good To You
Perfume isn't just for enticing others.
@ellisbrooklyn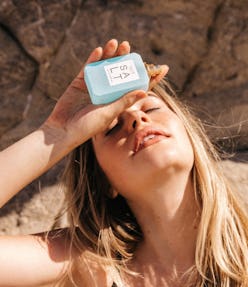 We may receive a portion of sales if you purchase a product through a link in this article.
Perfumes have historically been positioned to allure others. Spritzed on the skin, fragrances unlock olfactive, sensorial worlds that can dance between bold ouds, feminine florals, or sensual ambers, appeasing those around us. At least, that's how perfumes have been traditionally sold and marketed to the masses, often with advertisements featuring Hollywood starlets playing one half of a pair of star-crossed lovers. However, the tides are shifting. While there is still intrigue for boisterous, seductive, and unapologetic scents, an intimate, emotional, and personally invested wave of self-pleasure fragrances are on the horizon.
No longer just spritzing scents for others, instead, fragrance-wearers are searching for perfumes that comfort, cocoon, and uplift their spirits with serene notes such as vanilla, musk, fresh woods, and more. "Fragrance always reflects the social moment we live in," says Nicola Pozzani, creative director of The Merchant of Venice. "We see in fragrance what we have seen in fashion in the last few years, with shapes and color palettes that lean more towards comfort and a close contact to nature/being natural."
Due to the mental toll and disruption of daily life in recent years, individuals as a whole are searching for a simpler and carefree time. During these trying times, fragrance, heavily fronted by mood and emotion, can temporarily serve as the intimacy and comfort one craves. "​​According to psychological research, positive memories activate the reward pathway in the brain, which is essentially a release of chemicals that make us feel good. This makes us want to carry the act out again — in this case, remembering happy memories," explains Audrey Semeraro, founder of fragrance house Edeniste. Semeraro notes that because people were struggling to make new memories during the pandemic, they sought out (and continue to seek out) comfort in the past to provide a blanket of familiarity and security.
Eva Carlo, perfume expert at The Orange Square Company, a UK-based fragrance distributor, says the dopamine rush certain notes can provide is why intimate, softer, and more "skin hugging" scents are at the forefront of the fragrance category. "We are seeing more and more consumers choosing to wear a fragrance because it makes them feel good, rather than thinking about how that scent is perceived by others."
The Rise Of Vanilla Fragrances
The soft strength of the note has captured perfumers' noses in 2023 and rather than swaying to its sweeter side of traditional gourmand scents, they're leaning into its enticing and sensual side. Take Vanille Irresistible by Edeniste. "Created by Aurélien Guichard, the vanilla gourmandise is reinvented through juicy and addictive fruity notes yet worked with elegance on a resinous woody base," explains Semeraro.
A note that strikes a familiar cord for many, the warm and fuzzy vanilla fragrances of today also play into the comfort of nostalgia, which along with impacting perfume preferences, is driving fashion and beauty's Y2K revival. Take popular perfumes such as Kayali Vanilla 28, Byredo Vanilla Antique, and Thameen Blue Heart, for example.
The Rise Of Musk As A Hero Note
Musk perfumes are another scent family that toes the line between new and familiar. "Musk is so comforting and nostalgic," explains Carlo. "We now use synthetic musk in fragrances yet it still has an animalistic dark scent, making it both comforting and seductive."
Often used as a base note, musk lingers on the skin long after others have simmered away. With its deep-rooted purity, musk projects an openness and transparency that's considered comforting in this nostalgic era. Want to add a perfume built around the note to your collection? Consider Phlur's Missing Person, boasting top notes of musk, bergamot, and jasmine, Altra's Skin, carving out a soft and skin-like aroma, or stronger musk adaptations such as Guerlain's Eau de Cashmere and Diptyque's Do Son.
The Rise Of Fresh, Woodsy Scents
Similarly, fresh, green perfumes are circulating alongside musk and vanilla blends for their light, airy, carefree feeling that'll help clarify the mind and the space around you. "Wellbeing is the quintessence of easy-going, a zen attitude, helping you to dive deep into your inner-self," says Semeraro of Edeniste's fresh scent. "It's like being in nature with the river nearby, green, fresh and so peaceful." The perfume features lemon, pink pepper, and jasmine with base notes of musk and vanilla. And if the world of green fragrances is appealing, introducing perfumes such as Dior's Lucky, Vyrao's I Am, and The Nue Co.'s Forest Lungs to your fragrance wardrobe is an instant win.
The cult-favorite English Pear and Freesia from Jo Malone London is another fail-safe option for those exploring this scent family for the first time. "It's the golden crescendo of summer, bottled. Once you spritz this perfume, it'll transport you to warm light in the long grass, bees humming drowsily alongside ripening pears and leaves," explains Emma South, fragrance and lifestyle expert. "​​The clean dewy flora of freesia and rose make it a perfectly uplifting and comforting scent."
The Rise Of Ambergris-Based Fragrances
Ambergris (gray amber) is another note that perfumers and fragrance fans alike are intrigued by through the lens of nostalgia, comfort, and intimacy. "While today we mostly use the synthetic version of ambergris, it's a really interesting note — it's deeply sexual and tenacious, with deep warm animatic salty undertones," says Carlo. Consider perfumes such as Maison Francis Kurkdjian's Baccarat Rouge 540 created by master perfumer Francis Kurkdjian, a sensual and alluring scent containing synthetic molecule called Ambroxan that mimics the effect of ambergris, saffron, and cedar. Ellis Brooklyn's Salt enlivened with ylang-ylang and sandalwood, and Ojar Wood Whisper, a blend of sandalwood, vanilla, musk, ambergris, and cashmere wood, are two more standouts.
With the rise of these comforting notes, perfume's function has shifted focus, reflecting an internal reckoning more than ever. Once only appealing to those around us, through the lens of these warming, calming notes, our scent choices are now drenched in self-pleasure. Conveying emotion and the relationship with oneself, there's a newfound intimacy that leaves a memorable and uplifting imprint — a signature of inner peace and personal satisfaction.