This Shade Of Blonde Hair Is Trending In NYC Right Now
Imaxtree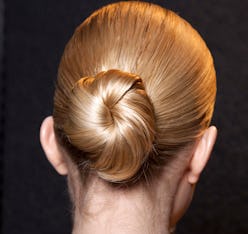 Every shade of blonde has had its moment in the sun — Jennifer Aniston's laid back, dirty blonde beach waves; Reese Witherspoon's buttery, honey blonde hair; Zoe Kravitz' white-blonde buzz cut — which just goes to show that when it comes to going blonde, there's no such thing as one-color-fits-all. There are so many different factors that determine which hue will suit you best; like skin tone, personal style, and the condition of your hair, to name a few. Another detail that makes a difference? Apparently, the area you live in. The 2018 blonde hair trends shades of blonde across the country proves that no two locales are alike.
In Los Angeles, a cool, icy take on blonde is making the rounds. "The industries and jobs in Los Angeles allow for more of an edgy look than other cities," Caitlin Richardson, a colorist who's worked with Paris Jackson and the owner of LA's Blonde / Blonde salon, tells The Zoe Report. "Simply put, you can have snow white blonde hair in L.A."
On the other end of the color spectrum, both Philadelphia and Dallas are seeing an uptick in requests for warmer, creamier tones for the colder months. "It's flattering and natural-looking," Bobby Mack, a colorist at Bobby Mack & Co Hair Studio in Philadelphia, tells us. "Maintenance and upkeep of this natural trend allows each guest to extend time between appointments, as well."
Where does your city fall on the cool to warm scale? Ahead, discover the shades trending in every area of the United States to find the look that suits you best.
New York City: Snow Bunny Blonde
With the first snowfall of the season hitting the Big Apple, this icicle-inspired look makes perfect sense. "It's a powdery ash blonde with a subtle blue tint," says Stephanie Brown, master colorist at Eddie Arthur Salon in New York City. "The pale highlights with blue undertones make the hair look powdery, like the ski slopes, and almost blue, but not quite. It feels a bit pastel blue but without actually being blue."
Brown notes that clients opt for the shade because it's easier to maintain than a platinum blonde. "It doesn't get brassy and yellow like platinum hair does and it requires less maintenance," she adds. "The roots are also less noticeable. And the blonde looks blonder because it isn't solid platinum—when color is solid it can look flat."
Want to hit the slopes, too? Ask your stylist for very pale highlights, then gloss them with something slightly blue. The base color should be light and either neutral or ashy.
Los Angeles: Glacier Blonde
"Currently, a super icy white or light gray blonde is trending in Los Angeles and doesn't show signs of letting up," Richardson says. "We call it Glacier Blonde."
But this bleached out shade of blonde isn't easy to achieve — or maintain. "Not all colorists are able to do this, and it takes a specialist," she tells us. Before you pull up a picture of Khaleesi to show your stylist, note that the Game of Thrones character's look relies on a wig that's been colored. "You will most likely not go as light as that icy white blonde," according to Richardson — the amount of processing needed would seriously damage your hair. Instead, work with your colorist to take your hair lighter gradually (and safely).
San Francisco: Champagne Blonde
In the Bay Area, women are throwing it back to the swinging '60s. "Trending in San Francisco right now is a more champagne platinum blonde," Jayne Matthews, the owner of the city's Edo Salon, says. "By this, we mean that we are moving away from the trendy balayage look into a more blended, bleached out, almost retro look."
To make the style look and feel effortless, Matthews suggests "shadowing the roots" with a darker tone for a more lived-in effect. "It's edgy and modern, but also has kind of a French girl feel — think Brigitte Bardot in Paris 1960s," she says.
Denver: Creamy Blonde
The ladies of Denver are leaning towards an easy scheme that requires less upkeep. "We are escaping the over-toned icy colors and a lot of our clients are wanting warmed up blonde locks," Dani Everson, colorist and owner of Clementine's Salon in Denver, tells TZR. "It's all about a golden, creamy blonde."
"People naturally have gold or yellow in their hair," she explains, noting that it's key to keep this look out of dark and brassy territory. "Golden blondes are actually really flattering when done intentionally."
Philadelphia: Bespoke Blonde
When it comes to the City of Brotherly Love, women are customizing their color. "More and more guests are moving towards what we refer to as 'bespoke blonde,'' Mack says. "Our stylists are paying close attention to skin tone, eye color, face shape, and other features to customize the right shade and placement for each guest."
In most cases, the final shade tends to be a slightly lighter version of the clients' natural color. "This is great for both the stylist and guest, as the lightening process does not have to be as aggressive, thereby preserving the integrity of the hair," Mack tells us. And what could be better than a dye job that actually keeps hair healthy?
Dallas: Warm Blonde
"Dallas likes their blonde, and we are creating a lot of warmer shades," Charlie Price, a colorist at Charlie + Co in Dallas, shares with The Zoe Report. He credits this recent shift to the cooler weather. "Seasonal tonality is important," Price says. "Clients go this route to adhere to fall/winter color palette in their wardrobe, as well as to achieve low-maintenance color."
Chicago: Lived-In Blonde
"In Chicago, women want a blonde that's going to grow out well with no harsh lines," Christina Morales, a colorist at RMCM Salon in the Windy City, tells us. "Everyone is loving this lived-in look because it equals less maintenance." This trend appears different on everyone, since it's so dependent on your natural roots. To nail the shade, "It's important to know which tone looks best on your skin," Morales says.
Washington D.C.: Balayage Highlights
"We use balayage hair painting for 95 percent of our highlighting services here in the nation's capital," Ian McCabe, a colorist who's worked with fitness icon Tracy Anderson, tells us. Balayage is nothing new, but the D.C. way to rock the look is with dimension, depth, and shine. As McCabe says, "This natural technique is timeless — it's like the perfect black dress and it never goes out of style."