How To Get Your Shiniest, Healthiest Hair This Winter
Carmen Chan/WWD/Shutterstock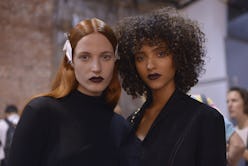 Your hair is an extension of your personal style, so it's only natural to get the urge to stock up on the new hair products alongside your other seasonal switch-ups. And since temperatures are finally about to dip, it's officially time to retire summer's sea salt spray and reach for more weather-appropriate products instead. But figuring out how to protect your hair in winter isn't always a cinch, as chillier months present a unique set of challenges when it comes to keeping hair healthy.
The colder air draws moisture from your scalp and strands, leaving them dry and more susceptible to environmental damage like breakage, frizz, and even hair loss. Additionally, most people tend to wash their hair less often when it's chilly out — which might make for a cozier morning routine, but can ultimately lead to product buildup, scalp irritation, and dandruff. Needless to say, everyone's strands could use a little TLC this season.
One fail-proof solution for all hair types? "Sleep on a silk pillowcase to avoid friction while sleeping," Justine Marjan, a celebrity hairstylist who regularly works with Khloé Kardashian and Ashley Graham, tells The Zoe Report. "That can lead to additional frizz and breakage" — and, as it gets chillier and moisture slips from the air, static. She suggests one from Hollywood Silk Solution.
However, as much as you'd like, you can't carry your silk pillowcase everywhere — which is why the essentials, ahead, deserve immediate add-to-cart status.
Straight Hair
Fun fact: Because the outer cuticle of straight hair lies flat, it's the most light-reflective hair type — which means it's all the more noticeable when dry, winter air has dulled your hair's shine. Joey George, a hairstylist who's worked with Emily Ratajkowski, suggests using a shine spray like IGK's Expensive Amla Oil Hi-Shine Topcoat to give your hair a mirror finish during the season that strips its shine the most. And for hair that falls flat underneath your hat? Volumizers always do the trick.
Wavy Hair
Just because summer's over doesn't mean you need to ditch your go-to beach waves — but sea salt spray is definitely too drying for this time of year. Instead, opt for more hydrating wave products to give you the movement (and moisture) you crave. "Apply the OUAI Air Dry Foam to damp hair and finish by air drying," George suggests. "It gives perfect texture without that crunchy feel."
And for extra definition without air-drying (because who wants to catch a cold?), try the new Dyson Airwrap. "This new styling tool is used on damp hair and uses hot air to wrap hair around its ceramic plates and encourage curls and waves," George reveals. "The best thing about this tool is that you're not damaging your hair with excessive heat" — a key for styling at any time of the year.
Curly Hair
Natural hair requires constant moisture, and winter wind (and wool hats) can take that away. To prevent dryness, try setting curls or coils in a protective style, like a twist-out, overnight. Marjan suggests using Tresemme's Botanique Naturals collection — or, if you prefer a wash and go, diffuse with the GHD Air Professional Performance Hairdryer. "Make sure to use the high heat, low pressure setting for the best results," she suggests.
For curly and coily girls looking to extend time between shampoos, George suggests Briogeo's Be Gentle, Be Kind, Avocado + Quinoa Co-Wash. "My natural hair clients are obsessed with this non-lathering, conditioning cleanser," he says. "It won't strip hair of natural oils or color."
Color-Treated Hair
Since color-treated hair tends to be pretty dry already, it has the most potential to rack up extra damage over fall and winter. "If ends are dry, use a leave-in serum like Oribe Power Drops Hydration and Anti-Pollution Booster," Davide Marinelli, the owner of Davide Hair Studio in New York City, recommends. "You can apply the product in small sections to the ends, roots, or all over."
As far as preserving your color, a range like Redken's Color Extend Magnetics collection is the way to go, due to the gentle color-sealing amino-ions in the formula. "Hair feels soft and flexible, and your color will last longer after use," George notes.