Get Gorgeous With 24-kt Gold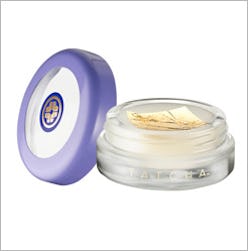 In terms of the beauty brands we most adore, Japanese-inspired Tatcha is at the top of the list. The luxury label first hooked us with gold-flaked blotting papers (our day bags would be incomplete without them!) and officially cemented our affections with the advent of a one-step cleansing oil. Unsurprisingly, we're totally smitten over their latest release: a two-part Gold Collection.
Up first is a Gold Camellia Beauty Oil that packs a precious punch with licorice extract, green tea fragrance and 24-karat gold flecks. It can be used everywhere from your face to your décolletage and hair for an indulgent touch. Next is a Gold Camellia Nourishing Lip Balm, which relies on the same 24-karat touch to give you mega-kissable lips. Implement both of Tatcha's new marvels into your daily regimen for a result that is as good as gold.
Availability: Upgrade your routine with Tatcha's new Gold Collection ($36-$125).