The Last-Minute Vacay You Can Literally Take Tomorrow
Olena Yakobchuk/Shutterstock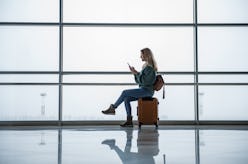 Anyone who's been bitten by the travel bug probably doesn't need an excuse to get out of town regardless of the time of year. But whether you're a bonafide jet-setter or not, there's one factor that will probably have you beelining to book a ticket for your next getaway, and that's affordability. That said, this time of year is a great time to travel, and if you're in the mood for a little change of scenery, there are a few cheap places to travel in January that just might give you your fix — without breaking the bank.
Everyone's agenda for taking a trip is different. Sometimes you are looking to reconnect with yourself post-breakup other times you're plotting a romantic Valentine's Day getaway, or just simply looking to try out the latest travel trend (like tiny houses, for example). But if your current top priority is money — specifically how to save some — then there are a few locales to check out that just might allow you to vacation while maintaining your newly implanted budget.
As the Consumer Trends Spokesperson at Airbnb, Ali Killam has noticed that traveler's interests are starting to shift. "As we kick off 2019, this January, we're seeing a growing interest in exploring more off-the-beaten-path regions, cities, and towns," she says, adding that many such destinations aren't necessarily out of your price range. "Some of our most popular 2019 trending destinations for January and February are countries where the dollar is stronger," she explains. "These include Santa Catarina, Kaikoura, Mozambique, and Buenos Aires Province."
The combination of these destinations having more affordable accommodations, food, and other travel expenses, and the fact that they all offer opportunities for unique adventures is what makes them excellent picks. "With the growing trend of experiences over physical objects, we're seeing that millennials are re-prioritizing the way they spend their money," Killam says. "With an increased value in creating memories through seeing different corners of the world, and less of a focus on material items, people in this age range are utilizing that money to learn about different cultures and experiencing them in a very authentic way." Therefore, by choosing to vacation here, those travelers can have enough money to spend on tours, shopping, and other destination-specific experiences — all of which are also accessible via Airbnb.
Ahead, learn a little more about there four different locales, and why Killam believes they're a great option to visit now.
Santa Catarina, Brazil
"Santa Catarina, Brazil is the perfect location for travelers who are seeking a side of history to accompany their panoramic mountain views," Killam says. "German influences are evident in Blumenau, home to a famed annual Oktoberfest parade and a Beer Museum exhibiting the city's brewing history." In fact, the site allows the option of booking a visit with the brew-master behind Loop Craft Brewing who will take you behind the scenes of his brewery and give you a VIP tasting. In terms of accommodations, the average nightly price is $60, and some of the stunning options include this cottage on a private beach.
Kaikoura, New Zealand
This coastal town in New Zealand is ideal for lovers of marine life. "[Here you can experience] firsthand the town's notable sperm whale population and historic whaling past or travel around the area by train to experience the picturesque mountains and oceanside views," Killam says of the place. The average highly price for accommodations on Airbnb $136, and you can find options like this stunning modern home just 10 minutes from the city.
Mozambique, Africa
For a beach vacation unlike others you might have had before, try this South African nation. "Mozambique is the perfect beach getaway to escape the cold this January," Killam explains. "It is home to nature galore — coral islands, the mangrove-covered Iso Island, and marine and national parks and the Indian Ocean surrounding the islands is home to 2,000 types of colorful fish prime for watching by scuba diving or snorkeling." As far as where to stay, you can book an Airbnb room/home for an average price of $85, including this beachside cabin.
Buenos Aires Province, Argentina
"Given the value of the US dollar relative to the peso, the province of Buenos Aires is the perfect location to get the most bang for your buck," Killam shares. "Not to be confused with the capital city of the same name, the Buenos Aires Province spans the Atlantic coast with a string of beaches and forests - the latter which you can tour in a restored Unimog." Among the destinations within the province, she specifically recommends a visit to the mountainous city of Tandil, which she adds is "named one of our most hospitable cities in the country for two years straight." On average, you can book an Airbnb accommodation here for about $57 nightly, and some of the places the site offers to stay includes this sweet guest house.