The Last-Minute Valentine's Day Trip You Should Take Whether You're In A Relationship Or Not
Patrick Foto/Shutterstock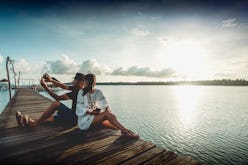 Forget the cards and chocolates: This Valentine's day, plan a trip that you'll never forget. Whether you're in a relationship or you're heading into the holiday unattached, traveling can be a treat. So, why not indulge in a spontaneous Valentine's Day weekend getaway — even if its purpose is to escape from all the holiday romance.
If you want to show your beau a grand gesture they'll never forget, Michael Gallagher, co-founder of online travel guide and blog Couple's Coordinates, says a last-minute trip is just the ticket. "Don't get caught up in the ubiquitous flowers, balloons, and chocolates of Valentine's Day this year," he advises. "Get caught up in your partner. Make this the year that you finally book your dream romantic getaway and adorn your partner in a new tan as opposed to a new necklace."
Flying solo? There's still plenty of love to go around. Consider skipping town with your girls, going solo, or planning a good old-fashioned family vacation. After all, what better way to make memories with those you care about most than by traveling together?
Valentine's day is just over a month away, but not to worry; there's still plenty of time to snag an all-inclusive travel deal, cheap airline tickets, and affordable accommodations. Ahead, travel pros give their top picks for fun, budget-friendly, and easy-to-book trips that you can take during the week of February 14.
For A Romantic Getaway With Your S.O.
Cabo San Lucas, Mexico
How does Gallagher know this is a dream V-day destination to spend with your better half? He and his wife, Alexandra (who co-founded their blog) celebrated the holiday there a couple years ago. "We spent three days lounging on the beach and three nights lounging in our ocean-view room," he recalls. To make your money stretch, consider staying at an all-inclusive resort. "[...] Be sure to check out all-inclusive deals at the various resorts both on the West and East side of the Arch," he suggests.
Bora Bora
If you're in search of the ultimate romantic rendezvous, Gallagher says to head to French Polynesia. "For those of you that want something a bit further off the beaten path (or a bit more geographically isolated in the middle of the Pacific Ocean), book a trip to Bora Bora and treat Valentine's Day like a honeymoon," he recommends. "We were married on a small island in Bora Bora back in September 2017, so the island is very near to our hearts."
For A Girl's Trip With Friends
San Juan, Puerto Rico
Grab your girls and head for sun, sand, and salty water to the paradise that's Puerto Rico. Even if you're short on cash and time, you can escape the holiday drama at this tropical getaway. "If you'd like to get off of the U.S. mainland for a bit, San Juan is completely doable for a weekend trip," says Calvin Iverson, travel expert at TravelPirates. "Take a boat out during the evening in one of the Bio Bays, where sea creatures light up beneath your boat at nighttime. Ride in a horse-drawn carriage through Old San Juan, and take in the quaint architecture of the olden days." He adds that the city has a thriving night life with lots of clubs, perfect for dancing the night away with your besties.
If you're flying from New York, you can get roundtrip plane tickets for $205 on JetBlue. Bonus: You don't even need your passport to get there.
Punta Cana, Dominican Republic
Punta Cana is another easy-to-get-to locale where you and your crew can spend some quality time. Rent a posh Airbnb and split the cost; it's not only easy on the wallet, you'll be able to spend your downtime together in the common areas. (If you're really pinching pennies, check out tickets from budget airlines Spirit and Frontier, which both have flights into Punta Cana.) When you're out an about, you'll be able to make memories surfing, zip-lining, snorkeling, or taking a catamaran tour. Or, just spend the day at the beach relaxing and sipping drinks at one of the many seaside bars.
For A Reunion With The Family
Santorini, Greece
Filled with food, history, and breathtaking views, there's no better place to reconnect with your family than Greece. Iverson explains that February is in the off-season for Santorini, and although the weather will be cooler, you'll also enjoy fewer crowds and lower prices. For instance, you can stay in this 4-star Santorini hotel from a mere $43 a night.
"Watch glorious sunsets atop beautiful white buildings, and head off on wine tours to sip some of the best wine in all of Greece," he suggests. Don't forget to check out the local markets, explore the ruins and cathedrals, then take a stroll along the beach — just make sure to throw on a sweater.
Nassau, Bahamas
Take a family trip to the Bahamas and feel the love, island-style. You can book an oceanfront Airbnb that sleeps several, then enjoy meals and lounge time together under one roof. Depending on your family's vacation style, try searching for rentals with patios, pools, private beach access, stunning views, and more.
While in Nassau, make sure to plan excursions that everyone will love. You can book boat and food tours, try snorkeling, and visit historical sites. Or, just spend a few days exploring the city, shopping, and picking up souvenirs at the Straw Market.