The Bizarre Vacation Trend Everyone's Trying (& No One Saw It Coming)
ppa/Shutterstock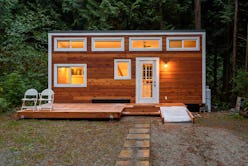 With holiday madness coming to a close, and the busy travel season starting to slow down, this can actually be a great time to get away, due to a drop in prices for loads of flights and rental rates. While many of you might just be returning from visiting family or otherwise escaping somewhere outside your city, you might already want to start plotting your next vacation — and the latest travel trend might be just the thing to get you inspired. Tiny house rentals are more popular than ever, and the reasons for that may surprise you.
Alternatives to typical luxe beach vacations — like Airstream rentals, glamping tents, or tree houses — have slowly but surely been gaining steam as unique getaway options, likely due to the experimental factor, and tiny houses are no different. "Nowadays, travelers aren't looking for a traditional hotel experience," says Ann Colletti, Marketing Director for Petite Retreats. Staying in a space that's only around 100 to 400 square feet means both benefits and challenges that will ensure this will be a vacation unlike any you've had before.
As Jessica Armstrong, Partnerships Manager for Glamping Hub, explains, "Tiny houses have become especially popular over the years for a number of reasons, including moving towards a conscious and eco-friendly lifestyle, [and] the cost savings." The company, which specializes in unique outdoor rentals, like domes, safari tents, and cabins, has noticed a shift away from traditional accommodations in favor of so-called "tiny living," and it's for good reason. Ahead, see a few of the benefits to renting one of these itty-bitty homes during your next staycation, from being more environmentally friendly to traveling on a budget.
Try Sustainable Living
"Tiny homes are built to be green and efficient," explains Colletti. Because of their small stature, tiny homes typically use lot less resources than a standard hotel or rental, and often they're designed with amenities such as compostable toilets, solar panels, or reclaimed materials, which makes them even more sustainable.
Enjoy The Great Outdoors
Despite the fact that tiny houses are increasingly designed to be more efficient, sustainable, and tech-savvy than ever, likely their biggest (no pun intended) draw is the fact that the small space practically forces you outside. "While being incredibly comfortable and cozy, tiny houses are not meant to spend your getaway indoors the entire time," Armstrong shares. " [They] offer guests the chance to spend their getaways getting lost in nature and exploring, while having a magnificent rental to come home to at the end of the day."
Stick To A Budget
Although not all tiny houses are created equally, their small size often means a smaller price tag, which makes them ideal for travelers who are trying to stick to a budget. Or if you'd rather spend your vacation savings splurging on dining out, shopping, or airfare, staying in one of these rentals can be a great way to cut a corner.
Scale It Back
"The accommodation has become a part of the vacation experience instead of just a place to call your home base for a few days," Colletti says. Scaling back can be a welcome change from the excess of many people's everyday life, forcing you to slow down, to interact with one another (if you're staying with someone else), and get creative in a way you otherwise wouldn't.