The Best Vacation To Take If You're Getting Over A Breakup
My Good Images/Shutterstock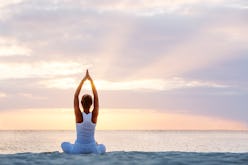 Even if it's for the better, breakups are tough, and there's no way around it. When a relationship ends, so does a chapter in your life, and it always takes some time to regroup. But when a split is especially stressful or painful, sometimes it's best to just get away for awhile, allowing time to heal and reconnect with yourself. And if your post-breakup destination is an affordable one, that could help cheer you up, as well.
While a temporary escape may be just what the doctor ordered, the expense of traveling may have you skipping your prescription. Luckily, there are plenty of affordable places to visit, plus deal sites where you can snag promos for unbelievably low prices, especially if you're booking last minute. So whether you're up for a solo vacation to do some serious soul searching or you're craving a girls' getaway with your crew, there are destinations near and far that'll fit your lifestyle and budget.
Ahead, experts from TravelPirates, a travel deal site, and Go! Girl Guides, specializing in solo female travel, give their top picks for fun, cheap trips that'll have you feeling better in no time. From hip U.S. cities to hotspots around the world, there's an escape out there for every shade of the breakup blues. Whether you choose to spend the weekend a few states away or two weeks on an island paradise, a change of scenery will undoubtedly help the healing process begin.
Live It Up In New Orleans, Louisiana
If the end of a tense relationship has you wanting to let loose, Calvin Iverson, a travel expert at Travel Pirates, says to grab a few friends and head to New Orleans. "Popping bottles with your besties and working it out to live music is the best antidote to heartbreak," he says. "Nosh on some world-renowned cuisine, vibe in the streets to live, soulful jazz, or take in football in the South."
Better yet, you can find some amazing travel deals, like this French Quarter getaway, which includes a roundtrip flight and a three-night stay at a historic hotel for under $300. Iverson adds, "You can catch a bus from the airport to downtown for two bucks. If you budget correctly, you can get away with spending less than $20 per day on three square meals, and there's no shortage of drink deals."
Rekindle Your Creativity In Santa Fe, New Mexico
At first, the end of a relationship — especially a long-term one — can be disorienting. But instead of scrambling to pick up the pieces, sometimes the best way to recover is by losing yourself in something else — like a newfound passion for art. "Head southwest to get lost in your artistic side and forget about your ex," suggests Iverson, who says that Sante Fe is an up-and-coming U.S. tourist destination. "With over 300 art galleries and 100 boutique shops, you're sure to get your art fix and tap into a side of yourself that brings you peace."
Iverson explains that you can stroll down Canyon Road and see plenty of art for free. However, there's one Sante Fe stop that every visitor has to make: "a colorful, 22,000 square-foot vacant bowling alley-turned art installation ... owned by Game of Thrones' very own George R. R. Martin." Tickets are only $25 for non-residents, a small price to pay for "a truly psychedelic experience."
Reconnect With Yourself At Railay Beach in Thailand
If a post-split funk has you wanting to leave the country, head to Railay Beach in the Krabi province for a budget-friendly escape that'll feel like you're worlds away. Kelly Lewis, founder of Go! Girl Guides, explains that the breathtaking beauty will take your mind off of any heartbreak. "The limestone cliffs here are so stunning, it's impossible to think of anything but how lucky you are to be seeing them," she says. "Head to the Krabi area for turquoise water, limestone walls that jut out of the water, and an affordable holiday you won't forget."
While plane tickets can be pricey (it's possible to get airfare for under $800), Thailand is notorious for cheap eats and a thriving street food scene. You can also book a beautiful resort in Krabi for well under $200, or consider a budget-friendly Airbnb in the Railay Beach area.
Unwind & Unplug In Boulder, Colorado
"Boulder is the ultimate de-stressing destination," says Iverson. "Take your mind off of your breakup by challenging yourself on a series of trails at Boulder's Flatirons, composed of beautiful sandstone, and a distinctive marker for the region." He adds that the Boulder Escape Room will distract you from your woes as you work — with friends — to solve puzzles and codes.
If the onslaught of stress has you needing a drink, Iverson notes that craft beer lovers will have plenty to choose from at Avery Brewing, one of Colorado's largest breweries. "You can get by with less than $15 for a meal, grab a pint of beer for $3.50, and find a taxi for $2.25 per mile, so you won't break the bank heading to Boulder," he says.
Eat Comfort Food In Savannah, Georgia
There's nothing like a little comfort food to soothe a broken heart, and when it comes to fried chicken and mashed potatoes, the South has it right. "If you just want a good plate of Southern food to get your mind off of your ex, then put 'go to Low Country Boil' on the top of your to-do list when you visit," advises Iverson. "A mixture of sausage, shrimp, corn on the cob, and wonderful seasonings will have you in a food coma in a matter of minutes, for as low as $9."
Iverson continues that there's plenty of Southern charm to be had once the sun goes down. "By night, you can also head to the original Pinkie Masters, one of the cheapest and tastiest dive bars in town, complete with a jukebox," he says. "Grab a $3 beer, a $7 wine, or a $7 cocktail at the bar." What's more, it's easy to explore the city on the cheap. "You can get around by taxi for $4 per mile, and spend less than $25 on a pretty great dinner," he says. "TravelPirates found a steal to Savannah for $357, flights and four-star downtown boutique included."
Gain Perspective In Bali, Indonesia
"Follow in Elizabeth Gilbert's footsteps à la Eat Pray Love by planning your own Bali adventure," recommends Lewis. "Bali is a great place to go when you're feeling broken-hearted because it's affordable, it's fun, and there's a spirituality there that reminds you how small you and your problems really are in the scheme of life."
The TravelPirates team found some amazing deals to Bali, proving that you can book a dream vacation, even on a budget. The Luxe Bali Getaway includes a roundtrip flight from California or New York, plus eight nights in a 4-star hotel for under $600 a person. If you want to stay in a 5-star resort, check out this one for under $50 a night. With some sun, sand, and a dose of island vibes, you'll be feeling like the best version of yourself before you know it. "It's a great place to heal, and travelers have been heading here for years to help get back on track," says Lewis.