Why I Only Buy My Lip Balm From These 11 Places
Kari Gran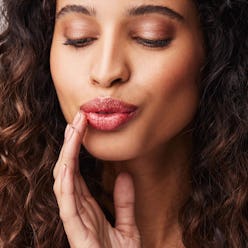 Lip balm is the beauty equivalent of a plain white tee — as in, it's a perennial staple and I have a million, and yet, I'm still always on the hunt for the perfect one. What I've learned, though, is that much like the mythical white tee, there's no such thing as a single, be-all-end-all lip balm. There is, however, a perfect chapstick, gloss, or salve for every occasion. The best lip balms I've ever tried all have one thing in common — they're really, really good — but each fills a completely different gap in my routine.
My journey started with Glossier's Coconut Balm Dotcom, a simple, beautifully-packaged, moisturizing product that smelled like summertime and sparked an obsession. Before its release in 2015, I relied on a swipe of Aquaphor to keep my dry lips moisturized — but this? This felt elevated. Aspirational. Cool. Years of experimentation followed, which led me to my core collection of oh, just 12 different balms, sticks, pots, and glosses.
If 12 sounds excessive, I feel you — but trust me, each serves a vital purpose; from "the work one" (lasts-all-day moisture that I rarely need to reapply) to "the CBD one" (because, yes, your lips deserve to get in on the cannabidiol trend, too).
Ahead, every lip product that's earned a place in my permanent collection — and exactly how I use them.
The CBD One: Mazz Hanna Rose Quartz Infusion Mint Lip Balm
Mazz Hanna's crystal-infused, CBD-spiked balm is the newest addition in my rotation and as such, my current favorite. It's made with natural ingredients, like sweet almond oil and shea butter, for the ultimate firm-but-not-waxy texture; and includes 15 mg of hemp-derived CBD to soothe chapped lips on contact. Plus, it tastes like a mint chocolate chip cookie. Plus, it's charged with rose quartz crystals, the stone of self-love, for extra good vibes. I'm certifiably obsessed.
The Insta-Worthy One: DedCool Rose Chazstick
I discovered DedCool, a company that primarily produces cool-girl fragrances, months ago on Instagram, where I admired it from afar before finally making a purchase. But it wasn't the coveted colognes that had me whipping out my credit card — it was this $18 rose-scented chapstick. Admittedly, that's a lot to spend on chapstick. But the fact that it's produced with 100% natural ingredients by an independent brand makes it worth it, in my opinion. Combined with a smooth application, lasting moisture, and a significant-but-not-cloying rose scent, I'll definitely be repurchasing.
The Skincare One: Kari Gran Tinted Lip Whip
Kari Gran is one of my favorite skincare brands (go check out the Three Sixty Five SPF, now) and its focus on effective, plant-based ingredients carries over into lip care. Castor seed oil conditions while olive oil delivers necessary healthy fats — and yet, magically, the texture isn't oily at all. Lip Whip is thick and substantial, and is tinted with cinnamon to give lips a rosy hue.
The Glossy One: Grown Alchemist Watermelon & Vanilla Lip Balm
Sometimes, you just want a nice, glossy lip. When I'm in the mood for something more high-shine, I reach for Grown Alchemist's Watermelon & Vanilla Lip Balm. The packaging is arguably the chicest of the bunch, but this product is more than just looks: It actually hydrates lips with antioxidant-rich oils to improve dryness and flakiness over time.
The Tasty One: Le Paradis Jamaica Banana Lip Balm
If you're the kind of person who likes to apply a generous coat of delicious lip balm only to lick it off pretty much immediately (and I am), do yourself a favor and pick up a tube of Le Paradis Jamaica Banana Lip Balm. It tastes like a tropical vacation filled with piña coladas and sunshine, and it leaves lips soft and shiny.
The Overnight One: Cocokind MyMatcha All Over Moisture Stick
My bedside table has room for one balm and one balm only: The Cocokind MyMatcha stick. It features just three natural ingredients (coconut oil, beeswax, and matcha) and is about twice the size of a typical chapstick, which is game-changing. A single swipe covers lips with the ideal amount of product, thick enough to last through eight hours of sleep. Bonus: It can be applied anywhere — face, under-eye area, elbows — to remedy dry, flaky skin.
The Lightweight One: LXMI Lip Melt Treatment
The star of this little pot of lip-hydrating magic is nilotica, a rare relative of shea butter sourced from the Nile. Nilotica is packed with about 25 percent more essential fatty acids than shea butter — so, yes, it's extremely moisturizing. It still feels lightweight, though. It's served me well through winter, but I'll keep this in my bag all summer long, too.
The Tinted One: Akar Skin Ruby Lip Restoration
A combination of wild seabuckthorn oil (sourced from its native habitat in Tibet) and rose flower oil makes this skincare-level balm a must-have for moisture-starved lips; but its subtle, ruby tint makes it a date night staple, too. Ruby Lip Restoration has effectively replaced my red lipstick, since it gives lips a hint of color but doesn't smear like traditional formulas.
The Gym One: BKR Paris Water Balm
I was skeptical when BKR, a water bottle company, decided to release a lip balm. But I was pleasantly surprised: This stuff is good. A cross between a balm and gloss, it's got a heavy-but-not-sticky texture that stays put for hours. I find myself reaching for it when I work out, since I know it'll stay in place through an hour-long cycling class.
The Work One: Go-To Lips
There's nothing fancy about the straightforwardly-named Lips, the lip balm from Go-To Skincare, an Aussie brand. It's everything I want out of a lip product: moisturizing (thanks to shea butter), softening (courtesy of vitamins A and E), and long-lasting (thanks to medical-grade lanolin). It's become my go-to product for workdays, since I can swipe on a coat in the morning without worrying about reapplying 'til lunch.
The Plumping One: Dedcool x Leo Oil Plump Chazstick
Once I clicked onto DedCool's site, I couldn't just buy one thing. In addition to the previously mentioned Rose Chazstick, I scooped DedCool's collaboration with indie skincare company Leo Oil. I love the packaging (it's covered in slime green peace signs), I love the scent (coconut vanilla), I love the effect (gradually plumping, thanks to moisture-binding hyaluronic acid).
The OG One: Glossier Balm Dotcalm
What would a lip care roundup be without a Glossier mention? Balm Dotcom is the original cool-girl balm and has consistently held a spot in my routine (and my heart) for almost five years for a few reasons: It's cute, it works, it smells good. My personal favorite flavors are Coconut and Cherry; the former is clear and beach-y, the latter is tinted and sexy.