Anthropologie's New Beauty Arrivals Will Save Your Dry, Flaky Lips (& Look So Cute In Your Purse)
Anthropologie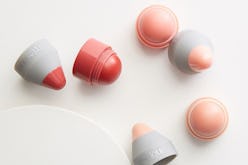 Everyone's been there — that point during the winter season where your lips seem beyond repair. Dryness, flakiness, and a painfully cracked pout are one of the sad truths of winter; a result of days spent facing bitterly cold temperatures and harsh wind. The key to avoiding such an unfortunate fate? Lip balms and scrubs — like those that just landed in Anthropologie's new arrivals — to keep your lips super hydrated and smooth.
Once your pout reaches the flaky, super dry and uncomfortable status, it's pretty much a point of no return. At that stage, it's a matter of slathering on ointments and Vaseline-like jellies just to keep things from getting worse, but you'll likely be hard pressed to get back to a state of healthy lips overnight — or even over several days. That means it's imperative to prevent the area's delicate skin from ever getting to that level of damage, by folding lip care into your winter beauty routine.
Just as the rest of your skin needs some subtle but important shifts made in the products you use during the colder months (like switching over to a gentler face scrub), your lips too require a change in pace when it comes to what you put on them. Since they're already facing extreme winter weather that results in dreaded dryness, seek to layer your lips in as much moisture as possible. And when some inevitable flakiness does happen? Slather on a gentle but effective lip scrub that'll slough off the dead skin to reveal the soft, smooth pout you're used to.
As luck would have it, Anthropologie's stocking up on numerous balms and several scrubs, all aimed at keeping lips happy this season. And while you may think of lip treatments as transparent, waxy coatings that are typically more practical than pretty, the popular store's latest offerings prove you can have both at once.
Consider Trestique's Lip Plumping Balm, $12, which combines deeply hydrating shea butter and sunflower seed oil with subtle pigments to create a daily-wear lip balm that provides protection and color. Choose from three wearable shades and stow one in your purse for easy access on the go.
Lano Lips Hydrating Lip Luminizer, $17 per tube, likewise imparts a pretty, shimmery wash of peachy nude or rose pink color depending on the shade you choose. The brand keeps lips protected from dry, cold weather with a lanolin-based formula, so your pout looks pretty all season. Snag a tube to keep at your desk for midday lip-quenching goodness.
Stock up on a lip scrub or two while you're at it, because regularly exfoliating your pout will keep flaky skin at bay. Anthropologie is offering a few new options, including Kopari's $16 Coconut Lip Scrubby. The natural scrub uses super finely ground coconut shell and volcanic ash to wipe out dry, dead skin cells, while coconut oil and jojoba oil soften and smooth the surface of your lips. Bonus, it smells like you're on a tropical vacation. Massage it onto lips as needed throughout the season, rinsing off after use and following up with a moisturizing balm.
There are plenty more options where those came from, including additional scrubs, tinted lip hydrators, and transparent balms jam-packed with pout-saving natural ingredients — think shea butter, coconut oil, pomegranate, and more. Have a look at the best of Anthropologie's newest lip care arrivals below.