Where To Buy The $4 Lip Balm Candice Swanepoel Can't Live Without
Candice Swanepoel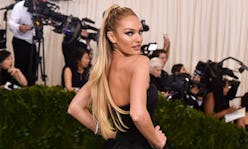 Finding celebrity-approved beauty products that don't break the bank always feels like a win. Exhibit A: Turns out you don't need to sift through high-end cosmetic kiosks for Candice Swanepoel's favorite lip balm. Rather, the model swears by a $4 formula that's in stock at Target right now.
In a recent interview with Vogue, Swanepoel revealed a handful of her most coveted beauty secrets, including her trick for thinning out concealer (spoiler: she mixes it with face oil) and a quick way to fake a sun-kissed look (she swipes blush across her nose). Perhaps the best revelation of the tutorial, though, was that she uses an everyday lip balm that's currently lining the shelf of your favorite drugstore.
Palmer's Swivel Stick Lip Moisturizer is a key part of Swanepoel's beauty routine. The $4 formula is infused with cocoa butter, a natural hydrant that alleviates dry skin and leaves lips soft, and vitamin E to improve any imperfections, whether it be scars, stretch marks, or sun spots. Not only can you rely on the formula for a much-needed dose of hydration throughout the day, but it also moonlights as a primer for lipstick and gloss.
"I don't go anywhere without it," the model said in the video, calling the budget-friendly item her "absolute favorite."
Not only is Palmer's formula super accessible; it's versatile, too. While the 160-year-old beauty staple is obviously a miracle product for chapped lips, the balm can also be used as a spot treatment on marks and blemishes, as well as an emergency repair for dry, cracked skin on the face and body.
Other celebrity fans of the brand include fellow supermodel Naomi Campbell, who recently said that her mother turned her onto the Cocoa Butter moisturizer at a young age. She claimed she still lathers her skin with it twice a day, "from top to toe." Katy Perry uses the lotion, too, and Jennifer Love Hewitt has credited the brand's stretch mark products for keeping her skin smooth throughout pregnancy.
Despite its celebrity following, the age-old brand maintains its no-frills facade: plain white, unornamented packaging. It's what's inside that counts. Palmer's offers everything from manuka-infused hair products to olive oil soap, but its cocoa butter formulas — hand creams, sun care, hair removers, and more — are its claim to fame.
Swanepoel's Vogue tutorial was full of fun tricks, including using a Dior brow pencil to dot faux freckles on her forehead and cheeks and applying Stila's peony-hued two-in-one lipstick and blush to the bridge of her nose. The model also walked through an unexpected method: She blends Nars' deep-red pencil over a layer of Palmer's balm with an eyeshadow brush to make her lips look "more pouty," she said.
If you're envious of the model's perpetually moisturized lips, then it's time to make a drugstore run for Palmer's Swivel Stick soon. Layer it with your go-to red lipstick like Swanepoel, or wear it on its own for a healthy, hydrated glow.
Shop Now