This Bold Makeup Trend Will Be Huge In 2019, According To Pinterest
Tom Ford Beauty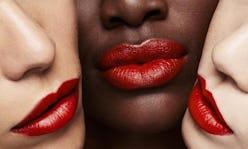 One of the most exciting things about a brand new year is the chance to rebrand. There's no better time to set goals or try something new — and that goes for everything from your work life to your beauty routine. And while crushing your career goals is something a little more intensive, it's super easy to switch up your makeup vibe for the year ahead. Ready to get a head start? You'll be glad to know some of the biggest 2019 makeup trends are likely already in your repertoire this season.
If you're like the more than 250 million people that take to Pinterest to find inspiration for everything from recipes, to home decor, and of course, beauty, you likely look forward to the platform's annual predictions for the coming year. On Dec. 11, the visual search site released its 2019 trend list, and upon reading it you'll note two big beauty trends that are about blow up. Namely, the new year is reportedly set to embrace bold red lips and glossy makeup in a big way.
Just how huge are these trends about to become? According to Pinterest's trend drop, standout lip color has had a search increase of 467 percent over the past few months — that's pretty much definitive proof that the look is gaining momentum. As for high-shine looks, Pinterest is reporting an increase of 89 percent in users searching for glossy makeup, so it's safe to say you won't be alone in giving the trend a try.
Because the trends have already started rising in popularity over the past few months, the best news about both trends is that it's totally cool to start trying them now. Plus, the statement-making looks are ideal for holiday beauty — so go ahead and learn how to nail them, so you'll be set for the new year before everyone else.
Standout Lips
It's the classic that keeps coming back. A punchy red lip will literally never get old, thanks to the instant glamour and polish it adds to any look. Wondering how to keep the look modern in 2019? Make sure the rest of your makeup is super sleek and subtle — forego foundation, use concealer just where you need it, keep brows and eyes simple with just a swipe of clear brow gel and mascara, and go easy on the highlighter (just a tap or two on your face's high points will do). Consider this a bold new way to approach daily makeup.
When selecting your new soon-to-be signature lip shade, go for a red that plays best with your skin tone in whichever formula you prefer; a matte or gloss will lend more drama, while a creme or stain will look classic. And this is not the time to do just a dab of color — swipe on a couple coats to be sure you've got a full-coverage, high-impact pout. Because the rest of your look is toned-down, you won't have to worry about coming off overdone, so don't shy away from trying the trend for everyday.
Glossy Makeup
When you picture a glossy look, you likely imagine high-shine lips coated with a generous layer of lacquer. It's time to re-think the idea, however, because 2019's version of glossy makeup is about achieving an all-over glimmer. But don't give up on the currently-trending lip gloss — use it simultaneously with other high-shine products like dewy highlighters and glaze-like eye products. The result is a high-impact, goddess-like glow you'll instantly become obsessed with (partially because it's incredibly easy to create).
What makes the effect so simple to create and easy to wear? Think of it this way: because it's all about placing a highlight anywhere that you want to emphasize, you can get as glossy as you like on any given day. Plus, you can use multi-tasking products in every area you want to add shine, making it a prime look for low-maintenance beauty buffs. To make sure your shine has a glossy finish, just be sure you select products that stay dewy on the skin (basically, you don't want powder-based highlighters or shadows here). Then, all you have to do is slick it on, and you're good to go.