How To Incorporate This Rising Color Trend Into Your Home Before It's Everywhere
Lulu & Georgia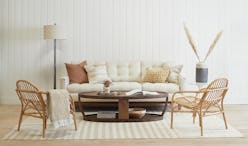 The new year is coming, and with it, a fresh new perspective on just about everything. And as you set your intentions for the coming year, don't forget to factor in your home — since it's an extension of you, it's worthy of reflection before 2019 hits. If you know you're ready to shake things up in your spaces, but you're at a loss as to what would strike the perfect statement, consider the bold 2019 home decor color trend that's about to make a splash. Mustard yellow is already making a name for itself — so you'll want to start incorporating it now to stay ahead of the pack.
As the year winds down, everyone starts looking ahead to the next, trying to determine what'll be big (and what to move on from) in just about every category — from fashion to food to far-away travel destinations. One such place people go to figure out their soon-to-be faves for 2019? Pinterest, of course. And a single look at the endless-inspiration platform's predictions on home decor will tell you: Mustard yellow is about to be a huge trend for homes. In fact, the visual search site reports that over the past six months, there's been a rise of 45 percent in people looking into the color.
And if that stat isn't enough to sway you to try the color, consider the visual effect it'll have on your home as you head into the new year. It's an inherently warm shade, simultaneously sunny and sumptuous — your rooms will feel brighter, but also richer thanks to the depth of the darker yellow hue. Sounds like a pretty good mood to set as you start a brand new trip around the sun, right?
You could absolutely go big and paint an accent wall in the warm color — it's ideal for a kitchen or dining area, or even your living room — but if you'd rather ease into the trend, it's already popping up in decorative pieces at several popular retailers. Incorporate the shade in small ways with throw pillows, like this one for $165 from Lulu & Georgia, and accents like this yellow blown glass vase, $24.99 at Target. Just a few touches of the color across different areas in a room creates a cohesive look, instead of causing the eye to get stuck on any one focal point.
Go bolder with the bright shade by swapping basic furniture pieces for those rendered mustard yellow. Your dining room can be totally revamped by trading your standard chairs with this yellow upholstered set from Lulu & Georgia. You'll get two for $548, so you can place them at the heads of the table for cool pops of color, or replace your whole setting. If you're looking to liven up your living room, a golden yellow velvet couch would get the job done in the coolest way. It's luxurious, without being too over-the-top, since the color isn't too far a cry from a neutral shade.
Other ways to incorporate the trending color? Look for pieces big and small, from new plates in a warm shade of yellow to oversized color-blocked throw blankets ideal for staying toasty while temperatures are cold. Browse below for some of the best decorative pieces so far in the soon-to-be popular hue, so you can say you nailed the look first.