Zara's Launching Lipstick Just In Time For The Holidays — And It's Pat McGrath-Approved
Zara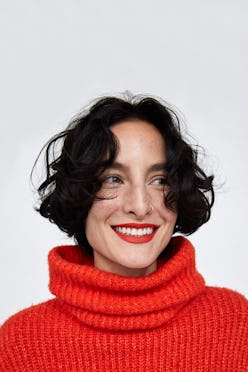 As if you thought Zara couldn't get any better, the major retailer is about to launch a whole set of lipsticks just in time for the holiday season. And bonus: The collection also includes a shade that has been approved by the mother of beauty herself, Pat McGrath. Whether you find yourself to be a beauty fanatic or simply love a good shade every now and then, you can't deny that with a seal of approval like that, you know it's going to be good. You'll want to add Zara's lipstick collection to your carts now, because if it's anything like the brand's clothes, you know it's not going to last in stores for long.
While you'll have to wait a few more days before you can try the lip collection out for yourself, you can bet that everyone will be waiting with eager anticipation. Be sure to set your alarms and prep yourselves now, because the collection launches Dec. 5. In this launch, which ranges from $9.90 to $25.90, there are a few different options to choose from: Ultimatte, Ultimatte Trio, Liquid Lipstick, and the Behind the Scenes Kit. If you're looking to try out a new shade for all of the holiday parties you have coming up or want to load up on stocking stuffers for every beauty lover in your life this season, you won't go wrong with these.
The Ultimatte, which costs $12.90, is a smooth, highly-pigmented lipstick available in 12 different shades, ranging from the most perfect nude shades to foolproof reds and a statement-making lilac. The lipstick, which was inspired by the photo shoots behind Zara's campaigns, comes in a tube inspired by 35mm film canisters for a vintage feel and is packed with Vitamin E to make sure your lips stay hydrated — which is especially good considering the cold, dry air of the winter months. With the Ultimatte Trio, you'll get three of the brand's most-loved shades from the collection, including two versatile shades of nude fit for any skin tone, and a deep and rich berry that was practically made for this cold weather season.
If a single tube, or even a trio, isn't enough for you (or your gift recipient), the Behind the Scenes Kit includes everything they could want. Available in a nude shade selected by McGrath, comes with an Ultimatte Lipstick, a Hi Matte, a liquid lipstick for a swipe-on-and-go look, and Line It Up!, which is a smudge-proof lip liner to ensure a flawless finish for your lips all season long.
Whether you're opting for the full-blown kit or just want to have a few shades on hand, these lipsticks — without a doubt — will be what you reach for every day this season. Keep one (or two, or three) in your party purse for all of the parties you have this winter, from the holiday office get-together to your New Year's Eve fête. You can trust that these will be the easiest way to accessorize for those special nights. Because let's be honest, when you have the perfect shade of lipstick, do you really need anything else?