How To Prevent Glossy Makeup From Looking Oily
Katie Jane Hughes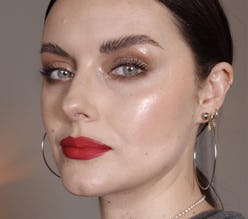 There are two kinds of beauty trends: the ones that rest comfortably in the depths of your saved Instagrams, and the ones that you screenshot and actually dare to try. Super-shiny eyes and highlighter were once the former, but these days, the look is ridiculously easy to do. Glossy makeup is for everyone — even when your skin is oily.
"It has a look that feels very fresh and light, and I think people are all over that kind of vibe right now," Katie Jane Hughes, the makeup artist behind Glossier's artfully dewy aesthetic, tells The Zoe Report of the look. If you spent your teenage years fighting an oily T-zone, you might raise a brow at the words "fresh" and "light" in relation to shiny skin. However, those with more oil than most may actually be at an advantage when it comes to nailing the glossy glow.
"You should work with your natural oils instead of trying to mask them," says Chanel Temple, the Global Makeup Artist for Hourglass. "The key is to know where to focus the dewiness."
As with all the best beauty looks, the perfect dewy makeup starts with a foundation of great skincare. "I think a good exfoliating peel pad is a great idea, like Dr. Dennis Gross Alpha Beta Extra Strength Daily Peel or the Elemis Dynamic Resurfacing Facial Pads — I love those," Hughes tells us. "This helps to just remove excess oil from the T-zone so that you can apply your skin care to a clean canvas."
Don't skip the moisturizer, either — even though that may seem counterintuitive to someone with plenty of natural oils. "No matter your skin type, you have to hydrate," Temple says. "Use something gel-based, which won't feel as heavy or thick as a cream." The key is here is to wait a few minutes in between applying your skincare and applying your makeup to give the products a chance to sink into the skin.
Since glossy, glow-y makeup has the tendency to be slippery, primer is a must to keep everything in place. "An oil-free primer like Hourglass Veil Mineral Primer will lock in your makeup and help with longevity," Temple tells us. Follow with a foundation or skin tint that has a satin, natural, or matte finish. "Stay away from anything with a luminous or dewy finish, which might end up making you look oily after just a few hours," she says.
If you're after Hughes' famous "Glossier glow" (and really, who isn't?) the makeup artist says she always opts for a layer of matte foundation on the T-zone. "Then I blend it out toward the outer perimeter of the face," she explains. "I make sure to contrast the more matte areas with something shiny and gooey. I love Glossier Haloscope highlighter."
Then, use a translucent setting powder in the areas where you tend to shine the most, and "enhance the high points with some shine for contrast," Hughes tells us.
And this, finally, is where the gloss comes in. For oily skin, it's best to relegate high-shine products to the areas of your face where you're not naturally oily — in other words, the eyelids, brow bone, cheekbones, or perhaps even the cupid's bow.
The latest crop of eye glosses, like Flesh Beauty Fleshpot and YSL Eye Gloss Smudger, make it super easy to pull of wet look lids. Simply swipe a thin layer of gloss — a little goes a long way — over your bare eyelids (or a colorful shadow, if you're more daring) for a sleek-not-sticky interpretation of the trend.
To accentuate your brow bone, cheekbones, or cupid's bow, reach for a creamy highlighter (RMS Beauty Living Luminizer or Glossier Haloscope are great options) or a "glossing stick," like Nudestix Skin Glossing Pencil or Catrice Dewy Wetlook Stick. These thicker pencils allow for a precise, minimal application of gloss; so you don't have to worry about overdoing it on the dew.
Any way you try the trend, it's one that "exudes freshness," Hughes says. And the fact that it only takes a few simple steps doesn't hurt, either. Ahead, more of the best glossy makeup that works on oil-prone skin.
Get Glossy