The Perfect Home Decor Piece For Your Living Room, Based On Your Zodiac
Photographee.eu/Shutterstock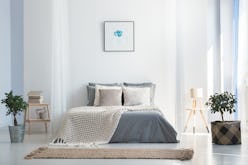 If part of your New Year refresh includes some brand-new stunning home decor pieces, you might already be feeling overwhelmed by the variety of options to choose from, right? Between the different decor schemes, trends, brands, and thousands upon thousands of models to choose from, it's hard to even fathom where to start. And how does one pick a home decor item that they won't regret in a week because it doesn't quite make sense in their space?
While there is no concrete answer to this dilemma, there is a good starting line, particularly for those with a love for astrology. Yes, your zodiac sign can actually be a great guide for home decor. In addition to your horoscope and general personality characteristics, the stars can also give tons of insight on your design aesthetic. Veteran astrologist and author Susan Miller says, "Home represents the most private side of your life, and it must suit your psyche or you will forever feel that something is missing or needs to be corrected. Home design can become an expensive project, too, so consulting your horoscope will give you clues ahead of time on how to design the right decor for you."
For the sake of helping you get a solid start on your new year refresh, Miller was tapped to give her expert insight on the various aesthetic qualities that speak to your particular sign. Get ready to take notes, because the stars don't lie.
ARIES
"Aries needs a simple, well-organized space that reflects her vitality," says Miller. "Her confident personality makes her interested in trends and she gravitates toward a clean minimalist style. She also loves implementing new ideas."
The expert astrologist explains that the fire sign has a weakness for cool new electronic gadgets like smart TVs and Beats By Dre headphones. They also loves versatile decor items like large throw pillows that can be used for parties or for watching TV, and that can be arranged "as her spirit moves her."
In terms of accessories, Miller says Aries individuals, "add touches of red, her lucky color. For a new look, she might use blush and put points of deep cobalt blue, perhaps on her table."
TAURUS
"Venus rules Taurus so she wants a soft, comfortable environment that is inviting, and that looks like a real home, never to be confused with a design more suitable for an office or waiting room," says Miller. "Taurus favors beautiful tactile fabrics in neutral colors for interiors, including pale and pink-beige, mushroom, taupe, coffee-cream, beige, vanilla-cream, chocolate, and white."
In terms of specific pieces, Miller says the earth sign is known to gravitate toward soft textured pieces like velvet or suede couches and that "her living room is the heart of her home (not the kitchen)."
GEMINI
"Gemini loves modern rooms, with pretty patterns and prints, even in the rugs," says Miller. "Alternatively, Gemini will often prefer a sunny-colored rug, say, in orange with white couches. For a modern touch, she might like to mix melon with coral." That said, Miller explains that when it comes to a signature shade, Geminis are most associated with lemon-yellow, as it is the color of intelligence.
Also, when decking out their home, transitional pieces that serve dual purposes naturally appeal to their equally dual personalities. "Gemini has many interests so she needs a home that can transition from a creative space to entertaining hot spot within the blink of an eye," says Miller.
CANCER
"For Cancer, the kitchen is often the heart of the home," says Miller. "A large kitchen that will fit all of her family members or friends would be ideal. She is usually a great cook, so she has many implements and appliances to use as tools for her meals."
The warm and tender sensibility bleeds into the rest of Cancer's living space since, for the water sign, "home is a haven against an often-harsh world," says Miller. "Country French [style], a bit rustic, would be ideal. A rough-hewn farmhouse table would make her excited to bring home, as its texture would add much."
As for color schemes, Cancer's colors include "cream, white, off-white, pearl, soft grey, tea green, smoky pale blue—all the colors found inside a seashell," says Miller.
LEO
"Vivacious and warm-hearted, this royal sign sees their home as their castle," says Miller. "Leo wants a large, sunny space with a view, in a great neighborhood. The furniture and style of the living and bedroom is sophisticated, grand, stately, and often glamorous."
Accents like marble countertops and Venetian chandeliers would be right up this lion sign's alley. "Furnishings will be expensive," says Miller. "And the colors can be almost any color, with pops of richness —scarlet, gold or purple."
Art is also a key component in a Leo's home. "She loves unique design, and will look for one-of-a-kind pieces," says Miller. "Art makes up a huge part of her life, and the art on the walls is so valuable, it's insured."
VIRGO
"Virgo needs a calm space with great containers and modular units for storage," says Miller. "She is above all, organized. She works very hard, and would do well to have a home office."
The earth maiden above all demands function and substance in design says Miller, so her choices must always make practical sense. "She loves beauty too, of course, but the pieces she puts together in her home must fit together in a whole that looks and feels like 'her,'" adds the astrology guru.
In terms of signature hues, "Her colors tend to be soft: wheat, beige, greens such as forest or hunter green, jade, teal, navy, cream, and chocolate brown," says Miller. "Virgo should try mixing spruce and teal for a very beautiful look."
LIBRA
"Libra is the most social sign of the zodiac, with the possible exception of Leo. She needs lots of room to have friends over," says Miller. "As the sign symbolized by the scales, Libra seeks perfect proportion in the design of her rooms, colors in balance, bringing forth a soothing, calm mood. She might like two matching lamps on either side of her bed for example. To Libra, balance feels good."
As for specific pieces that catch a Libra's eye, Miller says the balanced air sign loves a mirror. "[...] she uses them cleverly to add a touch of individuality, as well as to make the space seem larger," she explains.
As for Libra's go-to color palette, "Shades of blue, Robin's egg blue, sapphire, darker hues like cobalt, cerulean or ultramarine, and indigo would be Libra's favorites," says Miller. Pastels are also an option, particularly in "soft dusty blues, pale pinks, or tea green."
SCORPIO
"Scorpio needs privacy, so blackout drapes, good lighting that can change with her mood, would be ideal," says Miller. "This sign rules security, so a top-notch home-security system will be a must.
Miller goes on to explain that leather is the texture du jour for the water sign, so considering a leather chair or sofa would be ideal. "Scorpio is associated with black, burgundy, eggplant, merlot, maroon, and rusty orange, and aubergine contrasted with pale blue and copper color with chocolate," she adds.
Also a fixer-upper piece is not beneath this passionate sign. "As the planet of transformation, Pluto, Scorpio's ruler, gives this sign a talent with taking old but quality furniture and transforming it with new upholstery," says Miller.
SAGITTARIUS
"Sagittarius is the world traveller," says Miller. "She demands comfort and style, and will often choose elements from all the countries she visits to use in her home setting. [...] Her tastes are eclectic — a piece of art, a specially woven Peruvian blanket, African masks, and other beautiful pieces."
Vibrant prints are definitely appealing to the fire sign, who Miller says typically loves plaid, stripes and chevron. "She also loves deep jewel colors, particularly purple, as well as deep turquoise," says Miller. "The turquoise stone rules her sign."
As for shapes, Sagittarius typically prefers squares and rectangles, says the astrologist — but that doesn't mean life and decor needs to be in a right angle at all times. "Her living room couch is modern, possibly a sectional to give her room a relaxed, updated feel," says Miller. "She would never have a formal living space."
CAPRICORN
"Capricorn adores tradition, and loves a cozy, warm home that envelops you the moment you enter," says Miller. "Wood is always favored in a Capricorn home — think about using planks across the ceiling to add a warm touch. Her furniture is wood, and in the study there may be wood paneling."
In addition to some rustic furniture, the earth sign is also known to add a little contrast via marble, which Miller says will be used "liberally in her bathrooms, kitchen, and as a coffee table in her living room."
Also, a little wall or floor art goes a long way with Capricorn. "A beautiful tapestry wall hanging would add surprise and warmth to her home," says Miller. "Capricorn may love a beautiful oriental rug."
AQUARIUS
"Eco-friendly decor and sustainable materials speak to Aquarius, since they are the humanitarians of the zodiac," says Miller. "They also are very sensitive to social issues and will always move to protect the planet."
Oh, and the monochromatic trend that's consistently blazed through the fashion world for the past few years? It's likely an Aquarius is behind it. "Many Aquarians love monochromatic color schemes," says Miller. "Consider: metallic silver and gold, electric or fluorescent shades of blue, green, violet, purple. Aquarius particularly loves violet and electric blue, contrasted with deep charcoal grey. Monochromatic color schemes appeal to her."
Always one to make a statement, the water-bearing air sign gravitates toward art with a meaningful message. "The Aquarian might like a small neon sign with words that are meaningful to her, from an art gallery to give her room individuality," says Miller.
PISCES
"Home, to Pisces, is a restful place, to think, to create, to dream and if she has a family, to pull the family together in a warm cozy nest," says Miller. "Everything in Pisces world is soft touchable, inviting, and cushy. There is no steel with chrome and glass in her world — the effect has to be soft. Whether her home is vintage or modern, trendy or subdued, this sign goes for spaces with a flexible color scheme and inviting decor."
In terms of the sign's go-to color palette, think Monet vibes. "She loves the full spectrum of whites and blues: pale icy blues, deeper blues, turquoise, aqua, lavender, violet, snow white, whisper pink these are all the colors in the famous Monet painting, 'Water Lilies,'" says Miller. "She love mirrors, for they reflect light. Fabrics that have sheen, or colors seem lit from within are also Pisces favorites."