How To Upgrade Your Living Room For Under $100
C Woods Photography/Shutterstock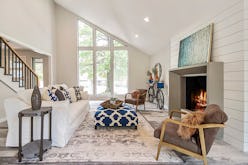 While the versatility and timelessness of a crisp white, beige, or taupe space are completely understandable and often preferred, sometimes one just needs a little something. In fact, adding color to a neutral living room is an ideal way to give it an instant upgrade and can be budget-friendly, if you know where to look and how to go about it.
If you've been contemplating an accent wall but are scared to commit to a color, try a temporary quick fix that won't leave you with buyer's remorse (or a lost security deposit). "Rather than painting walls, tack up beautiful fabric or vintage finds from your local fabric store, flea market, or home decor boutique," says Kamilah Tibbits, CEO of Caravan Home Decor.
And if the idea of vibrant accent walls or area rugs are overwhelming, not to worry, baby steps are not only acceptable, but also encouraged for colorful decor rookies. "If you're new to experimenting with color in your home, start small and add it gradually," says interior designer and stylist Jason Grant. "Start with a cushion or a coffee cup and try a particular shade on for size." Once you get a feel for a hue or find one that feels like you — like a vibrant coral or cerulean — then move on to investment pieces like artwork or accent furniture (or not if you're happy with the color status quo), he adds.
If you have a dining room table in or adjacent to your living room, Tibbits suggests utilizing that space by incorporating home accessories such as napkins or glasses in the accent color of your choice. Just remember: "The dominant color of a palette should appear within three points of your room — high, low, and eye level." Again, this doesn't mean you need to bathe everything in some overtly bold shade. Just strategically place pieces like a vase, serving plate, and cushion or small area rug around the room to brighten things up a bit.
Another tip to note is the color selection process itself, which should always feel authentic. You don't have to go with high-octane hues like fuchsia or yellow to play the colorful decor game. Trust your gut, even if it's gravitating toward a more earthy or subtle tone like olive or blush. "It really all comes down to developing your own confidence," says Grant. "Color doesn't have to be bold or loud. I love desaturated shades of brighter shades as they are always easier to work with."
That said, Grant does loosely abide by this old-school adage: "My rule when working with color is the rule of three: one main color and two accent colors, and perhaps one more if you're feeling bold." Say your main room color is taupe, you can try accent colors of teal and mauve. Or if your living room is mainly ivory, try a pop of emerald and blush (or magenta if you're feeling adventurous) on your couch cushions, coffee table, and/or small lamps. The color palette is obviously up to you, but this rule of three is a great way to dip your toe into creating a colorful space.
To help you hit the ground running on brightening up that living room of yours, here's a few colorful home decor pieces that won't cost you more than $100. From accent pillows to coasters, get ready to upgrade your space.