How To Incorporate Throw Blankets Into Your Winter Decor, According To An Interior Designer
Target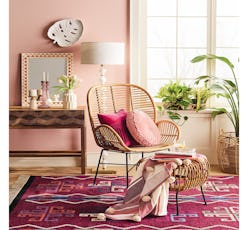 It's official: Fall is in full swing, and with winter on the way, it's time to add some warmth to the inside of your home — literally. Get your hands on a pile of soft throw blankets to make any room feel cozy and inviting while keeping the chill off, too.
Both functional and fashionable, throw blankets are a budget-friendly way to upgrade your space by mixing and matching styles, plus you can switch them up from season to season. Bright or patterned blankets bring pops of color, while chunky knits and sumptuous fabrics exude comfort on a frigid day. Not to mention, flinging a blanket or two on a bed or couch — plus a few chic area rugs and luxe accents — offers a change of scenery without giving it a complete makeover.
"There are so many options that everyone can find something that suits their style and their home," says Heather Kaminetsky, president and founder of RileyHome.com. "There are the standard throw blankets, which are generally lighter weight and are utilized more commonly as decor accents. These can be colorful, printed, and fun to add interest to a room."
While neutral tones and fun textures are on-trend, Kaminetsky points out that bold patterns and hues can add a splash of color any time of year. "I also think mixing prints and colors — for instance, a printed throw against a colorful couch or duvet — brings more dimension into a space," she explains.
The home brand founder notes to keep in mind the functionality of these accent pieces, too. For instance, if you tend to shiver all winter long, swap your lightweight throws for toastier fabrics, like wool or cashmere. "But don't underestimate a heftier cotton blanket, either," she adds.
Kaminetsky says she has throw blankets "in almost every room," suggesting ottomans, couches, beds, and even your car (because you never know!) as optimum places to put them. And the secret to a perfectly-tousled toss? "Don't think about it too much," she advises. "I literally just throw them onto the arms of our couches or the end of our beds and usually they look pretty natural and great. Less is more!"
Adding a few polishing touches to your home can completely change its ambiance, and an accent blanket or two brings color, texture, and interest to a space. To prove it, ahead, eight trendy throws to fit every decor aesthetic.