The Line's New Arrivals Are Proof You Should Revisit This Rustic Home Décor Trend
The Line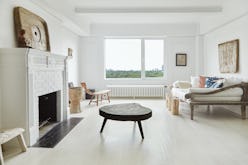 Wooden home décor often goes one of two ways: farmhouse chic or polished traditional. Incorporating both extreme ends of the wood trend into a modern home can be difficult — how do you style pieces that look like they were pulled from a Victorian home or a literal barn in your minimal home? Thankfully, the Line's new rustic home décor marries the shabby and the sophisticated, with plenty of mid-century modern influence to boot.
Revisiting the rustic home décor trend might be something you're hesitant to do. After all, it feels like the design world just got over its Mason jar obsession (though they still make the best cheap glasses). You won't find any jars in The Line's new home releases, though, since the designers opted to give each wood piece a spin with a trend much older than last year. Popularized by Scandinavian mid-century design and the recent modern revival, teak wood's distinctive swirly grain and warm hues make waves through this collection, from tableware to actual tables.
The teak pieces have modern shapes ready to be styled in your home, like this Teak Square Cellar with Spoon for $25. Do as the Romans did and use a cellar and spoon in lieu of a salt shaker; the spoon is easier to measure visually, and the salt cellar itself has become a trendy object to have out on your dining room table. Strung by a rustic leather loop, these Teak Measuring Spoons are without a doubt more chic than the plastic ones sitting in your kitchen drawer. Available for $30, hanging these spoons by your kitchen prep station or stove is a practical way to bring teak into your kitchen, and the modern round shape of the spoons' bowls.
Teak décor always seems to tell a story, with the history of the wood showcased in the varied grains and textures. Designed by Andrianna Shamaris, the Bleached Teak Coffee Table is a contemporary take on rustic furniture, retailing at $7,800. The reclaimed teak is bleached, then left out in the sun for over a year, creating an off-white pallor. It's a dreamy addition for a space that feels stagnant and closed off: Drawing in organic lines can open the flow of your living room.
The Line's curated collection makes clever work of other woods. Dark walnut, bright elm, and gorgeous petrified wood will give you a new appreciation for grain subtleties and color. The minimalist solid elm design of the $1,300 Pierre Chapo Barstool rings both modern and traditional, due to Brooklyn-based company ASH's novel use of contrasting elm shades. Or hang this $175 Walnut Teardrop Board from a hook in your kitchen: You can use it as a cutting board, to serve snacks, and as an art piece when it's not at work.
Any of The Line's new wood pieces will bring you back around to the rustic trend. Below, 10 pieces from The Line that'll convince you to reconsider this décor style once again (albeit in a whole new way).