The Quickest (& Cheapest) Way To Cozy Up Your Outdoor Space For Fall
Credit: Terry Lin for Outer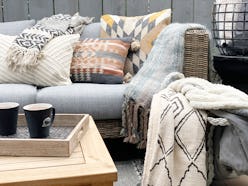 Summertime is synonymous with being outdoors, and although cooler temperatures are around the corner, don't pack up your patio just yet. By incorporating a few outdoor decor ideas for fall, you can transition your summertime oasis into an inviting extension of your home, even on chilly nights.
In fact, says Terry Lin, co-founder and chief design officer at Outer, the temperate weather makes the autumn months some of the best for backyard enjoyment. "For a simple backyard refresh, think about keeping the 'stuff' to a minimum," advises Lin. "You'll see plenty of makeover ideas this season about displaying wreaths, gourds, and pumpkins, but I like the idea of selecting double-duty decor such as baskets, serving trays, and pillow covers that make a backyard refresh quick, easy, and most importantly, easy to clean up at the end of the day."
Ahead, Lin, along with Amber Dunford, Overstock.com lead stylist and design psychology expert, share their best decorating tips for updating your outdoor space this season. If gathering around a flickering fire pit, snuggling up in soft blankets, and serving hot drinks from a bar cart sound like perfect ways to reign in September, read on for some ideas that you can implement before the leaves change.
Warm Things Up (Literally)
Fire pit: "A fire pit in your backyard is a great way to warm up during chilly autumn nights," Dunford points out. "Not only does it entice your guests to gather together, but the warmth you feel when around a fire helps improve your memory of those shared moments." The reason? The crackling sounds, smokey smell, and dancing flames "include activation of one or more of the five senses."
Throw blankets, pillows, & rugs: They're tried-and-true simple (and affordable) space updates: Try incorporating cozy throw blankets, decorative pillows, and area rugs that reflect the textures and colors of the season. "Bring out sweater knit pillows and chunky throws to bundle up in around the deck," suggests Dunford. "Warm colors such as oranges, reds, and mustard draw people in, as these colors psychologically advance towards us; so, these can be ideal colors to introduce to your outdoor fall space."
To minimize off-season clutter, Lin recommends opting for a fresh set of washable pillow covers to zip over the inserts you already own; that way, you can reduce bulk when it comes time for storing. As far as aesthetics, he says, "A good rule of thumb is to find colors in nature that inspire you during this time of year and create your own palette that invokes what autumn means to you."
And while rugs can anchor an area any time of year, the weave will encourage slipper-wear and keep the chill off bare toes, especially if you're going for an "outdoor living room" vibe. "Use space-defining rugs to distinguish your dining area from your seating area," adds Dunford. "Even on a small patio, intentionally created spaces are important and doable."
Find Decor That Does Double Duty
Storage baskets: "Baskets are functional and beautiful (double duty!); mixing and matching is always best," says Lin. "Use them to haul out your eclectic mix of throw blankets that you and your guests can pull out to counter the chill in the air."
Trays: He adds that trays are another multi-purpose accent for serving or displaying pieces of decor. "In addition to using your trays for bringing out your appetizers, cocktails, and hors d' oeuvres, why not use a tray or wooden dough bowl as the base of your tablescape?" Some ideas: "Start with a few hurricane glass candles and candle holders, then fill in the gaps with found objects in your area like pine cones or Eucalyptus seeds, [or] add some life with baby succulents. There really isn't a wrong way to do it," he assures.
Bar carts: And in the spirit of snacking and sipping with your guests, Dunford says a bar cart is a practical and portable piece to add to your patio. "Try using your outdoor bar cart to host a cider and pie party, a tailgate-style party, or [make] a pumpkin carving station," she shares. "These activities are fall-based and activate the senses we associate with the season." Bonus: You can use it to inspire summer fun come next year, too.
Set The Mood (Lighting)
String lights: Always inviting, string lights add enchantment to your backyard any time of year, but on autumn evenings, the soft glow will help keep your backyard alight. "With the natural light going away earlier in the fall months, it's nice to bring in some low lighting to draw people into a space and help it feel cozy," Dunford shares. "String lighting transitions well from dusk to night and sets the right ambiance for a gathering space."
Firelight: "Lanterns and candles can also be a nice way to bring in a light source and they provide a warm flicker where humans are instinctively drawn," the designer says. (Other considerations: faux candles give the same flickering effect minus the safety concerns, and fall scented candles can enrich the sensory experience.) She continues, "Fire pits can act in this same way; the warm glow of a fire has been shown to draw a crowd, as it activates our ancestral and survival instincts."
Simplify Your Tablescape
Natural elements: An autumnally decked-out table will encourage guests to gather 'round (especially if part of the embellishment is edible), but Dunford notes that your tablescape doesn't have to be complicated. "I am a big fan of utilizing the natural elements that fall innately provides, such as foraged plant life, rocks, twigs, and fallen leaves scattered around a table," she says. Further, "introducing candles to this set up can feel very chic without being expensive."
She paints a picture: "Wood risers, moss, and a little sparkle from mirrored objects or candles sprinkled in with some cinnamon scents to activate the senses make a simple but beautiful tablescape."