How To Transition Home Decor From Summer To Fall Without Going Broke
Shutterstock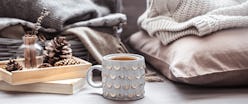 Summer is flying by (as it always does), and with pumpkin spice and apple picking just around the corner, you may be thinking about updating your decor. In these in-between months when the air conditioner is running but the sun is golden in the sky, don't kiss your beach days goodbye just yet. But with a few key pieces to transition your home decor from summer to fall, you can start shifting your space's cool staycation vibes to something that feels warm with a touch of nostalgia, just in time for September.
When updating your space for the season, consider where you can replace summer pastels, cottons, and linens with rich gem tones and textures that are evocative of autumn. "Right now, bold primary colors are at the forefront of the latest fall decor trends: rusty reds, deep olive greens, and burnt oranges," explains Katie Harnetiaux, Worldwide Head of Amazon Handmade. "I love to complement these colors with classic neutrals; if you're feeling a little adventurous, add a splash of light grey or indigo blue color in the mix." As for your tactile elements? "For textures, I'm seeing a resurgence of velvet and suede," she shares, adding, "My autumn go-to pattern is plaid."
Ahead, designers weigh in on easy home updates to begin implementing as the seasons change. By incorporating them into your pre-existing decor, you can ease your space into the autumnal spirit, one piece at a time.
Put Autumn In The Air With Scented Candles
When it comes to home decor, visual aesthetics usually come to mind. But Harnetiaux says not to underestimate how scents can really set the mood. "One of the easiest ways (and my favorite) to transition a space from summer to fall is a scented candle," says Harnetiaux. "Candles are a great way to bring in the next season, filling any space with a cozy touch."
Look for fragrances you might inhale in the crisp fall air, like those inspired by campfires or apple orchards. Warm, spicy scents or yummy coffeehouse aromas smell homey, too. If open flames aren't an option, try decorative diffusers for an artful and more kid- and pet-friendly approach. (You can always add battery-operated faux candles for ambiance.)
Swap Out Summery Throw Pillows
Another favorite design trick: Swap out the throw pillows on your couch, chairs, and bed with soft, sumptuous materials in bold autumnal hues. Don't be afraid to mix patterns and materials; the trick is to use both small and large-scale prints while sticking to the same color palette. If looking inspiration, Thumbtack Interior Designer Amy Joy of Amy Joy Room Styling advises bringing the outside in. "My favorite colors for fall are truly the colors of the leaves changing on the trees," she says.
Cozy Up With Blankets
On the subject of snuggly fabrics, nothing says "come in and get cozy" like a luxurious throw blanket, so toss them anywhere you'd want to invite friends and family to settle in. Ottomans, armchairs, and couches all look extra comfy when draped with a throw, or you can even pile them in a wire basket so loungers can help themselves. A pro tip from Joy: "I love mixing warm-colored copper velvet pillows on a sofa and layering with a moss-colored cashmere and a wool windowpane plaid throw," she says.
Add Autumnal Touches
Unlike the cheesy tchotchkes from your childhood, there are plenty of chic, modern, and affordable accents you can add to your pre-existing decor. Shelves, coffee tables, bookcases, and mantels can all become focal points with a few festive (and even functional) touches.
"I recommend an awesome tray (new or vintage ) to place on your coffee table in your family room," says Joy. "Add new candles with woodsy scents, picture frames in various painted colors or metals, and a fall-inspired coffee table book."
"When transitioning from one season to another, I always focus on my kitchen and dining area, since that's where my family comes together at the end of the day," adds Harnetiaux. Her favorite picks? Sleek velvet pumpkins to feature on window sills or centerpieces, modern wood boards for serving hors d'oeuvres, and cheeky tea towels that make for fun conversation pieces.
She also mentions that felt ball garlands "are an easy and impactful way to brighten up a mantel, playroom or child's room." And, you can set the vibe from the get-go by welcoming guests with a modern doormat or a rustic wreath as they walk through the door.
Think Vintage
Fall is also reminiscent of browsing antique markets with a hot cider in hand. So when in doubt, Joy advises going vintage; tarnished mirrors and trays, lanterns, candle pillars, lamps, and old school trunks are perfect flea market finds. (Or when all else fails, find a new-but-vintage-inspired version.)
For an ideal decor update, Joy says to picture this: "Replace the old with the really old, but very cool, vintage orange canvas Louis Vuitton steamer trunk to use as a coffee table. Add a beautiful blush-colored frosted glass lamp with an antique brass finish, topped with a beautiful linen shade." Sigh.