This Cool, Festive Dinnerware Will Make You Ditch Your Outdated China Sets For Good
Zara Home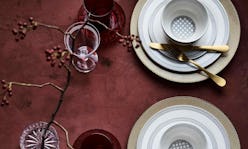 Now that Halloween has come and gone, it's full steam ahead into the holiday season. And since it's a time of year known for bringing family and friends together, you may find yourself playing hostess more than once in the near future. Celebrations often center around the table, making it a focal point at your seasonal soirées and worthy of extra attention. While festive holiday dinnerware can often easily skew "kitschy," there are plenty of options to create an elevated tablescape that will still evoke the spirit of the season.
Set your table for holiday parties with pieces that are just as elegant as they are festive. Instead of serving courses on plates with traditional holiday motifs, mix in jewel tones and metallic with refined designs to bring the festive flare.
Layer your dinnerware by starting with a $42.50 metallic charger from Pottery Barn followed by this set of celestial inspired dinner plates for $96 to bring the holiday shine and sparkle. If you're seeking a bit more color, opt for the set of AERIN beaded ruby red plates instead. Coming in a set of four for $59.95, these textured plates will add texture and dimension to your table.
A modern set of flatware in brushed gold will frame your dinnerware nicely, especially when tied together with a velvet ribbon in a rich hue. Add more color to the mix in a sleek way with a set of Kim Seybert Emerald Malachite Salad Servers for $80. When serving your greens this year, forgo the bowl with painted snowmen and instead incorporate wintry elements in a more subtle fashion with an ivory ceramic antler handled serving bowl. These stylish walnut shaped condiment serving spoons from Terrain will also add a playful but polished touch to any buffet.
Upgrade your cheese presentation game this year with this marble platter with festive brass detailing from Anthropologie. If the cheese itself wasn't enticing enough, when served on this platter it's sure to not be around long. As for your yummy dips and spreads, skip the over-the-top styles and opt for modern, minimal holiday designs, such as these simple tree shaped ramekins from Crate & Barrel for $9.95. And for all those pre-dinner little snacks and tasty treats, scatter them on pearly white snowflakes from Williams Sonoma throughout your dining space for guests to enjoy.
Toast to good tidings with colorful glassware like these blue mosaic tumblers, which are a great way to bring in colors of the season to your table. You and your guests can sip Champagne out of gold rimmed flutes or drink crafted cocktails with these eye-catching tartan glasses — both will bring the glitz from Thanksgiving to New Year's Eve. And, for when everyone slips into a food coma after dinner, you'll want to have these cup and saucer combo sets at your fingertips for post-dinner coffee or cocoa by the fire.
Last on the menu — but certainly not least — is dessert. There are plenty of pieces to be had this season to showcase your delectable sweets in a chic way. Display cookies on Zara Home's Three-Tiered Serving Dish for $49.90 and pass them out on the matching small plates. Gorgeous gold-trimmed coupes will make stunning vessels for scoops of gingerbread ice-cream and other festive flavors.
The key to bringing the festive flair without it being cheesy is to not be too specific. Instead, play with colors, prints, and designs that create holiday vibes in a sophisticated way. Continue on to start shopping dinnerware that will actually make you excited to entertain this holiday season.