This One Simple Thing Will Instantly Transition Your Home Into Fall
@zarahome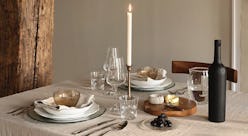 According to interior design professionals, it is possible to make a major impact in your home without changing — or even spending — a whole lot. In fact, just a few additions or little tweaks make for easy fall decor updates with no heavy lifting required. And if you can believe it, some of the ways you can get your home into an autumnal mood don't necessarily mean doing any shopping at all.
Trend forecasters say that one of the hottest ways to update your space is with the addition Italian-inspired decor, like slab tables and marble accents. But if that sounds like more of an investment or commitment than you're ready for, there are other ways to bring in the seasonal vibes that are a bit simpler and more practical. In other words, instead of splurging on a big-ticket piece of furniture that might not feel like a fit in a few months, spend your money on items that instantly create a warm welcoming feeling that will make you want to hunker down or make any guests you have over want to eat, drink, and be merry. After all, fall can be a major entertaining season.
Curious how to change the mood without going overboard? See ahead for four totally easy ways to transition your home for all — including a few that will cost you nothing.
Make Your Bed Even Cozier
Experts have sounded off about the fact that your bedding matters when it comes to getting quality sleep. Not only will more luxurious textiles feel better on your skin, and therefore lead to a better night of rest, but it's also important to switch things up for different weather. Look for sheets and duvet covers that will keep you warmer, but still let you breathe, like Parachute's new brushed cotton collection. Or, if you already own a set of cotton flannel sheets, fall is the time to swap them in.
Create A Table Worthy Of Entertaining
One pro tip that doesn't have to cost a dime is setting your table. While this is absolutely something that can be done year-round, giving your tabletop a slightly more autumnal feel — without turning to pumpkins motifs — can make a major impact. Use neutral or warm colors, earthy materials for a look that's inviting but not so literal. If you are ready to invest in some new pieces, these stoneware dinner plates will have you feeling ready to entertain.
Create Ambience With Scent
Never underestimate the power of scent to set the mood. If it feels a bit too soon for traditional fall fragrances like pumpkin pie or fig, try something a little more subtle, like this candle that perfectly captures the smell of a fireplace.
Pile On The Textiles
Adding in some extra throw blankets and pillows immediately makes your bed or couch feel a whole lot more inviting. A plaid pattern gives the cozy cabin aesthetic that just makes you want to snuggle up with a hot cup of tea.