The Rug Trend You Need To Incorporate Into Your Living Room ASAP
Photographee.eu/Shutterstock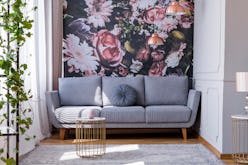 When it comes to anchoring a space in your home, no piece does the job quite like a chic rug. This often-underestimated essential can really define an area while tying together the other decor elements of the room. But the best news yet: some of the trendiest area rugs for the summer season won't hurt your wallet.
Yes, these versatile beauties can provide design cohesion throughout your home, from the living room, to the dining room, to the bedrooms. Further, they're the perfect way to to define spaces in an open floor plan. "Throw rugs ground a space and delineate areas," explains Lori Dennis, owner of Lori Dennis, Inc. in Los Angeles. "This is especially important in open place rooms where there are no walls separating spaces."
One other thing to keep in mind: Area rugs can do wonders when it comes to turning an outdoor space into a relaxing backyard oasis. After all, nothing feels as homey as woven fibers under your feet.
Ahead, two interior designers dish on choosing the right rug for your space while staying on-budget. From sharing top trends, to money-saving hacks, to their favorite hand-picked pieces, read on and get ready to give all your rooms an instant upgrade.
Try Incorporating Some Modern Trends
According to Dennis, some of the season's hottest area rug trends reflect natural landscapes. She explains that a "desert meets beach" aesthetic is chic and modern, represented by grays, tans, whites, creams, and deep blues "with organic lines and patterns."
And with layering textures being "in" for home decor, Oscar Bravo, interior decorator and blogger at Oscar Bravo Home, says that "global, layered looks with lots of texture" are popping up everywhere this season. "You can never go wrong with a sisal or jute rug," he adds. "The natural woven rug brings so much warmth and texture to a space and are incredibly durable and affordable."
But whatever you do, make sure the piece you choose compliments the vibe of your space. "If you're going bold, go big with the pattern and colors in the rug," suggests Dennis. "If you're going serene, choose a texture and background color or pattern that is subdued and monochromatic."
Consider Size
When choosing a rug for a particular area, it's not just about the colors and patterns; proportion is equally important. "The size of the rug can make or break a room," says Bravo. "Your rug should be large enough so that at least the front legs of your furniture all rest on top of the rug." Dennis even recommends going a bit bigger, with the rug extending past all the furniture that's placed on top of it.
Material Matters
You'll also want to take material into consideration, depending on where the rug will be placed and how it will be used. For instance, Dennis says to choose a durable rug for high-traffic areas like family rooms, or pick a softer one if you'll be walking on it barefoot, like in bedrooms. "If you really 'live' in a space with friends, kids, and pets, consider a high-performance rug that is easy to keep clean and looking great," she advises. "You can spend time enjoying yourself, and if you spill, it's no big deal!"
And don't forget, area rugs are the perfect way to make outdoor living spaces feel like an extension of your home. "High-performance or indoor/outdoor rugs have come a long way in style and feel," Dennis adds.
Money-Saving Hacks
Luckily, some of today's biggest rug trends are budget-friendly, too. "Right now, layering one rug over the other is such a hot trend and is a great way to save money," says Bravo. "For example: Instead of splurging on a large Persian rug, which is usually expensive, you can save money by purchasing a smaller size and layering that over a large, inexpensive sisal or jute rug."
One of Bravo's favorite ways to snag affordable rugs is by shopping around for pre-loved pieces on the Facebook Marketplace. Consignment shops, surplus sites, and yard sales and are also worth checking out for cheap home decor.